We hit 84° officially at IAH yesterday, matching our warmest day of the year so far. These temperatures are more typical for early May than mid-March (and today's morning lows around 70° are more typical for late May). So for how long will this continue? Let's explain.
Today through Sunday
Yesterday I mentioned we were pretty much on autopilot, and we are still. For today, we're slowly losing the fog that's been with us most mornings this week. Still, some patchy fog at least is possible south and east of Houston. Otherwise, it's just cloudy. Look for another day of low- to mid-80s with a mix of clouds and sun developing.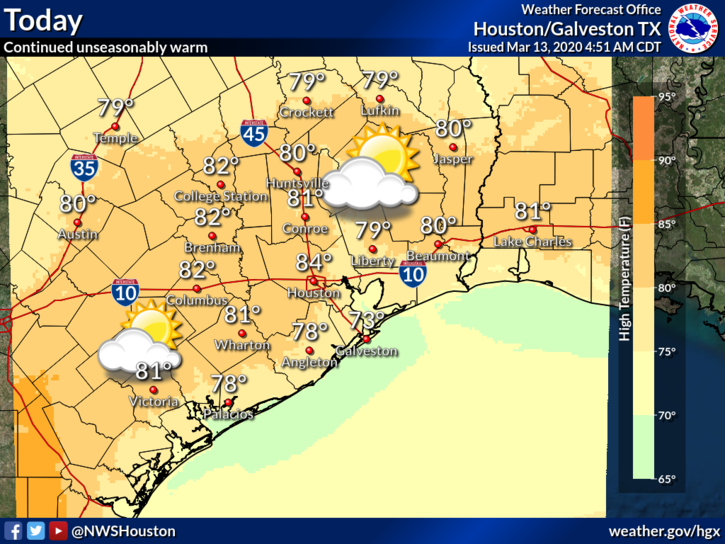 Heading into tomorrow and Sunday, we should still see some patchy morning fog or low clouds giving way to sunshine in the afternoon. We'll see temperatures within a couple degrees of 80 away from the coast (where it will be somewhat cooler). A shower cannot be ruled out on either Saturday or Sunday, but I think the best chance of any rain will be north of Houston toward The Woodlands or Conroe or even points north from there. Just don't be shocked if you see some raindrops for a time, especially Sunday.
Sunday night and Monday
Humidity will remain high, but things actually get interesting by late Sunday. One of our better performing models this winter in terms of cold front strength and orientation is suggesting that what we call a "backdoor" cold front is going to slide through the area later Sunday or Sunday evening.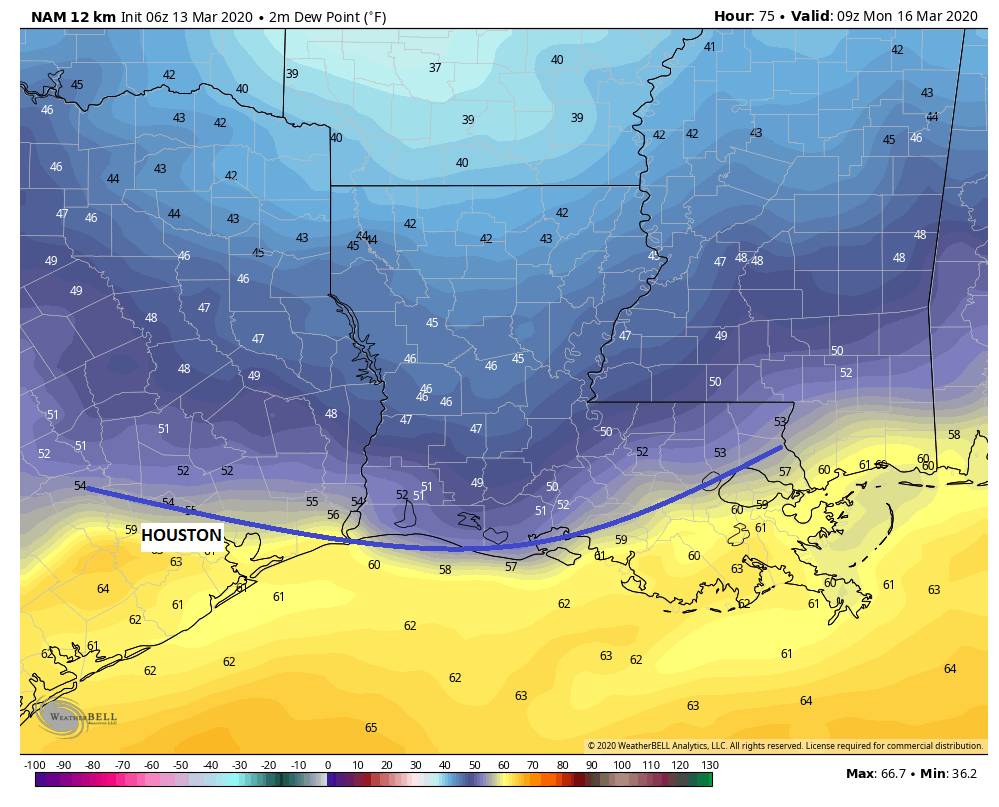 We call it a backdoor front because it usually comes from the north and east, rather than the more common north and west. So what does it mean? Sunday should still be warm and humid, regardless. But if that front sneaks in here late PM or in the evening, we would see temperatures drop off a good 10-15 degrees Sunday night, perhaps into the 50s on Monday morning. The best chance of this occurring would be north of I-10. I don't think this will make it all the way through the area, and even if it did, it would begin retreating back north as a warm front by Monday afternoon. Still, for those that want even a brief break from the humidity, this would be pleasant. I'd enter this one with low expectations and enjoy a pleasant surprise if you get one on Monday.

Rest of next week
Regardless of Monday, humidity is there in force Tuesday through Thursday. Every day is going to basically be like the previous one: Clouds, some sun, maybe some afternoon showers, and really warm. Tuesday should be upper 70s to near 80, Wednesday low 80s, and Thursday may be the warmest day yet. The question really is: When does something change? Maybe — maybe — by Friday.
There is the potential of a cold front late next week. All week this week, the models have vacillated between a front moving offshore or stalling nearby. Obviously those scenarios have vastly different implications on our weather, ranging from heavy rain risk to breezy, sunny, and much cooler. I don't feel confident either way right now, but if I were assigning odds, I would think we have about a 65 to 70 percent chance of seeing the front push through Friday, setting up a nicer weekend. If I want cooler air, I'll take those odds. More on this Monday.
Drought
A lot of folks have noted that it's been fairly dry lately. The Houston area is running about 1 to 2 inches below normal for 2020 to date, which isn't terrible. But over the last 30 days, that deficit is more considerable, as we've only seen 50 to 75 percent of normal rainfall. We could use some rain. Per the latest drought monitor report, posted yesterday, most of our area is in the classification of "abnormally dry" or moderate drought.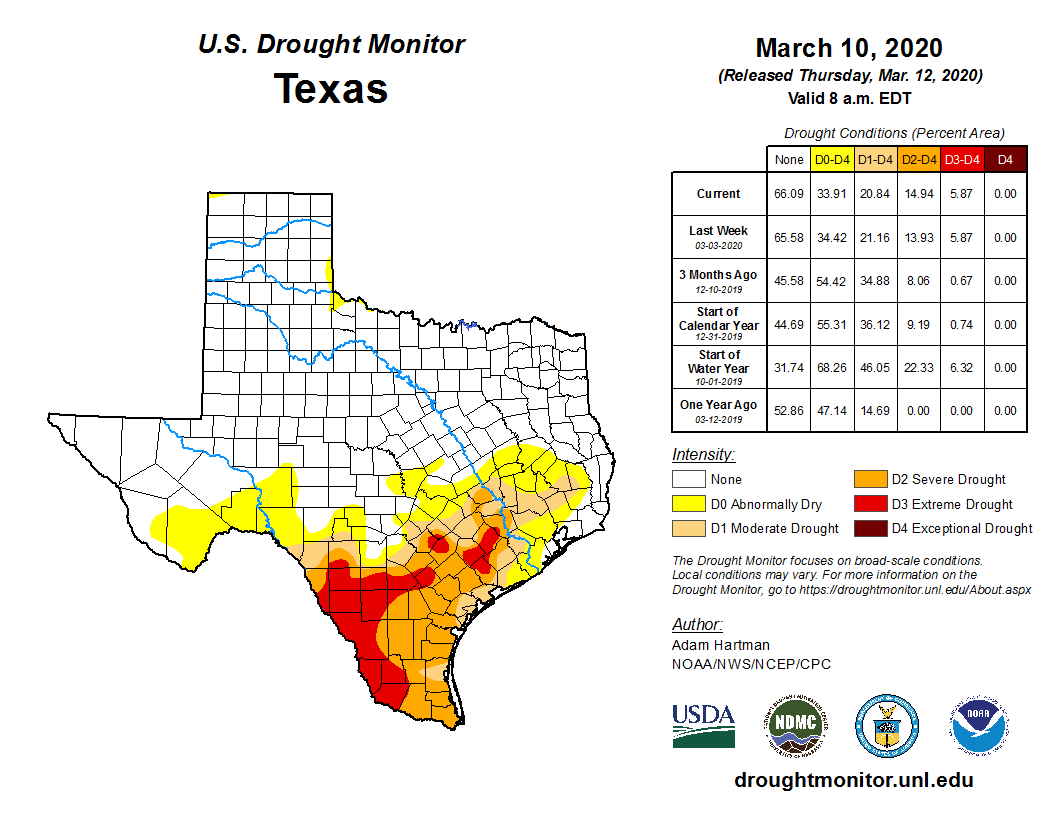 So, it isn't that bad. Yet. However, if you go just a bit south and west of here, down toward Wharton or Victoria and especially into the Rio Grande Valley, you quickly escalate into severe or extreme drought conditions. So, yeah, we all need some rain. Parts of Texas are likely to cash in on rainfall over the next week. But not so much those areas.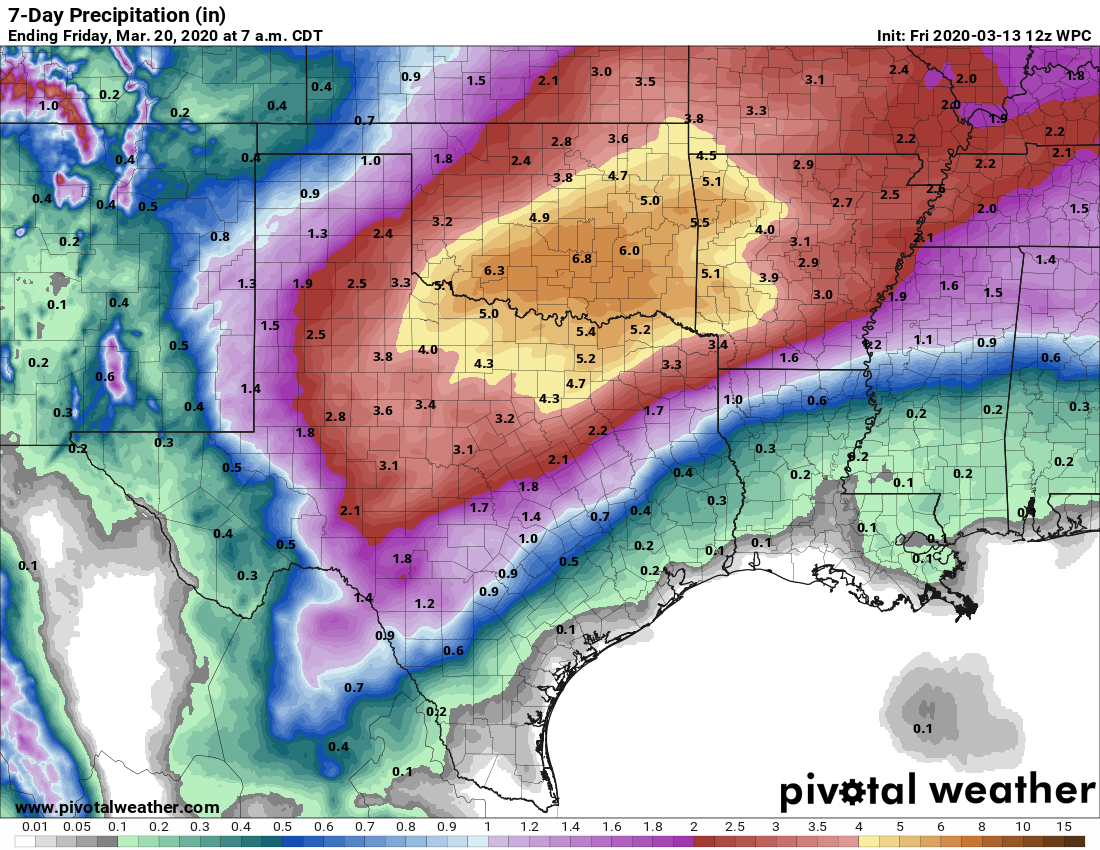 With the front stalled out to our north most of next week, heavier rain is possible in North Texas or Oklahoma. But for drought-parched areas? Portions of South Texas should receive some beneficial rain, though it might be more scattered than implied on this forecast map above. But the area around Houston is likely to be stuck with minimal rain unless the front were to stall over us later next week, a scenario I never root for. So don't expect drought conditions to improve much in our area over the next week or so.