POSTED AT 6:40 AM CT TUESDAY: Unfortunately we don't have great news to report this morning. The overnight trends with Laura are not good and everyone in the greater Houston and Galveston metro area needs to be making final preparations for a potential hurricane landfall. After moving off Cuba overnight, the storm made a slight westward jog, and this has had the effect of nudging several model runs west. This is likely to bring the center of the storm closer to Houston, and this is not good.
Track forecast
It now seems highly likely that Laura will make landfall somewhere between Freeport and Southwestern Louisiana—with the most probable location between Galveston Bay and the Texas-Louisiana border on Wednesday night shortly before midnight, or early Thursday morning. This forecast is a worst-case scenario for the Beaumont area, and a mandatory evacuation order is in effect for Jefferson County. The situation is not much better for the Houston area. Please note: The official forecast track shown below will likely be adjusted westward, toward Houston, at 10am CT this morning.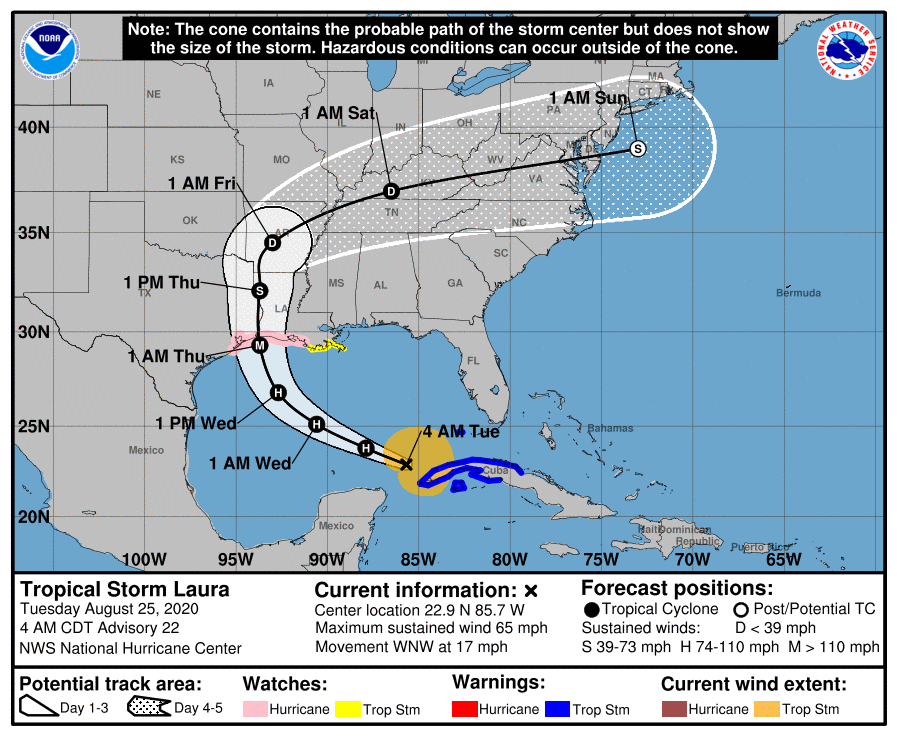 Now that Laura is over the open Gulf of Mexico and strengthening, confidence in the track should increase later today. Further changes will certainly be possible due to wobbles or other factors in the storm's movement, however.
It is very important to really understand where this storm will go. Hurricanes have effects over a large area, but their strongest winds are generally clustered tightly around the core, or to its northeast. And storm surge is significantly greater to the right of a land-falling center. For this reason, track really matters (see section below on Hurricane Ike).
Intensity forecast
As ever, this remains problematic. The storm will now spend nearly two days over the warm waters of the Gulf of Mexico. Laura is actually over the most explosively warm waters right now. One of the best measures of the potential for intensification is "Tropical Cyclone Heat Potential," and anything above a value of 80 is considered fertile for rapid strengthening. Here is the most recent map of heat potential, with Laura's track overlaid.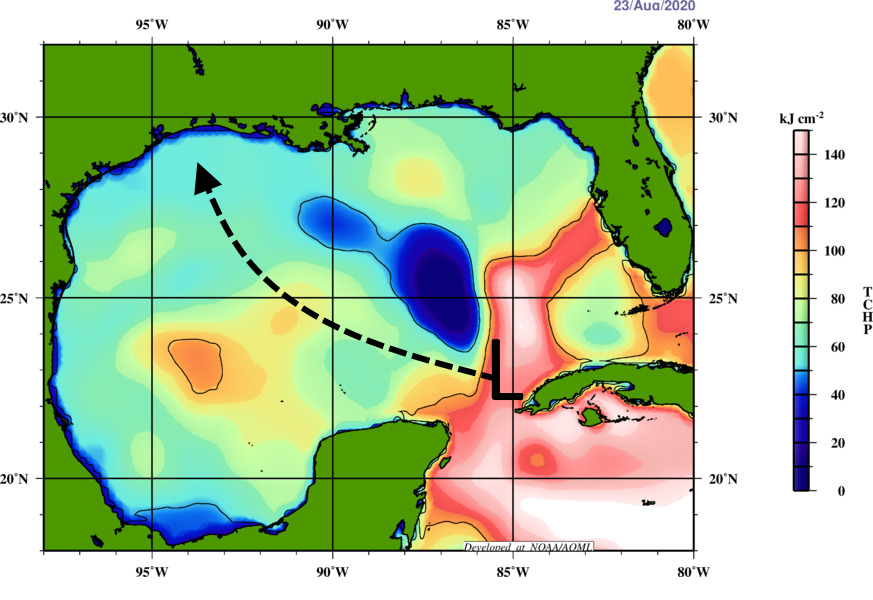 Unfortunately, Laura is going to miss the less explosive "blue" water to its north. (This feature actually predates Tropical Storm Marco). However, it also will not have the very deep pool of warm water that some past hurricanes have had to draw upon. A final consideration is that due to Laura's relatively fast forward motion, presently 17 miles to the west-northwest, the storm will not be as effected by heat potential as a more slow moving system. Bottom line: The Gulf is conducive to strengthening, but it is not as quite explosive as it could be.
Another factor in intensity is wind shear, and unfortunately that is expected to remain on the low side until Laura nears shore. Add this all up, and the National Hurricane Center now forecasts Laura to come ashore with 115-mph winds, as a Category 3 hurricane. This is a pretty reasonable estimate, but it is only that. Laura could well be stronger, or a bit weaker.
Hurricane Ike
If you're looking for an analog for what to expect in Houston from Laura, probably the best recent storm is Hurricane Ike. This storm made landfall on the east end of Galveston Island in September, 2008, and followed a track up the western side of Galveston Bay. It had maximum sustained winds of 110 mph.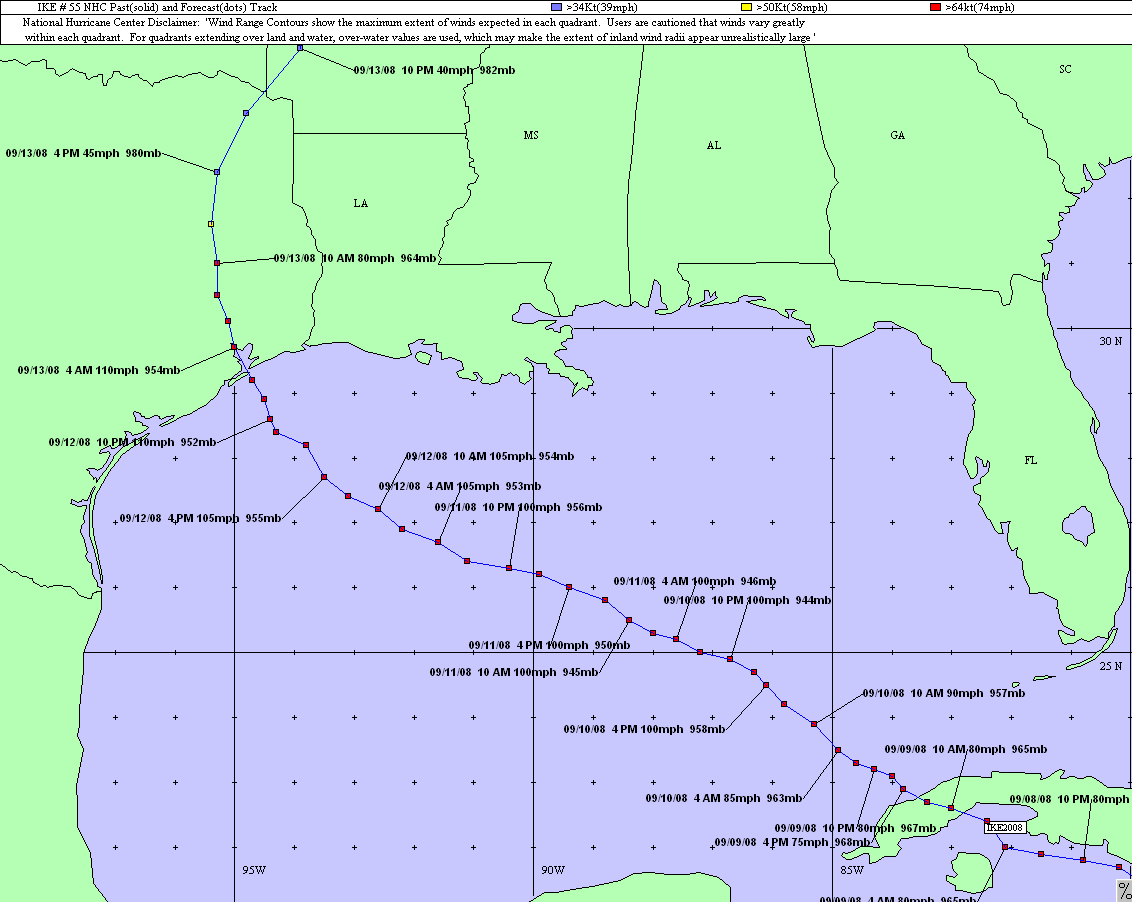 It is not a perfect comparison, as Laura probably will be more intense as it comes ashore with more damaging winds; and Ike was a larger storm so it produced a significantly more powerful storm surge we will probably see with Laura. But the reason I want to show the graphic below is that, very roughly, it provides a way to set expectations for Houston and Galveston.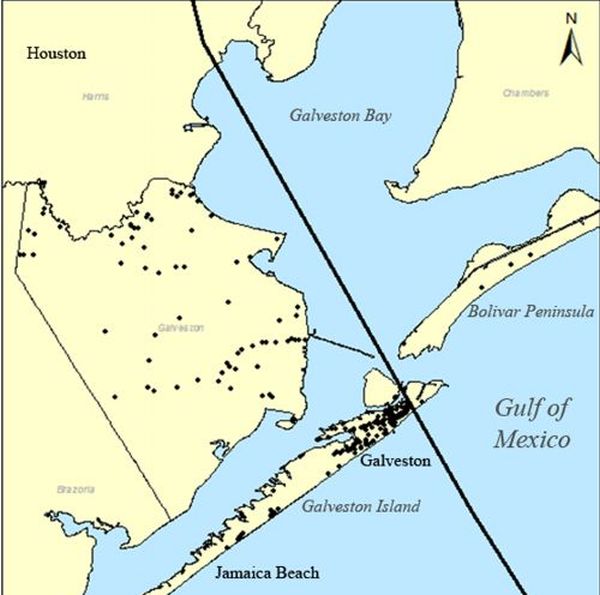 If Laura's track ultimately is east of this line—which for now seems likely, but is not guaranteed—effects in Houston ultimately will probably be less significant than Ike. If the storm tracks along, or west of this line, winds and potentially even surge in Houston will be worse. It might not be too strong to say "unimaginably worse," because Houston has not really experienced an intense wind storm since Hurricane Carla in 1961. This would require sheltering in a safe place. If you're looking for a worst case scenario for Houston, it would be a landfall near Freeport or San Luis Pass.
For those who did not live here at the time, Hurricane Ike caused $30 billion in damages in Texas, mostly due to storm surge. This report provides a good analysis of the storm's winds. It can be summarized as: one-to-two weeks of power outages, lots of downed trees, and roof damages. So like we said, a storm east of the line above would probably result in less of that. West, and all bets are off.
We will update again by 10:30 am CT. By then we probably can begin to talk realistically about what most of Houston will experience in terms of winds, waves, and rain; and when to expect it.