POSTED AT 10:30 AM CT TUESDAY: In its 10 am update, the National Hurricane Center has modified its forecast track for Hurricane Laura, and has shifted the storm's landfall slightly closer to the Houston-Galveston metro area. We remain within the cone of uncertainty, and need to be prepared for the possibility of additional westward shifts in the track this afternoon. We are still in line for anything from a glancing blow to direct major hurricane landfall. Bottom line: This is time for preparedness and action, not panic. This is a very serious situation that all residents should be following closely.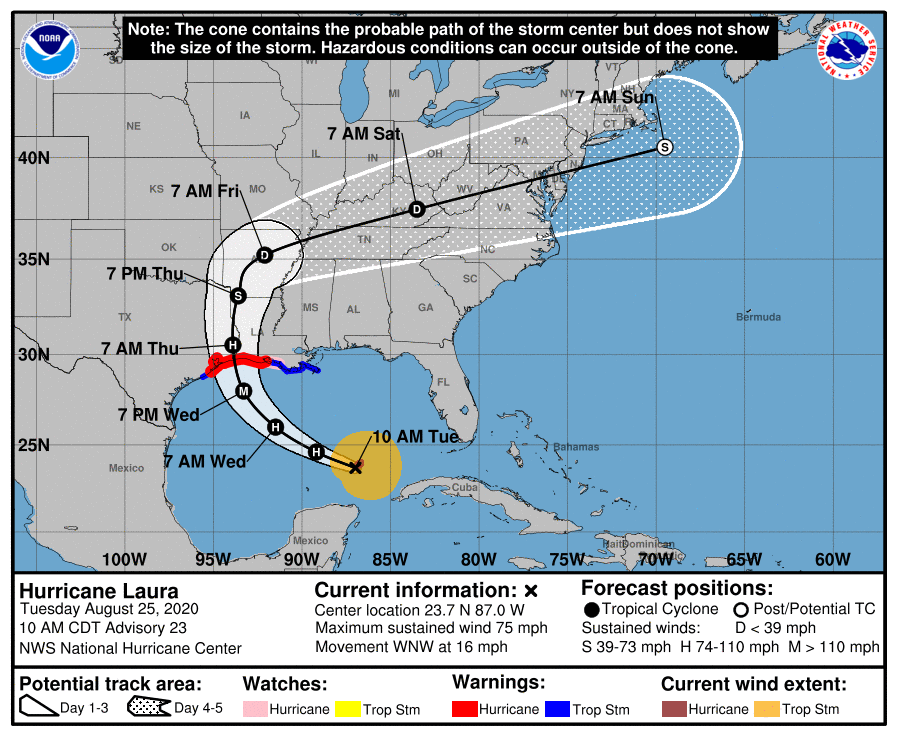 Local effects
The location and intensity will play a major role in the effects Houston sees. Even a track movement of 20 or 30 miles can make a big difference in the effects we see (I discussed this in a post earlier today). Due to the uncertainty, for the discussion below we will provide a forecast for Laura's effects in Houston based on the current National Hurricane Center track, and those for a reasonable worst-case scenario should Laura track further west and make landfall along Galveston Island.
Winds
At this time winds are our greatest concern. They are likely to be strongest near the storm's center of circulation, and to its immediate east. The most recent run of the HWRF model depicts a probable wind scenario for Laura should the storm make landfall near the Texas-Louisiana border. As you can see, winds over the Houston area would generally remain near or below Tropical Storm intensity, especially west of Interstate 45.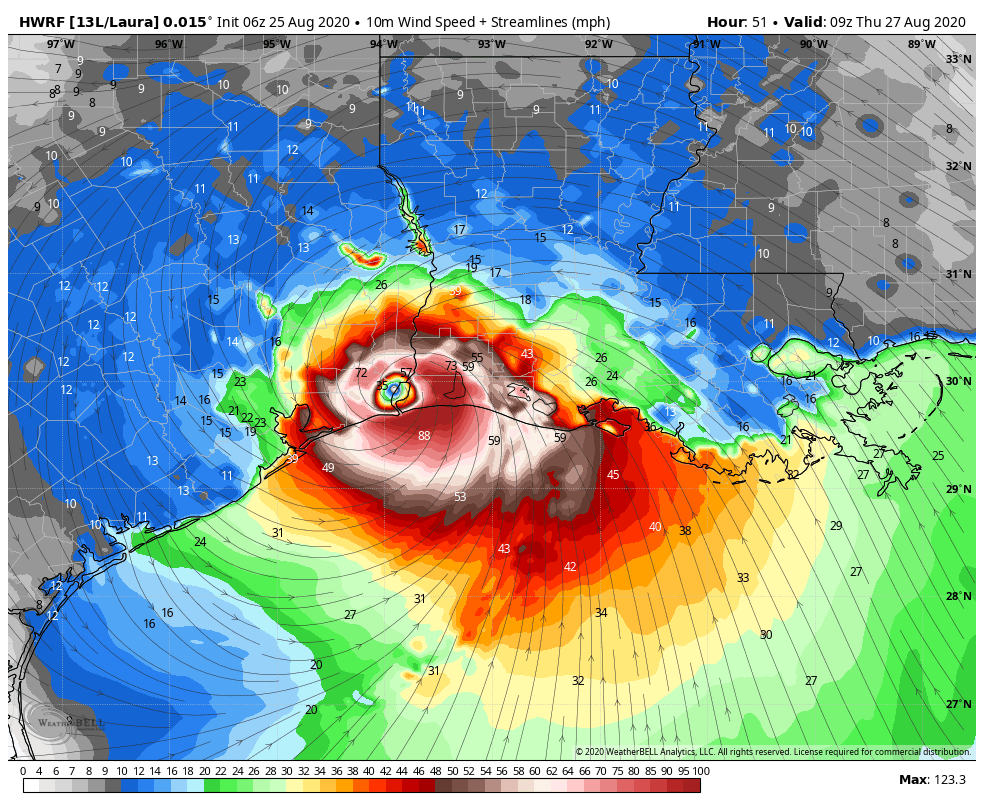 If the storm makes landfall over Galveston Island, the core of strongest winds would go inland along Interstate 45. This would provide widespread residential damage and knock power out for weeks, for many.
Storm Surge
This is our next biggest concern for the metro area. Laura is smaller than Hurricane Ike, and probably will come in east of its landfall location, so a surge along Galveston Island, and along the bay, probably will be less than the region experienced in 2008 under most scenarios. Here is the hurricane center forecast for surge along the current forecast track: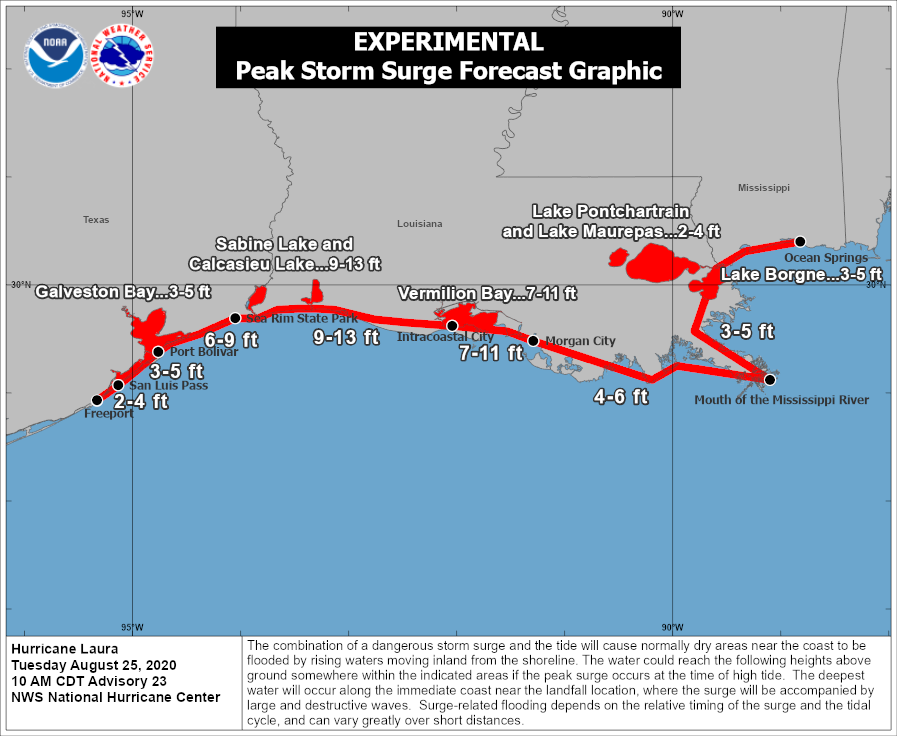 If the storm tracks further west, it looks like a storm surge of 6 to 10 feet along Galveston and Galveston Bay would be a reasonable estimate.
Inland rainfall
This is a much lower priority due to Laura's forward speed. As I hope you understand by now, this will not be another Hurricane Harvey. In terms of rainfall, we can probably expect 1 to 3 inches with the current track. Should Laura make landfall further down the coast, we can probably anticipate widespread totals of 6 to 10 inches, with higher isolated amounts.
Should you evacuate?
If you live along the immediate coast and are under a mandatory evacuation order, as Galveston Island is, the answer is yes. You should heed local officials who are making difficult calls.
After that, it's really a personal decision for you and your family. How high is your risk tolerance? Are you willing to spend several very intense, and yes, scary hours in the middle of a hurricane? Do you have a safe place in your home to shelter within? Can you survive without power for several days? The age-old advice during a hurricane is that you evacuate from a storm surge, but take shelter in your home from wind. Effectively, for the Houston area, this means the closer you are to the coast, the higher your risk for surge. These "zip zone" maps (click here to download medium, and large-sized maps) show the risk in this area by zip codes.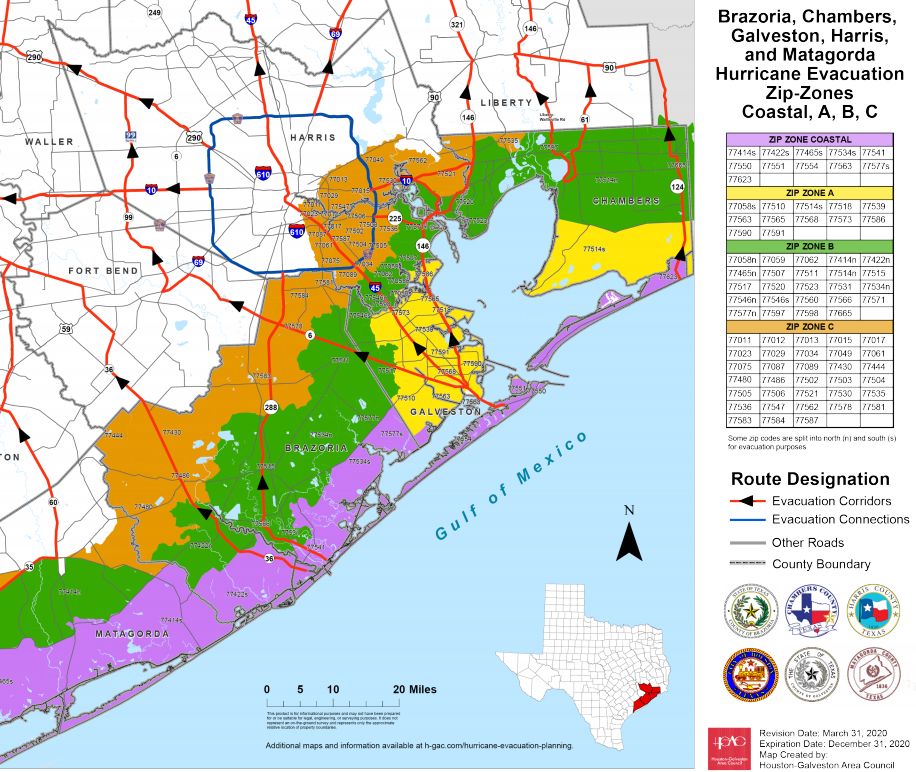 All evacuations should be completed by Wednesday, at noon. This is about the earliest reasonable times that winds would arrive in the Houston metro area.
We will update again by 2:30pm CT.