Houston's warmest June ever is going to end much cooler than it started. With an increase in cloud cover, and at least decent daily rain chances, the next four days will generally see high temperatures of only around 90 degrees, give or take. The bigger question remains rain totals as a low pressure system approaches the Texas coast. Between now and Saturday I would expect 0.5 to 2 inches of rain for inland areas north of Interstate 10, and 1 to 4 inches for areas closer to the coast. But there will be wide variability across the region, and a lot still depends upon the movement of the tropical low over the next few days.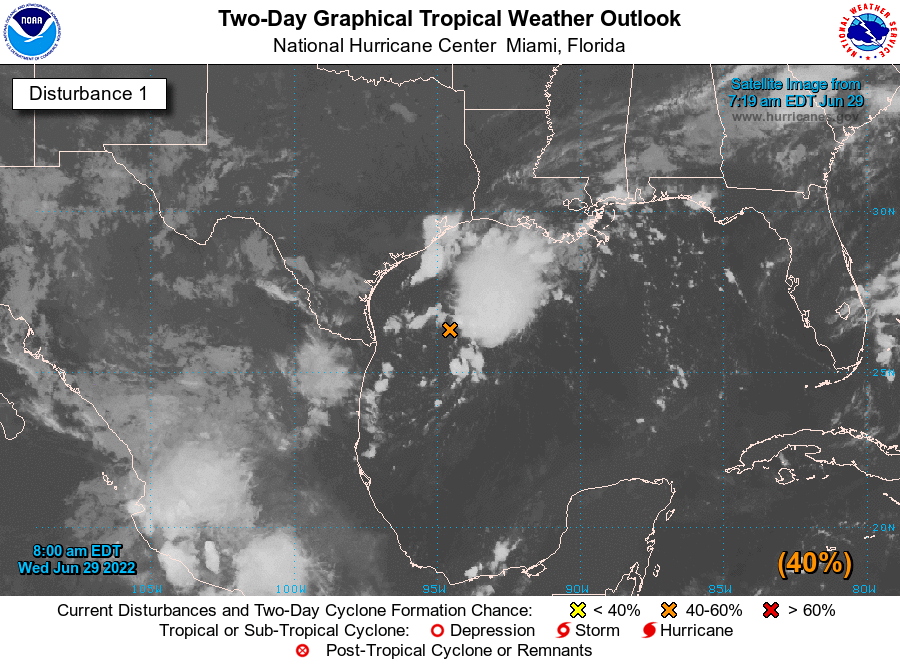 Wednesday
The aforementioned low pressure system is a couple of hundred miles due south of the Texas-Louisiana border this morning, over the Gulf of Mexico. And that's where the bulk of the rainfall is, offshore. Still, we've seen coastal areas getting clipped by rains moving inland early this morning, and that could happen again this afternoon and early evening. If you live inland, north of Interstate 10, rain chances are less today, but not zero. Highs will generally reach the low 90s, beneath mostly cloudy skies. But if some sunshine pokes through this afternoon, a few locations could reach the mid-90s. Light winds (except in thunderstorms) will shift from the northeast to southeast later today, and rain chances may slacken over night.
Thursday and Friday
These two days still look like the best time for moderate to heavy rainfall to fall along upper Texas coast. This is when the tropical low pressure system—which has a 40 percent chance of becoming a tropical depression, the National Hurricane says—should come onshore somewhere along the middle Texas coast. Again, the most favored regions for heavy rainfall will be coastal counties, including Matagorda, Brazoria, and Galveston. However, the best chance for inland rainfall will also come on these days, as the tropical system marches inland. Our rainfall totals will ultimately depend on whether the system makes a northward jog, in which case some coastal areas could see 5+ inches. At this point, we just can't say for sure.
The increased cloud cover and widespread rain should help to keep temperatures in check, with daily highs perhaps not making it beyond the upper-80s for a lot of locations. Enjoy the reprieve from the heat, which we certainly earned after a torrid June.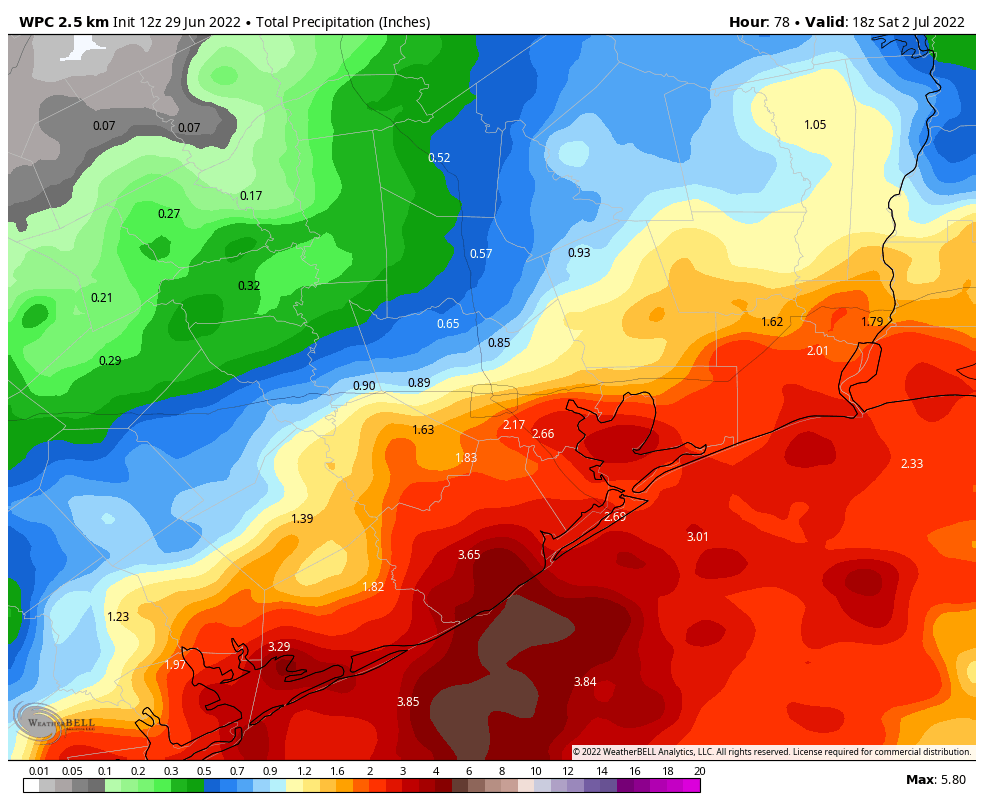 Saturday, Sunday, and Monday
For many this will be a holiday weekend. It is looking like we'll see a carryover of rain chances into Saturday morning, but at some point they're going to end and our skies will likely turn sunnier. Highs on Saturday will be around 90 degrees. Sunday looks partly to mostly sunny, with highs in the low 90s, and the Fourth of July should see partly to mostly sunny skies with highs in the mid-90s. We can't entirely rule out a fleeting shower on these days, but I'd put the chance down in the 10 percent range. Note that while Harris County Commissioners did vote to enact a burn ban on Tuesday, fireworks will remain legal in the unincorporated part of the county.
Next week
Most of next week will likely see highs in the mid-90s, with mostly sunny skies, and precious few rain chances. So be sure and top off over the next several days, if you can.