Good morning. Before we get into the forecast this morning—long story short, we can expect three days of warm conditions before a stronger front moves through on Thursday evening—I wanted to touch on a couple of issues that are playing out in the background of Houston's weather.
Monday's dust
Monday was a weird day in Houston. A cold front moved into the region and stalled just south of the Highway 59-Interstate 69 corridor. Areas behind this front saw a pretty dramatic surge of drier air. By around 4 pm CT the relative humidity at Bush Intercontinental Airport, for example, had fallen to 15 percent, which is really low for late February. (Just as crazily, eight hours later, it was back to 100 percent as the front lifted north). Lots of dust rode into our region along with the front, creating air quality issues and haze. This dust was transported from West Texas, where there are drought-like conditions, and serious wind storms of late that are kicking up a lot of dust. You were breathing the desert on Monday, Houston.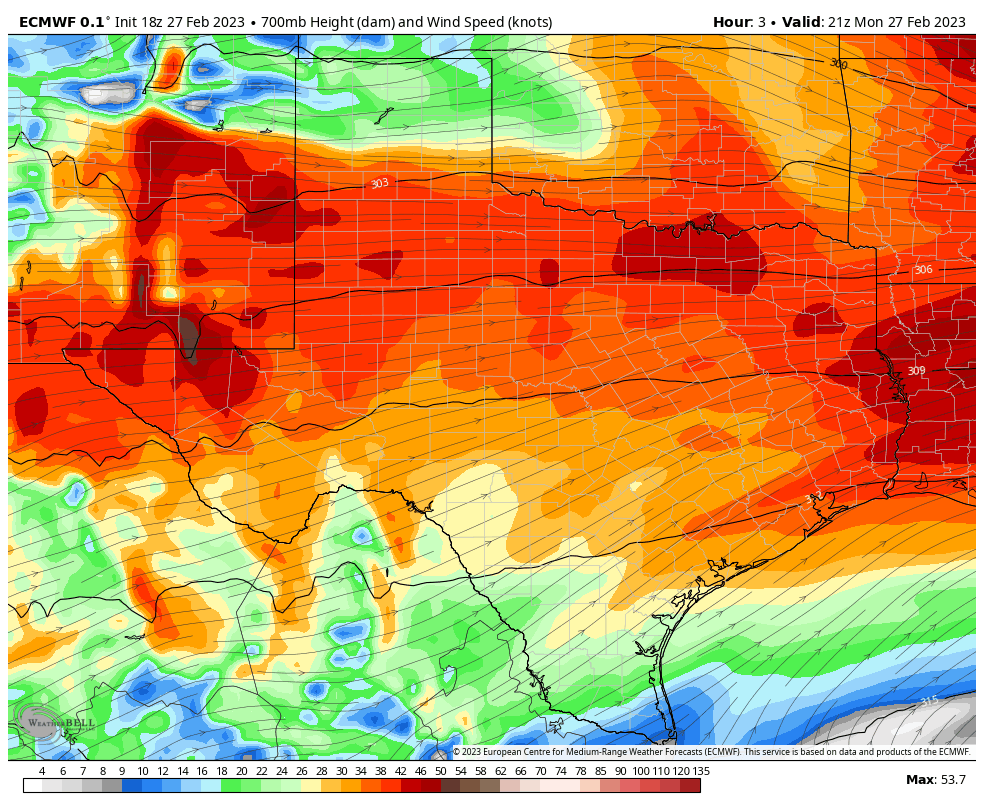 For those of us who live closer to the coast, we experienced nothing of this on Monday. The front never made it. Conditions remained humid, and skies mostly sunny. We missed out entirely on the West Texas dust show. But never fear! With Thursday's front the entire area may experience this dust again, as winds blow from the west-northwest. We'll see.
Allergies
Tree pollen season is worsening. Monday's tree pollen count in the city of Houston was above 2,000 for the first time this year, and any time there is wind you can see pollen flitting out of trees and causing you to sneeze. For people sensitive to pollen, this season is pretty obnoxious. Unfortunately it will probably be with us for the next three to five weeks.
Tuesday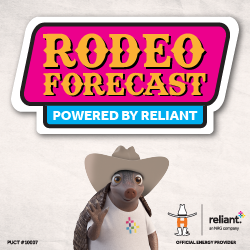 It's a tale of two cities this morning. Some far inland areas are still on the cool and dry side of the front. I'm looking at you, Conroe, with lows in the 50s. The front should lift further north today, entirely out of southeast Texas. Most of the region, however, is already back in the upper 60s or lower 70s with plenty of humidity. On top of all this, coastal areas are seeing a decent amount of fog this morning. Our mostly cloudy skies will give way to partly to mostly sunny skies later this afternoon, and high temperatures should rise into the low- to mid-80s for much of the region.
If you're heading out to opening night of the Houston Livestock Show and Rodeo, temperatures this evening will be in the upper 70s, with light winds, and increasingly cloudy skies. There really are no concerns as mild weather will continue overnight, with low temperatures dropping to about 70 degrees in Houston.
Wednesday
Patchy fog will be possible again Wednesday, when we should experience another warm day with highs in the low- to mid-80s. There is about a 20 percent chance of light rain. Winds will be more pronounced on Wednesday, perhaps gusting to 20 mph. Expect another warm night.
Thursday
We have lots of questions about Thursday's weather, particularly during the afternoon and evening hours when a strong-ish cold front approaches the area. There will be plenty of moisture to work with, in addition to ingredients favorable for severe weather such as thunderstorms and possible hail or a tornado. However, there will also be a pretty healthy capping inversion in place over the area. For a time this may suppress storm activity, but the period from sunset to around midnight will see the potential for storms as this cap weakens. For now there are a lot of "maybes" in this forecast, but we should be better able to pin down the forecast for Thursday evening in tomorrow's post. For sure conditions will be windy during the evening hours as the front approaches and passes, with gusts likely above 30 mph.
Friday
This will be a sunny, breezy, and cooler day with highs in the mid- to upper-60s. Lows on Friday night should drop into the mid- to upper-40s across much of Houston.
Saturday and Sunday
The weekend looks fine, and sunny, with highs likely in the mid-70s on both days. Pollen concerns aside, plan your outdoor activities with confidence.
Next week
Most of next week should see warmish weather, with highs probably in the 80s before some sort of front arrives on Thursday or Friday. As always, we'll have to leave the details to a future forecast.