Yesterday ended up seeing a few more showers in the area than expected, with a couple locations picking up about a tenth to a quarter inch of rain. Otherwise, it was dry. This holiday weekend will continue to bring limited rain chances, lots of sun, and plenty of heat, as it should feel more like late June than late May. After today's forecast, we discuss NOAA's hurricane outlook, released on Thursday.
Friday through Monday
Each day this weekend should be similar: Daytimes will be partly to mostly sunny and nighttimes partly to mostly cloudy. While we won't advertise rain, there could be a couple brief showers in the area, particularly Monday afternoon. You should comfortably go forward with outdoor plans this weekend though. As Eric has noted this week, just keep hydrated and take it easy in the heat.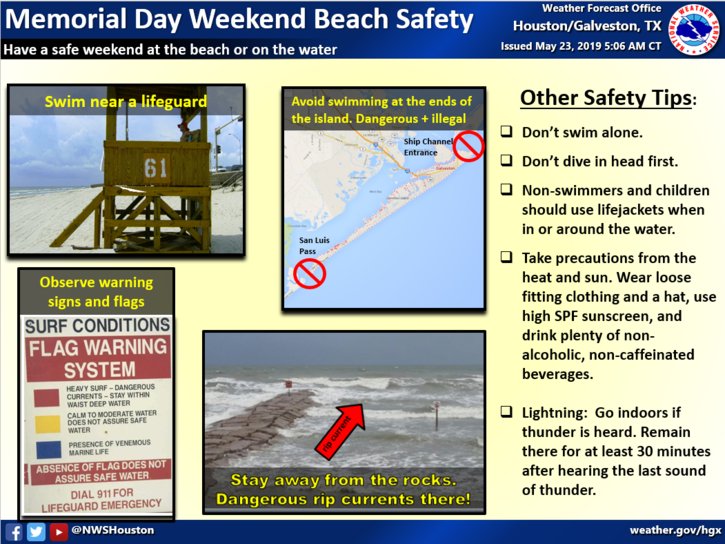 Rip currents will also probably be an issue at times this week on the Gulf, so it's a good idea to do a quick review of the swimming safety tips above and always swim near a lifeguard.
As far as temps go, we will have a "back to the 90s" weekend! Look for 90° each afternoon, give or take a couple degrees. Obviously, it will be cooler along the Gulf, but even there will see mid- or upper-80s. Mornings will begin in the low- to mid-70s in most spots. Those of you out on the water will see southeasterly winds around 15 mph, perhaps gusting to 20 mph at times, especially today and Monday.
Next week
Look for continued heat and humidity most of the week. Rain chances remain on the low side for now, but there are perhaps some signs of slightly elevated shower chances as early as Wednesday, as strong Southeast U.S. high pressure begins to break down. This will allow for disturbances to edge closer to Houston by later next week. We'll see if that actually happens, but it's what to watch for change.

NOAA hurricane outlook
Lastly, NOAA released their 2019 hurricane season outlook yesterday.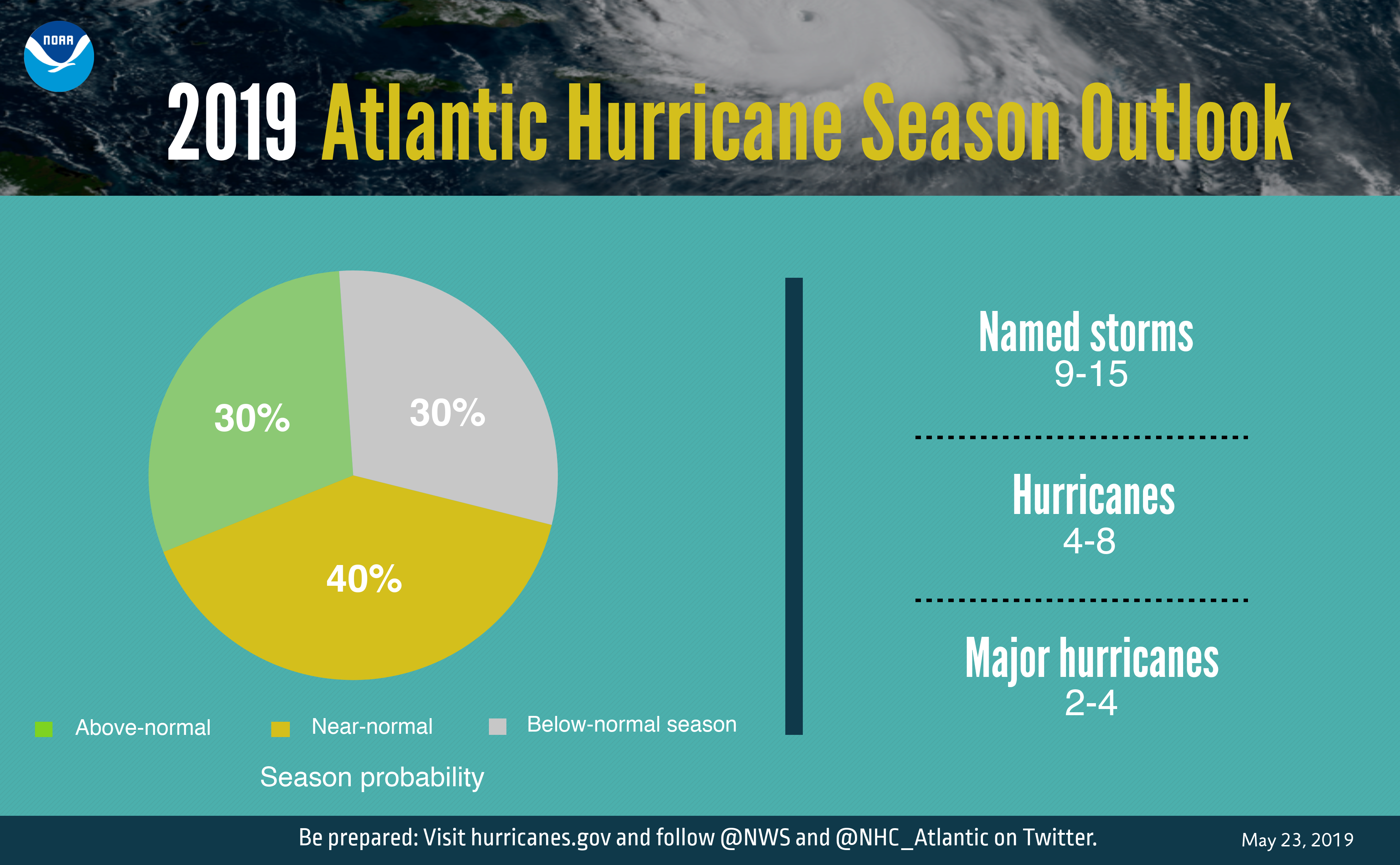 It calls for nine to 15 named storms, four to eight hurricanes, and two to four major (Category three or stronger) hurricanes. NOAA's outlook has generally wider goal posts than some others, but it's in the spirit of the science as it is right now. This is generally "near average," which they think has a 40-percent chance of occurring. Similar to the Colorado State outlook issued last month, it cites El Niño to potentially mitigate storm numbers this year. History is on your side there usually, but by no means is it a guarantee that the season will be quiet. Truthfully, the 30% odds of an above normal year that they have assigned are not inconsequential. Remember, it's important to prepare each season, regardless of whatever these seasonal outlook say. It only takes one storm to make it a bad season.