Good morning. A rollicking night across a healthy chunk of the Houston metro area continues this morning, as now-Tropical Storm Nicholas slowly, but steadily, passes through. As of 4:45 AM, Centerpoint's website reports over 380,000 customers without power. Wind gusts of 45 to 55 mph are still occurring across southern and some eastern parts of the metro area, with gusts generally in the 30s to the north. The maps here shows the maximum wind gusts we've seen at various sites across the area since midnight.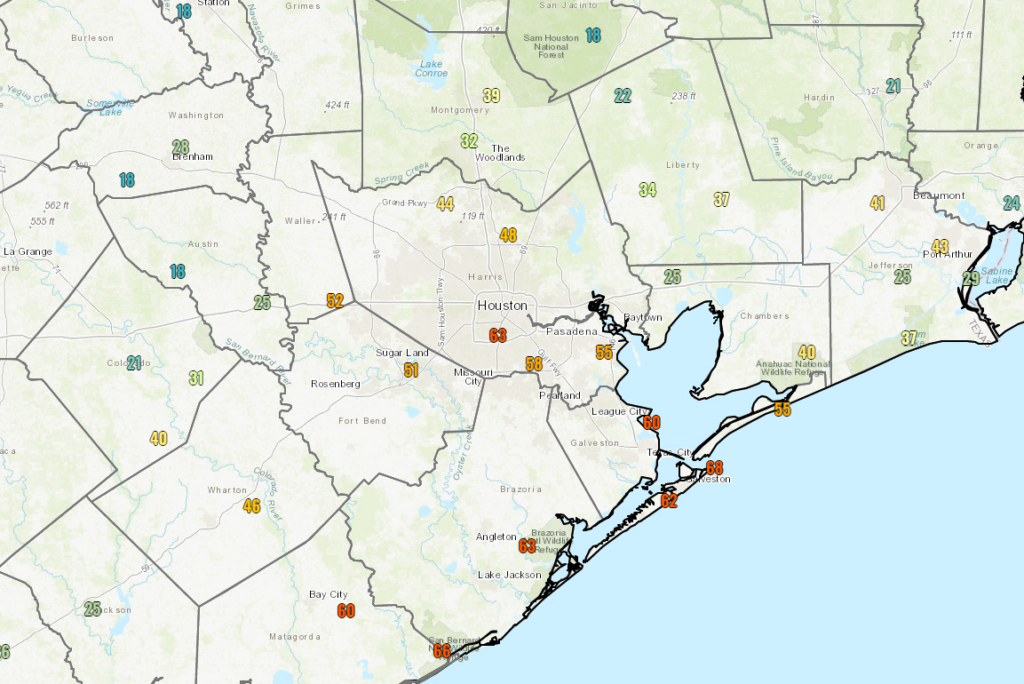 You can see a list of highest reported wind gusts for the entirety of the storm (as of 5 A.M.) here. Judging by radar at 4:55 AM, Nicholas's center was just getting ready to exit Brazoria County, just north of Rosharon. The center should pass very near or right over Houston a little later this morning. Maximum sustained winds were still reported to be 70 mph at the 4 A.M. National Hurricane Center advisory, though it's likely to have weakened a bit further by now.
Wind impacts
As Nicholas continues to move north, you can expect gusty winds to travel north and east with the storm. Continued wind gusts of 45 to 55 mph are likely in the city of Houston and points south and east for another couple hours, with a general trend toward lessening wind overall. Areas north of Houston will likely see 35 to 45 mph gusts continue as well through the morning. This could continue to sporadically knock out power to folks across the area. If you have power, it would be a good idea to keep your phone charged, just in case you lose power. As winds subside a bit this afternoon, power crews should be able to get out to begin to repair damage. Power restoration may take somewhat longer where damage is more significant, namely along the coast and southeast of Houston. It would be a good idea to check in on anyone vulnerable, especially the elderly today, just to make sure they have what they need in case they've lost power.
Rainfall/Flooding
The good news in Houston is that serious flooding has not materialized in the city. The story is a bit different south and east of the city, however. The Harris County Flood Control maps of gauge status as of 5 A.M. shows several locations that are either flooding or close to flooding in far eastern Harris County and along Clear Creek or into Galveston and Brazoria Counties.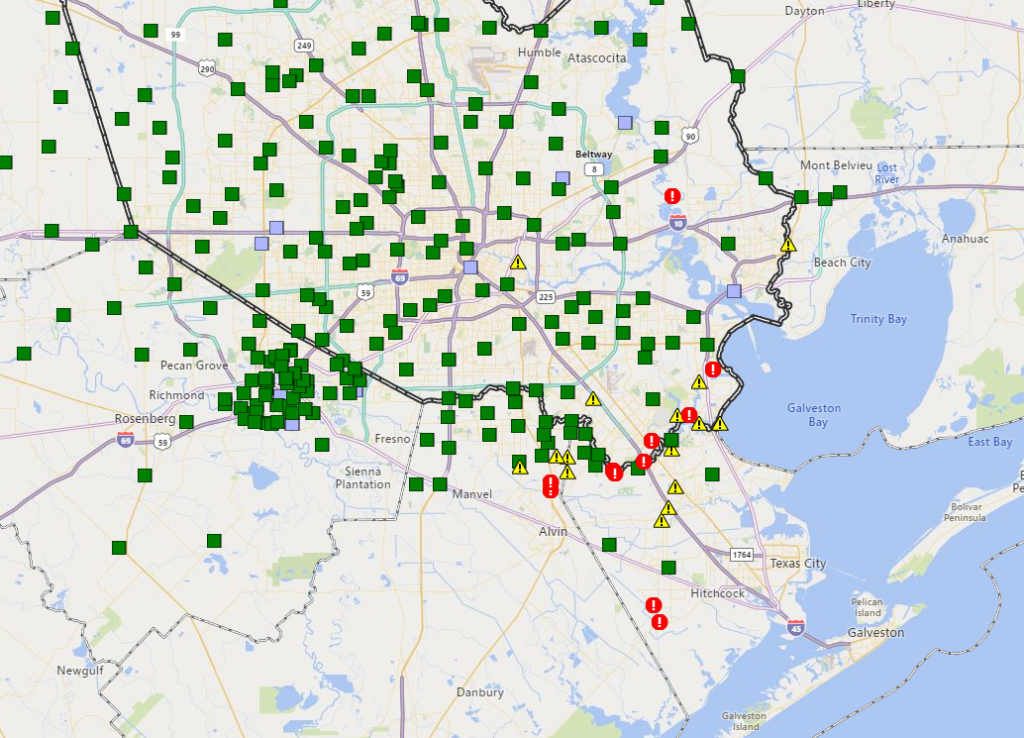 Some of the flooding south and east of Houston is coming as a result of surge on Galveston Bay. With the center of the storm over inland Brazoria County, winds have piled up water on the west side of the bay, leading to a generally 2 to 5 foot surge in many areas, highest along the bayshore in Harris or Galveston Counties.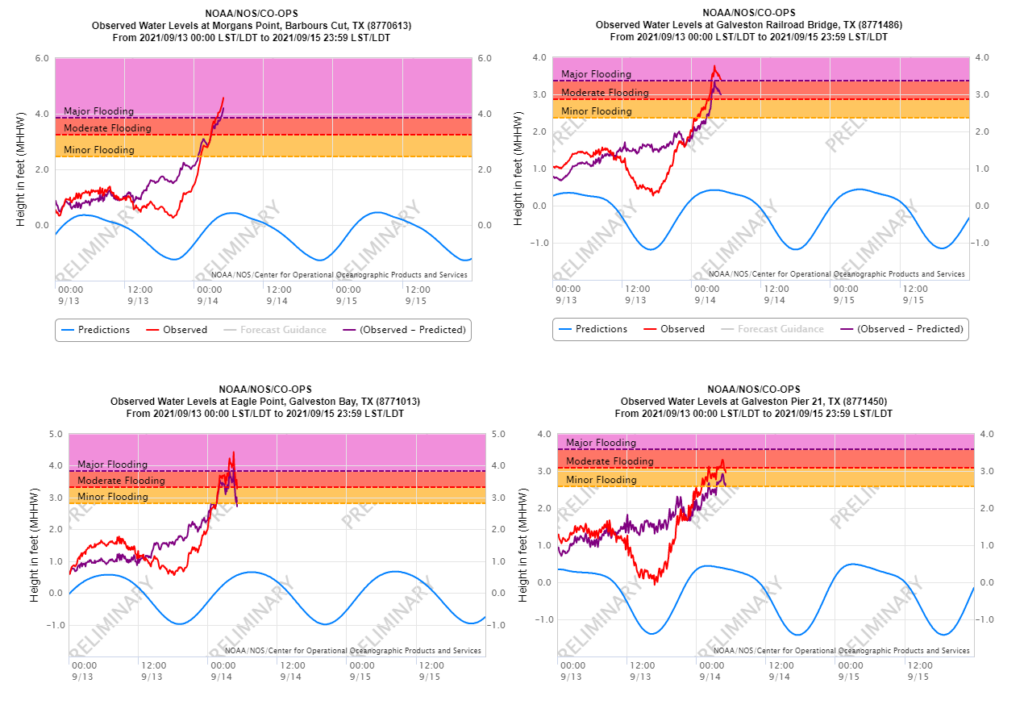 Clear Lake even is close to a 6 foot surge. Expect these values to peak soon, with gradual improvement through the morning and into the afternoon.
Rainfall continues heavy at times, mainly in Houston and points east now. The circled area below is seeing rates at times over 1 inch per hour. This will be enough to cause some flash flooding, especially as you get into southeast Harris County, Chambers County, and Jefferson County.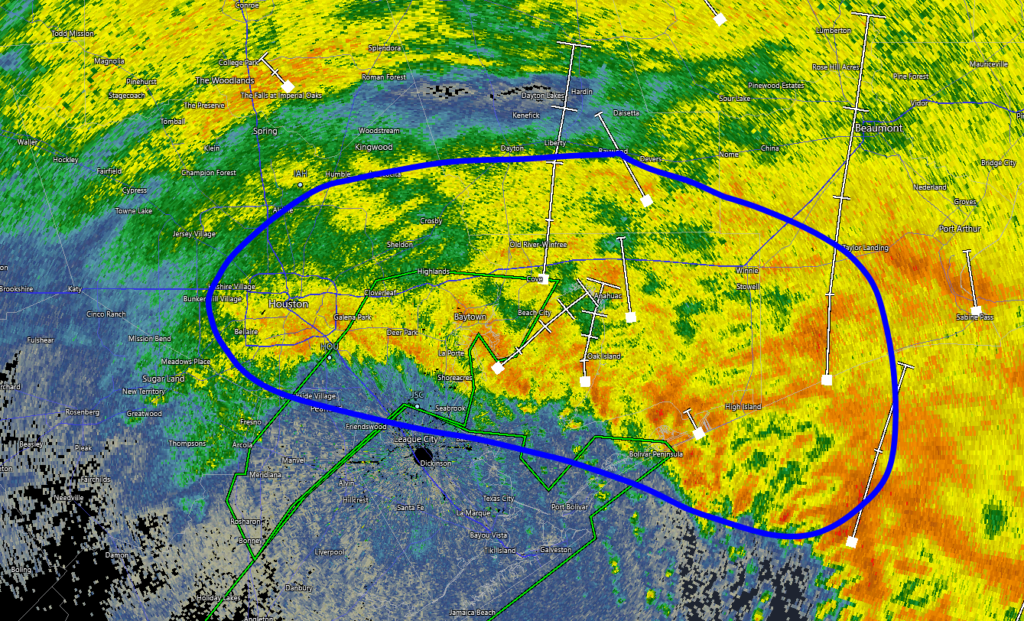 While these rates are a little less than we feared, we will still see travel issues in spots east of the city, as well as south of the city as water continues to flow through the system. These conditions should improve a good bit by later this morning and especially this afternoon. The lopsided nature of this storm means that although the center may only just be on the east side of Houston by midday, the main impacts should be mostly out of our area by then.
Heavy rain and flooding risk will continue through the morning across Beaumont, Port Arthur, and into western Louisiana.
Later today and tonight
Though we expect the overall picture to greatly improve this afternoon, at least a few areas may see daytime heating lead to additional showers and storms popping up. Any of those would be capable of producing heavy rainfall, but they will be scattered and likely not widespread. We should see dry conditions tonight. High temperatures today will peak in the 70s, but if we do see any breaks in the clouds west of Houston, we could sneak into the 80s in a few spots. Certainly not terrible, but something to keep in mind if you are still without power this afternoon.
Eric will have our next update around 10 A.M.