Lows this morning have generally fallen in the 40s, which is fairly typical for December. We're going to see more or less winter-like weather for at least the next 10 days, with the possibility of a light freeze for inland areas on Sunday morning, and colder weather still later next week. It's really time for that winter coal, y'all!
Thursday
This will be a prototypical winter day in Houston, with highs in the low 60s, sunny skies, and light winds. Skies will be clear tonight, with lows dropping into the mid- to upper-40s in Houston with cooler conditions further inland.
Friday
As high pressure moves off to the east we'll start to see the return of some atmospheric moisture, and as a result clouds will start to build in during the morning, or early afternoon hours at the latest. Look for highs in the mid-60s. There is a slight chance of some light rain as a reinforcing cool front moves into the area on Friday evening. Otherwise expect lows in the mid-40s.
Saturday
Skies will clear out on Saturday, likely during the morning hours, in the wake of the front. This will be a clear, cold day, with highs likely topping out in the mid-50s. Clear skies and decreasing winds will allow for optimal cooling conditions on Saturday night, and some outlying areas are likely to see a light freeze. At this time I believe the Houston metro area will remain just above freezing, however.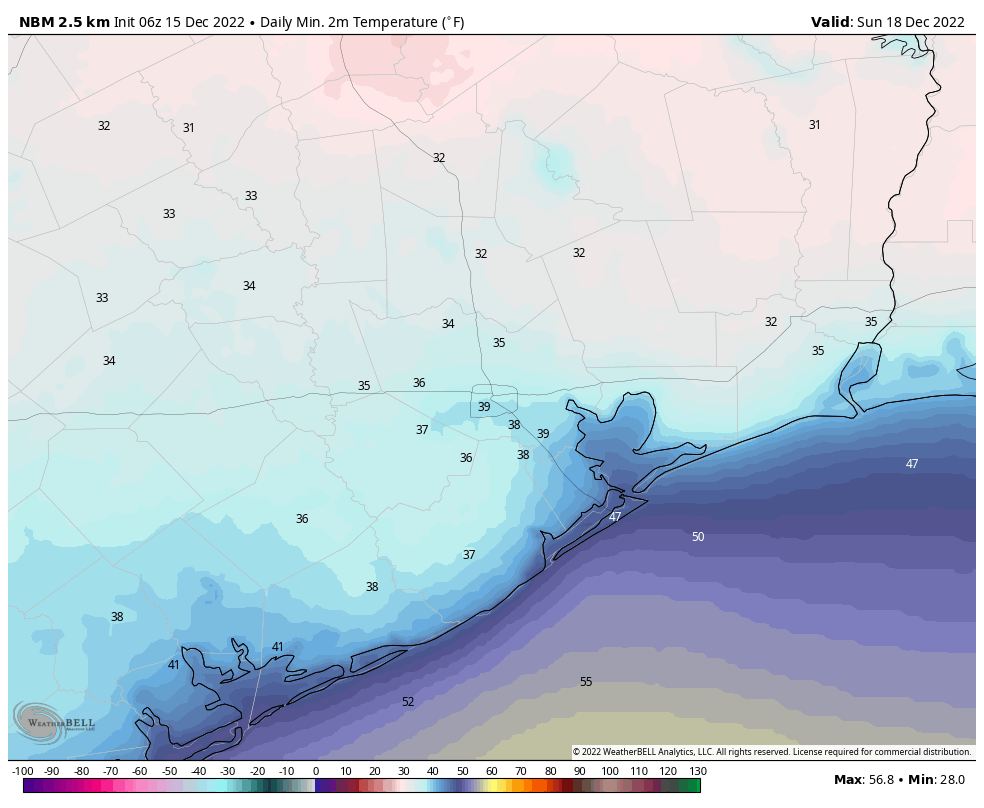 Sunday
This will be another chilly day, with highs in the 50s most likely. Winds will revert to come from offshore pretty quickly, however, so we'll start to see some clouds, and by Sunday evening skies should be mostly cloudy. Lows will drop into the mid-40s.
Monday
In response to increasing moisture levels and a low pressure system, we'll see elevated rain chances on Monday. For most of the area I don't think the rain will start until at least sunrise, and perhaps a bit later. Accumulations will probably be greater closer to the coast, where 1 to 2 inches is possible, with isolated higher totals. Skies will otherwise be cloudy, with highs likely topping out in the upper 50s.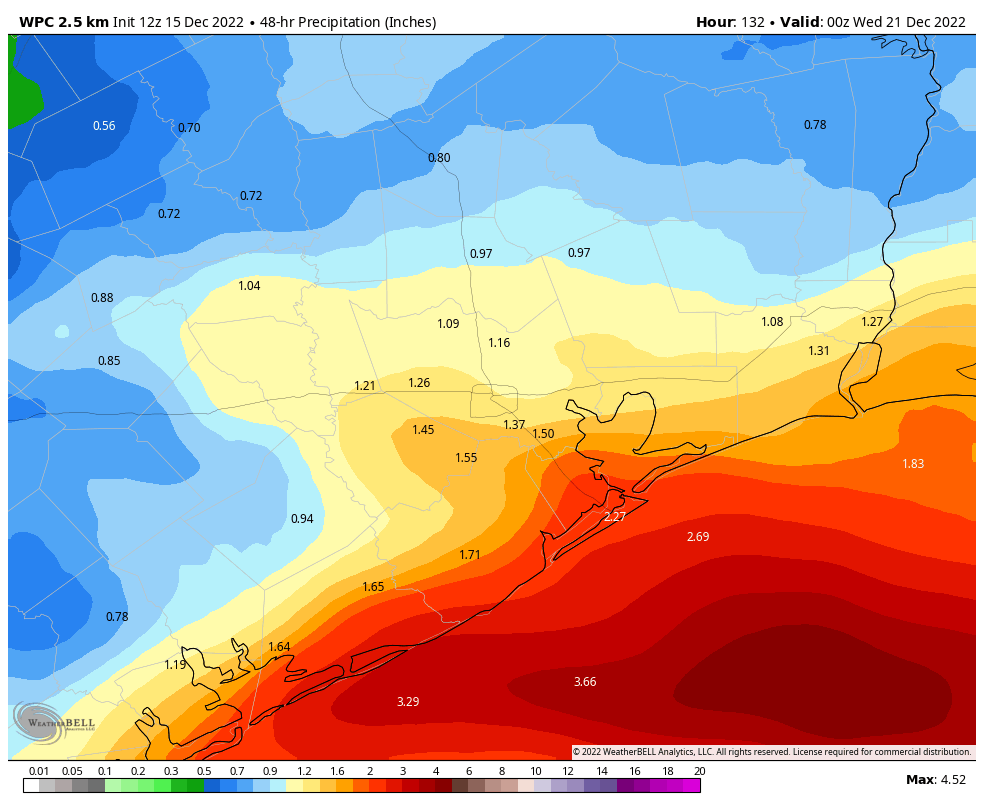 Next week
We're expecting conditions through the middle of next week to support high temperatures in the upper 50s to low 60s, with overnight temperatures generally in the 40s. The global forecast models are still strongly suggesting that a robust front will arrive with Arctic air around Wednesday or Thursday, causing temperatures to plummet a day or two before Christmas Day. Unfortunately, at this range, we don't have the greatest of confidence in how cold things will get. The range of possibilities is this: lows might get as cold as the upper teens or they might only drop into the mid-30s. I'd lean toward a light freeze in Houston at this time, but my confidence is not particularly high. There also is a non-trivial chance of snow—at this point I'd give the metro area perhaps a 10 or 15 percent chance of a White Christmas.