Well, we made it to Friday again. The weather looks quiet this weekend for the most part. Next week is another matter. The main headlines today:
A few showers this evening or overnight before a nice weekend.
Widespread rain on Monday.
Strong cold arrives Thursday or Friday, but just how cold it gets remains elusive. A freeze is likely for most of the area, with a hard freeze becoming possible on at least one night.
While we will continue to watch things closely, we do not believe the upcoming cold will rival what we saw in 2021 in terms of intensity, duration, or impacts.
Connect with us!
Before we get into the forecast, I wanted to share that as of Wednesday, Space City Weather is now available in Apple News! So if you are an Apple News reader, you can search for us there or just tap here to get to our landing spot in the app where you can follow us. Obviously, we'd prefer you come right to the site or download our own app, but we're making an effort to reach people where they are and maybe grab a few new eyeballs in the process.
Don't forget to share with any Spanish speaking friends or family that we have Maria Sotolongo on the team using her meteorological knowledge and bilingual skills to cross-post our updates in Spanish at Tiempo Ciudad Espacial and on social media! She does great work, and we want that area of our site to continue to grow.
And lastly, our social media pages. We'll try to adapt as the environment and people's preferences evolve, but as of today, you can find us here:
Facebook
Facebook (en español)
Twitter
Twitter (en español)
Instagram
Instagram (en español)
TikTok (we're working on ways to be more active here)
You can also find myself, Eric, and Maria on most of the socials by searching our names.
Today
Alright, on to weather, and it's a fine, albeit cool morning across the area. Most of us will see sunshine this morning, but look for clouds to roll in as the day progresses. This is ahead of a cold front to reinforce the dry, cool air over the region. Yes, we could see a few showers pop up along the front late this afternoon as it passes through, but I suspect any rain would be brief, and many of us will see nothing at all. High temperatures will make it into the mid-60s. Winds will kick up a bit out of the north behind the front.
Weekend
Saturday will probably start off with some clouds. There could even be a few lingering showers south of Houston, along the coast and down toward Matagorda Bay. I can't promise that we'll turn sunny in the afternoon, but the data suggests we gradually will. So hopefully it will be a day of decreasing clouds. It will be cooler and breezier Saturday, with highs in the low-50s and a gusty north wind (especially over the bays and Gulf).
We'll have what should be our coldest night of this current stretch so far on Saturday night into Sunday morning. Look for 30s in most spots, with low-30s in far outlying areas and notorious cold spots like Conroe.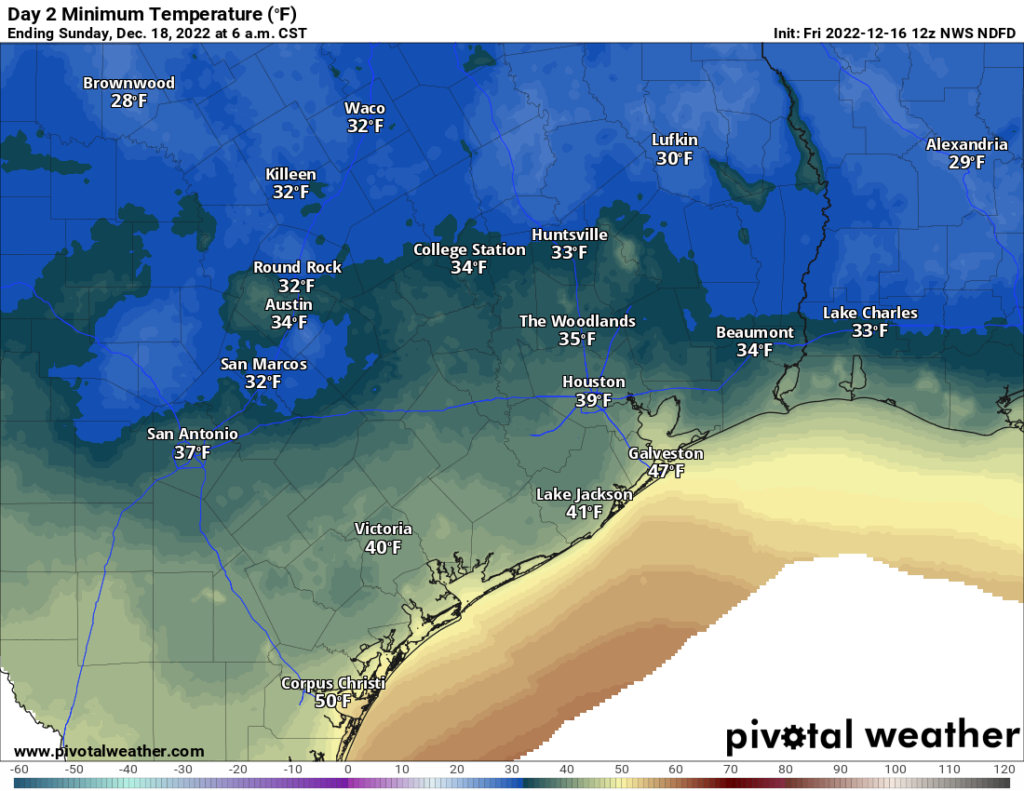 Sunday itself should be generally sunny and continued cool, though with less wind. High temperatures should reach into the mid or upper-50s. There could be an influx of clouds during the afternoon, especially south of I-10.
Monday
Monday continues to look like a wet day. Expect off and on rain, sometimes steady to heavy in spots. It will add up to an inch or so across most of the region.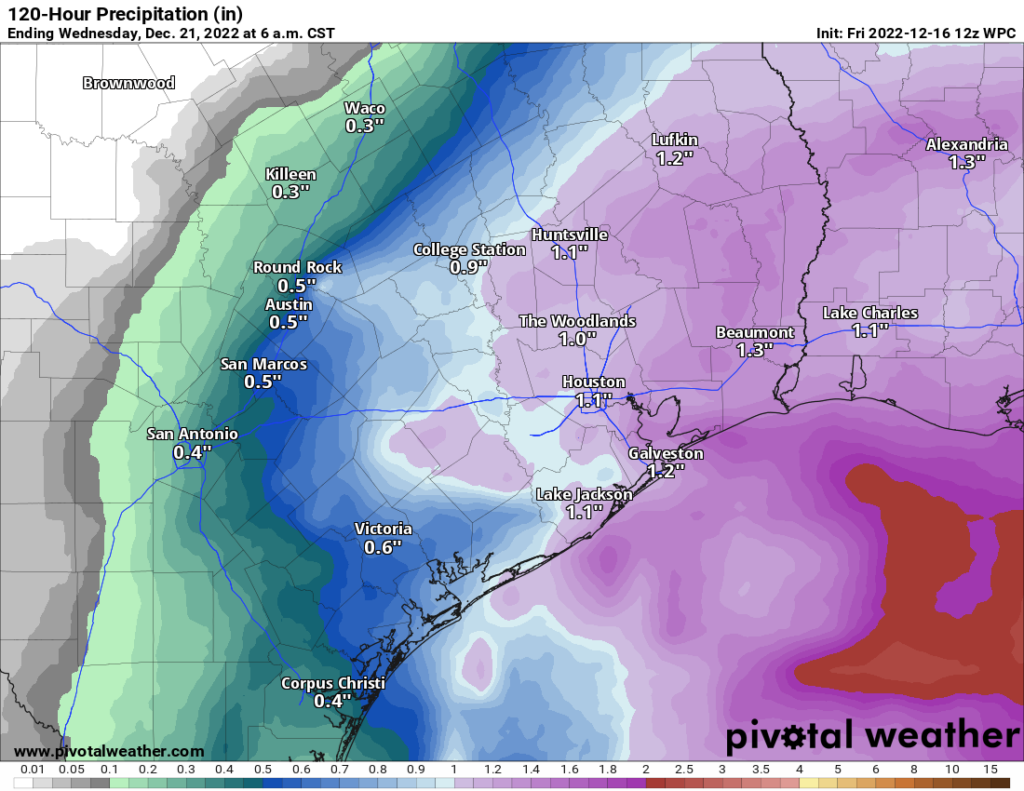 There will be a bit of a spread in temperature on Monday. Warm air is going to try to surge off the Gulf, so coastal areas could poke up above 60 degrees. Inland areas should stay mainly in the 50s, which will feel very damp with the increasing humidity in addition to the actual rain.
Tuesday & Wednesday
The midweek period does not look too bad, so if you're out getting last minute gifts, it should be fine, aside from all the other people doing the exact same thing. We may have a few lingering showers on Tuesday, along with plenty of clouds. Highs will be in the 50s to perhaps near 60 or so. Morning lows will be around 50 degrees or in the upper-40s.
For Wednesday, I would anticipate some sunshine and probably another pleasant winter's day with highs in the upper-50s after a morning of 40s.
Late next week/Arctic outbreak
Alright, so we've all been talking about this cold coming. And potentially snow! We know that has folks a little uneasy.
Bottom line: We expect at least a couple nights of freezing temperatures late next week, with an increasing risk of at least one night of a hard freeze (< 25°) in Houston. While we will continue to watch this forecast very closely, we do not believe that the intensity, duration, or impacts of the cold will rival what we saw in 2021, which saw mid or low teens for lows. Snow odds are much lower, but not quite zero.
First, the temperatures. Given the many distractions this time of year, and given that you have had over a week's notice that this a freeze was possible, it is probably a good idea to take a moment this weekend to prepare your home for a potential hard freeze. Not a February 2021 type event. But a couple nights in the 20s and maybe a night in the teens outside the city.
The Texas Tribune published an article with a bunch of winter weather tips last year. Our advice is to use this as a base and take care of as much of the low hanging fruit as you can right now. Irrigation systems, maybe some very sensitive plants, etc.
In terms of specifics, what we're able to say with some confidence is that "at least" a freeze is likely across the entire area on "at least" a couple nights, and a hard freeze (temps below 25°) is becoming increasingly likely on at least one night next week, probably Thursday night into Friday.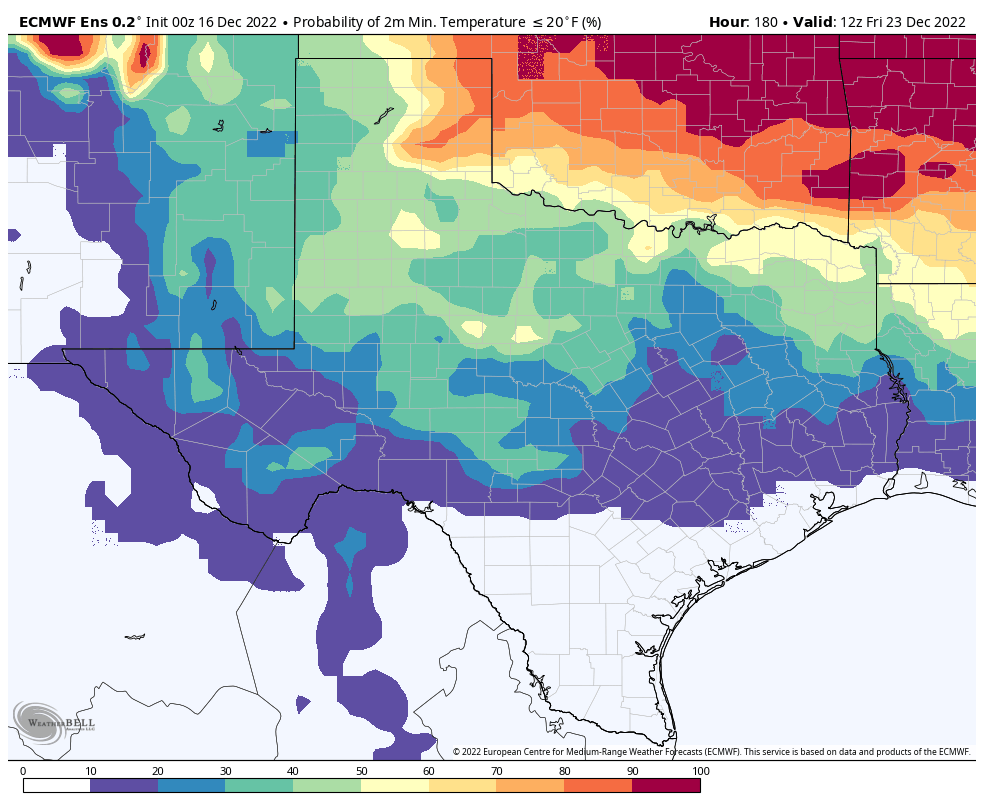 Whether this goes from a more typical once every few year event to something more problematic is still a question. While it's unlikely that we will get into some more troublesome cold, it would be foolish of us to completely rule it out. The big thing I'm seeing right now is that daytime temperatures are expected to get well above freezing each day, something we did not see in 2021. We will continue to monitor this closely, but given the current low odds of temperatures in the teens and the expectation of above freezing daytimes, we do not believe this will rival 2021's situation in terms of impacts.
As far as snow? Here is the European model's interpretation of the chances we get an inch of snow next weekend. That's about 10 percent. High for Houston, but not exactly anything I'd take Mattress Mack to Louisiana to bet on.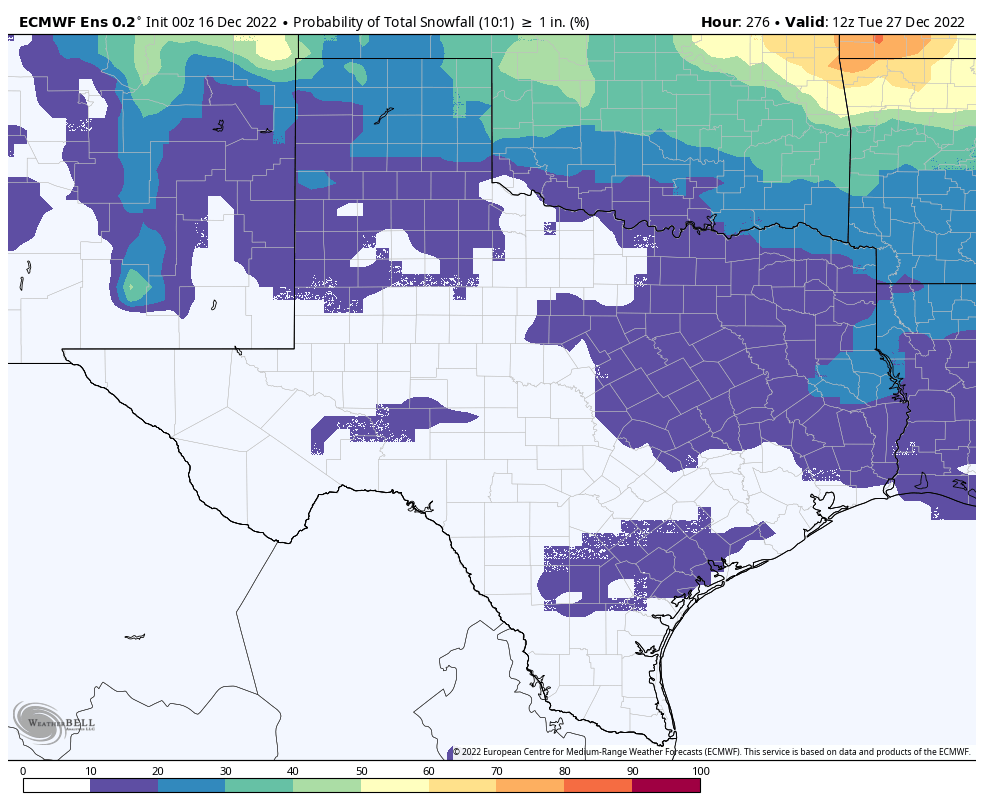 That's where we are right now. If we have any new insights to share, you'll find a post from us this weekend. Meanwhile, enjoy the weekend!