Overnight lows have nudged back up this morning, ranging from the upper 50s in Conroe, to the upper 60s in central Houston, and lower 70s just along the coast. Our weather will remain warm-ish through Wednesday, after which point a cold front will make for gorgeous fall weather for the Thursday through Saturday period. Speaking of that cold front, it will spark a round of potentially strong storms later on Wednesday, and this will certainly affect some trick-or-treaters. Much more on that in the post below.
Tuesday
Humidity levels are back to near 100 percent this morning for most of Houston, as our old friend the onshore flow really kicks in. As a result, we'll see an at-times breezy day, with some gusts possible above 20mph as southerly winds get flowing.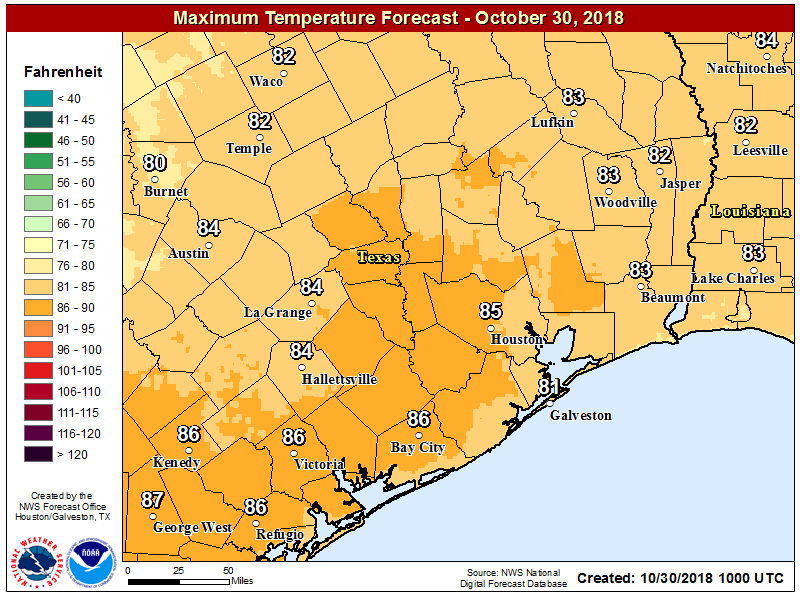 The increased moisture will manifest in some clouds, but today should still be a partly sunny affair, and rain chances remain near zero (can't rule out a very few isolated showers). Expect highs in the mid-80s today, and a night in which lows don't fall much (if any) below 70 for most of the area.

Wednesday
The Halloween forecast remains mostly trick, with less treat. The day itself will start out warm and humid for late October, with highs in the mid-80s as skies go from partly to mostly cloudy. The bigger question is what happens during the afternoon and evening. This is a fairly low confidence forecast, especially for the 3-7pm time frame. (We are more certain of storms later Wednesday night). But here's our best guess for what to expect:
3-7pm: Sunset in Houston is 6:36pm on Wednesday, so primetime trick-or-treating should occur between 6 and 7pm. With that in mind, not everyone is going to see rain (and potentially a few downpours and thunderstorms) on Halloween afternoon and evening. The better dynamics for storms will be along the front, which is coming a bit later. If you're north of Interstate 10, there's probably a pretty decent chance of some rain showers during this time period, so it will behoove you to have alternative plans; or to dart out for trick or treating between showers (but please be aware of any lightning in the area and move indoors!) For more southerly areas south of I-10, the chance of rain during the afternoon and early evening is less, although we can't rule out some light to moderate rain.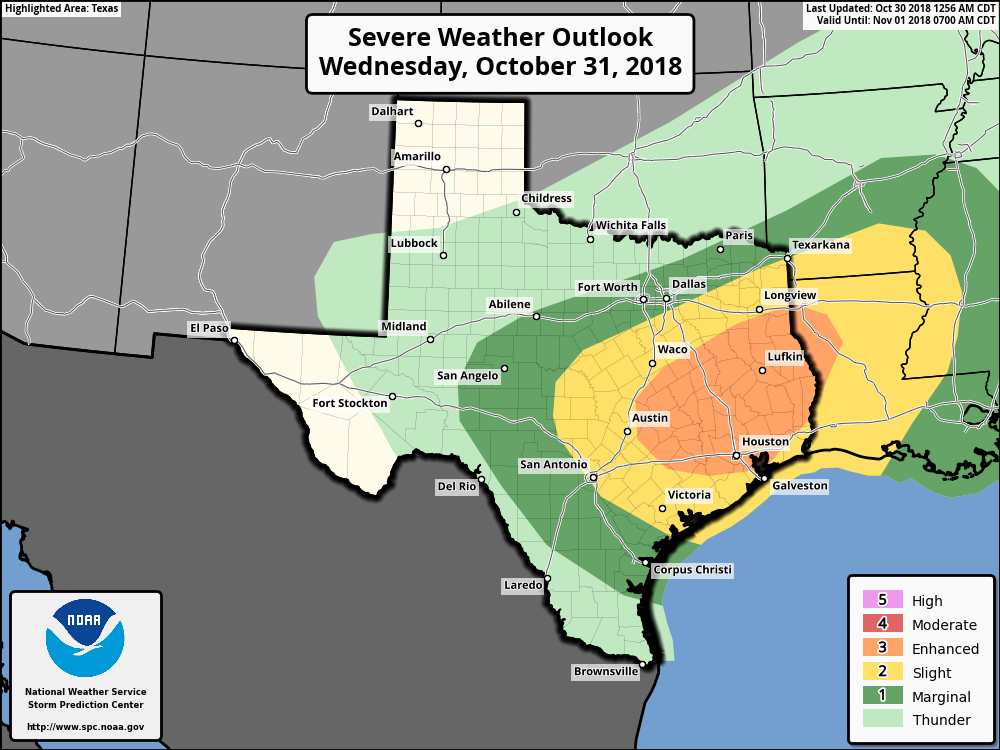 7pm Wednesday-early Thursday: As the front nears and moves southward through Houston later Wednesday night and early Thursday, the region will definitely see widespread showers and thunderstorms, along with the risk of some severe weather such as damaging winds and hail. Rain accumulations for most of the area should be 1-2 inches, but we could definitely see some heavier localized amounts. So if you're attending a Halloween party Wednesday night, please exercise some care in driving home.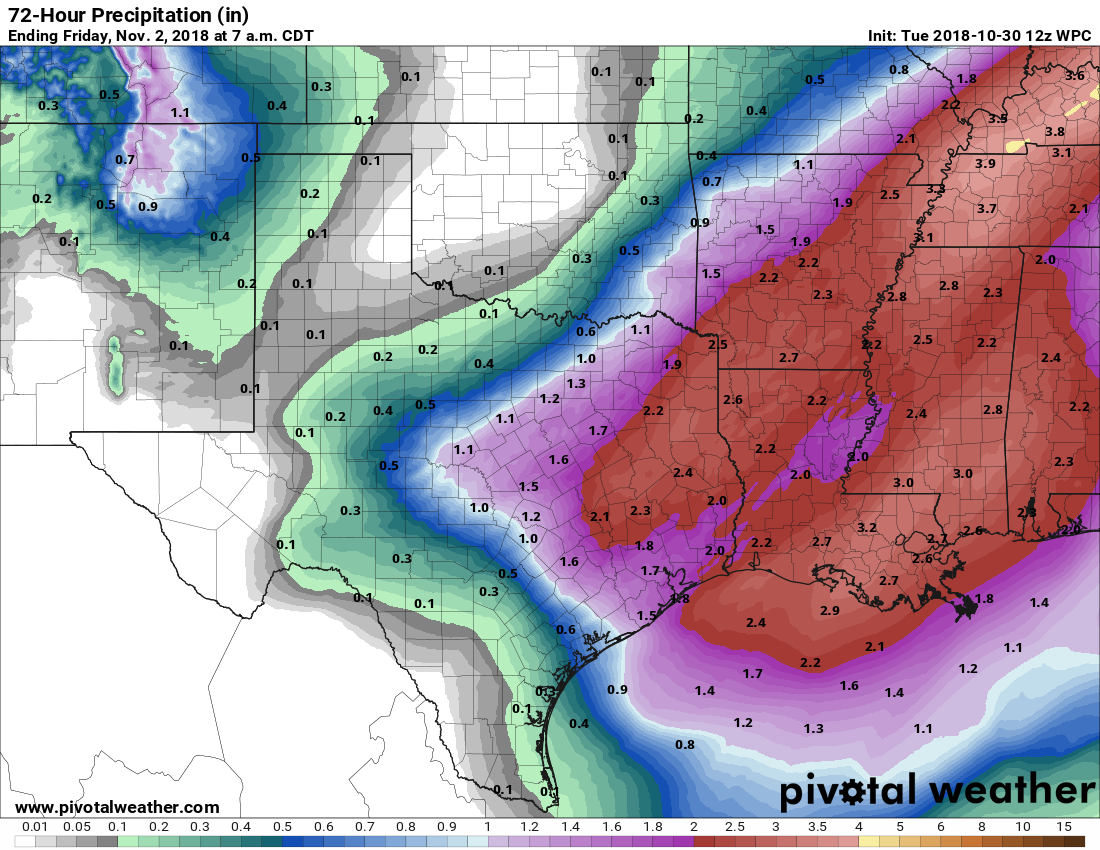 Thursday, Friday, and Saturday
By Thursday morning, sunrise, it should all be over. The front will be off the coast, and the showers with it. Skies will clear on Thursday, leading to a breezy day, with northerly winds and highs in the 60s.
Friday and Saturday will see exceptional weather, with sunny skies, highs in the 70s, lows in the 40s well inland, and 50s for most of Houston.
Sunday and beyond
A warmer, and perhaps a bit wetter pattern, returns early next week before another front on Tuesday and Wednesday. The storm potential for this front appears less than the one coming through this week.