With slightly warmer temperatures this morning across the region, we're seeing some fog developing. The National Weather Service has issued a dense fog advisory for the southwestern part of Houston, including the cities of Alvin, Angleton, Bay City, Clute, Freeport, Lake Jackson, Palacios, and Pearland, until 10am. Please drive with care this morning. Otherwise, we'll see modestly warm and mostly sunny weather for the next few days before a cold front approaches on Wednesday. And yes, we're still concerned about the potential for storms to disrupt outdoor activities on Halloween.
Monday
Winds are calm now, but will generally flow from the southeast and southerly direction today, bringing more humid air back into the region. This should allow high temperatures today to reach up into the mid- to upper-80s. Rising humidity levels will help keep low temperatures on Monday night in the upper-60s for inland areas, and low 70s along the coast.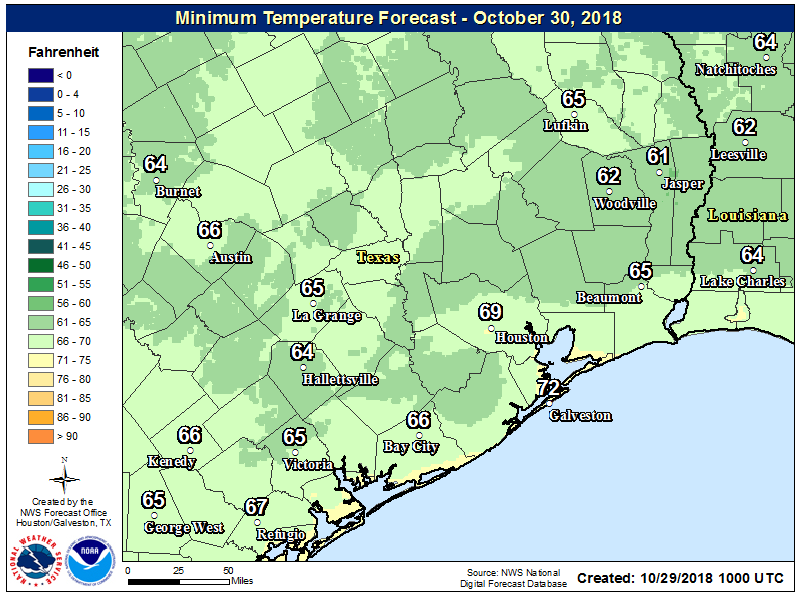 Tuesday
Another warm day, with highs in the mid- to upper-80s depending upon cloud cover. Yes, after several fine, sunny days we'll see the return of some clouds along with at-times breezy southerly winds. These winds will lift moisture levels, which will help fuel the potential for storms by Wednesday night.

Wednesday
Skies will be mostly cloudy on Wednesday, with perhaps a 30 to 50 percent chance of mostly light rain, and highs in the 80s. The real question remains the timing of a cold front that will bring much cooler and drier air into the region on Thursday. It appears that storms, perhaps a line of them, will develop along and ahead of the front. I think there are two different scenarios for Halloween at this point:
Midnight front (60 percent): Under this scenario, the front reaches northwestern Houston around midnight. This, unfortunately, puts the region at risk of heavy rainfall, thunderstorms, and severe weather on Wednesday, especially from about 6pm to midnight. Rainfall amounts won't be too extreme, likely in the 1-2 inch range for most people, but it could come fast and furious so some localized street flooding remains possible. NOAA's Storm Prediction Center has placed Houston solidly in the "slight" risk of severe weather category for Wednesday night.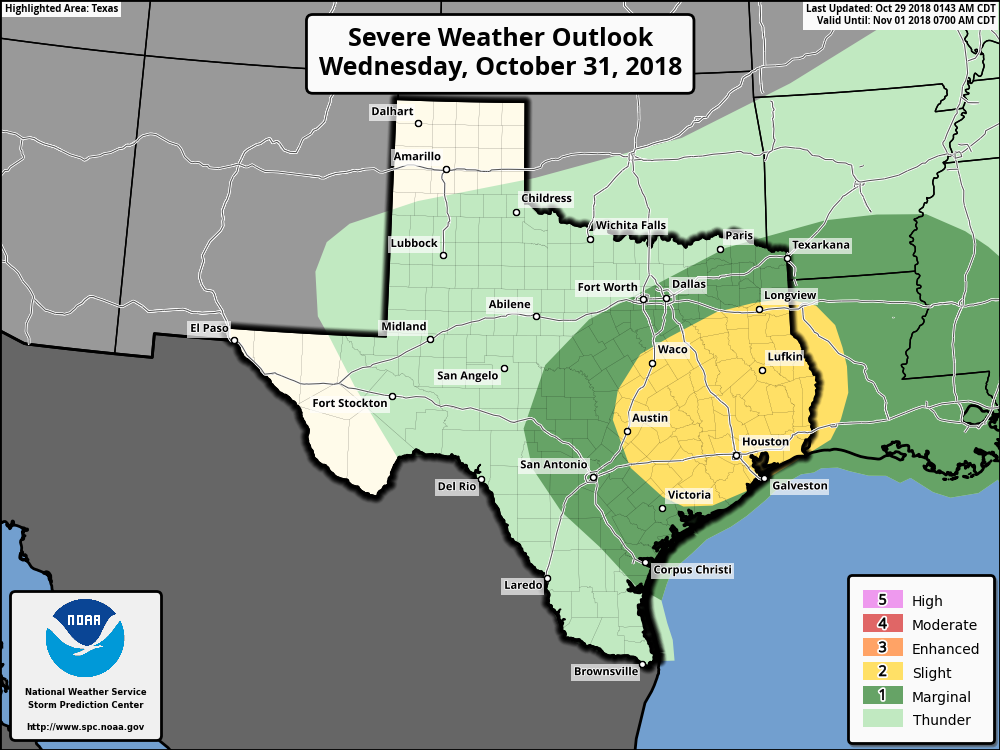 Later front (40 percent): As we are still about 60 hours away from the front's arrival, and such things are hard to time precisely, it remains possible that it will be a bit slower than anticipated. In this case, storms probably would not reach Houston until 10pm or later. We'd still see a similar mess as to what is described above, but the storms generally would start after trick-or-treating ends.
Thursday
In the wake of the front, high temperatures on Thursday likely will hold in the upper 60s under clearing skies. We can probably expect some gusty, northerly winds.
Friday, Saturday, and Sunday
Next weekend looks quite grand, with mostly sunny skies and highs in the 70s. A slight chance of rain returns Sunday, but at this point I'd expect dry conditions to prevail.