Good morning. We just wanted to offer a Sunday post for a couple reasons. First, obviously, after this week's storms, we know a lot of people are going to be sensitive to the mention (or sound) of thunderstorms. Secondly, we have more confidence in today's forecast.
What's changed since Friday? Honestly, not a whole lot. We're getting areas of heavy rain, as expected. But I think both confidence and intensity of heavy rain has increased enough for us to place the area under a Stage 1 flood alert on our flood scale.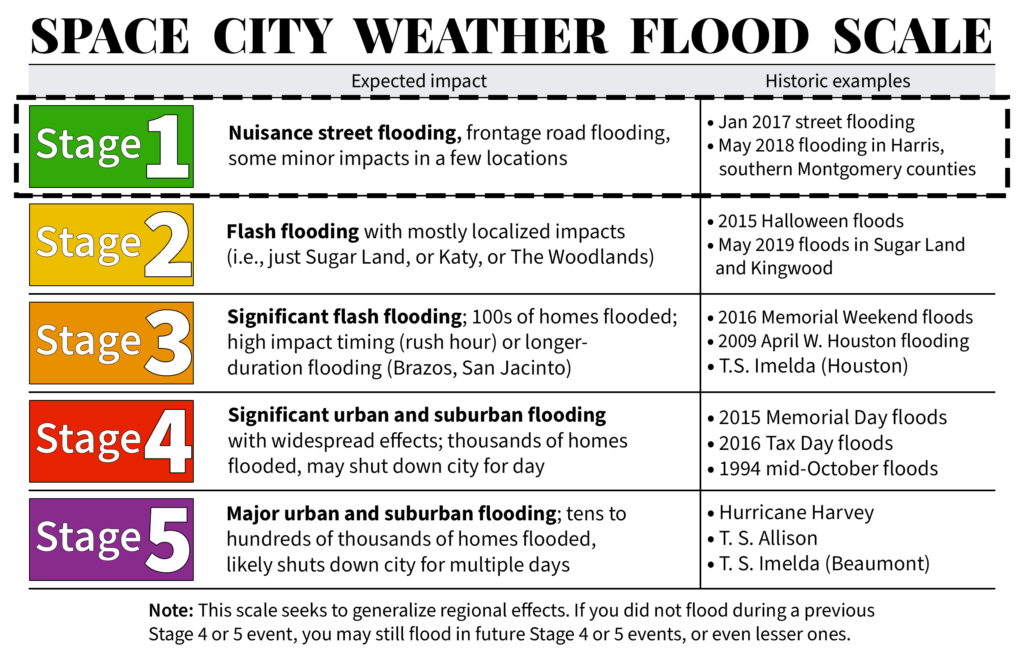 We have already seen parts of western Harris County, which were hardest hit this past week in terms of rain see over 2 inches of rainfall. The Weather Prediction Center has kept much of the area under a slight risk (level 2/4) of excessive rainfall for today.
Basically, given Tuesday's rain, the fact that today's rain is performing or overperforming to this point, and the shorter-range model guidance for the rest of today, we felt it necessitated an upgrade in messaging. So, please watch for areas of street flooding, especially across western Harris, northern Harris, southern Montgomery, Liberty, and Chambers Counties today, east to Beaumont.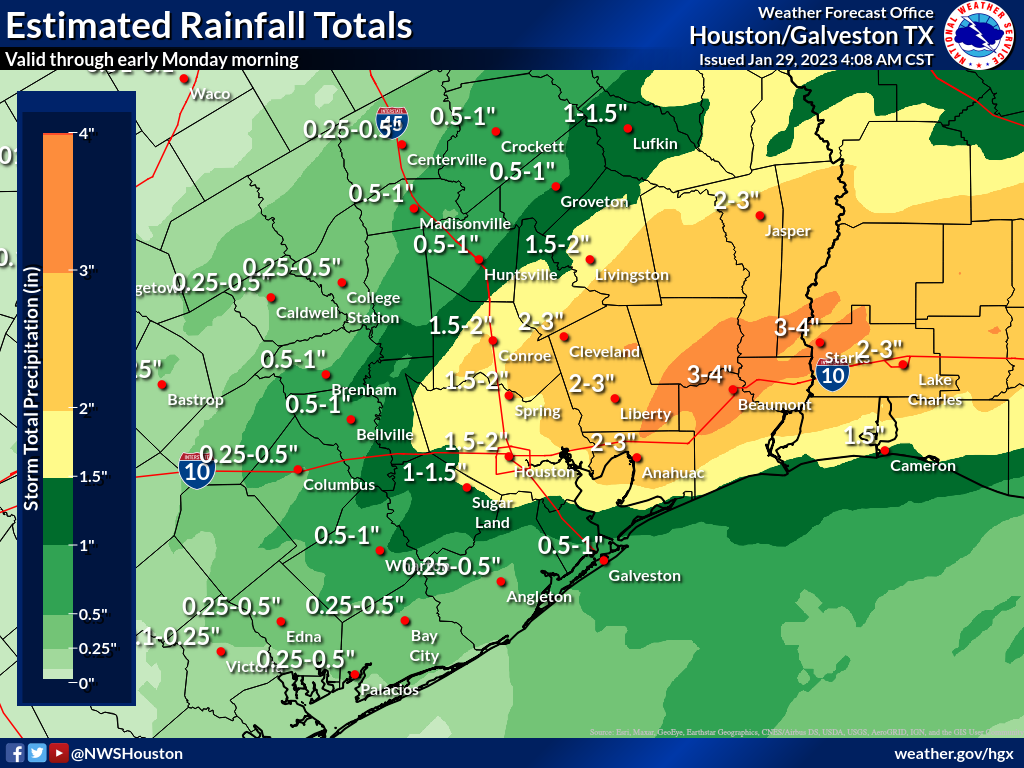 Radar as of 8:35 shows numerous areas of heavier rainfall, especially near Liberty and Cleveland, as well as across northern and western Harris, Montgomery, and Wharton Counties.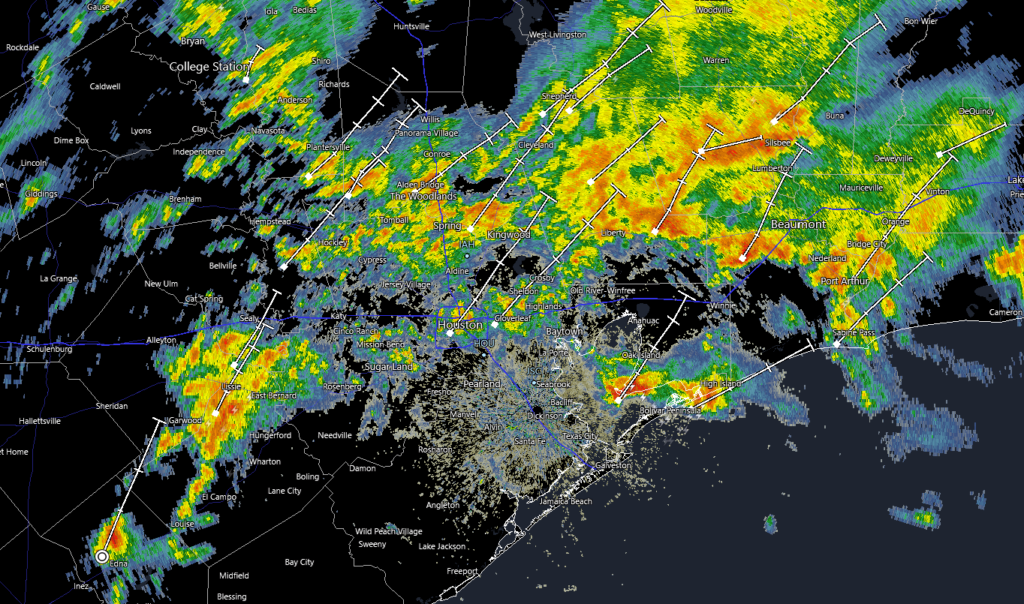 With a front essentially crawling across the area today, repetitive rounds of storms are likely, and that's why we have the flooding risk. Rain tapers to isolated showers this evening.
Severe weather
We want to be clear about today's forecast. Two things can be true simultaneously: 1.) Some of the storms later this morning or this afternoon could be strong to severe. 2.) This setup looks absolutely nothing like the one that caused Tuesday's severe weather and tornado outbreak.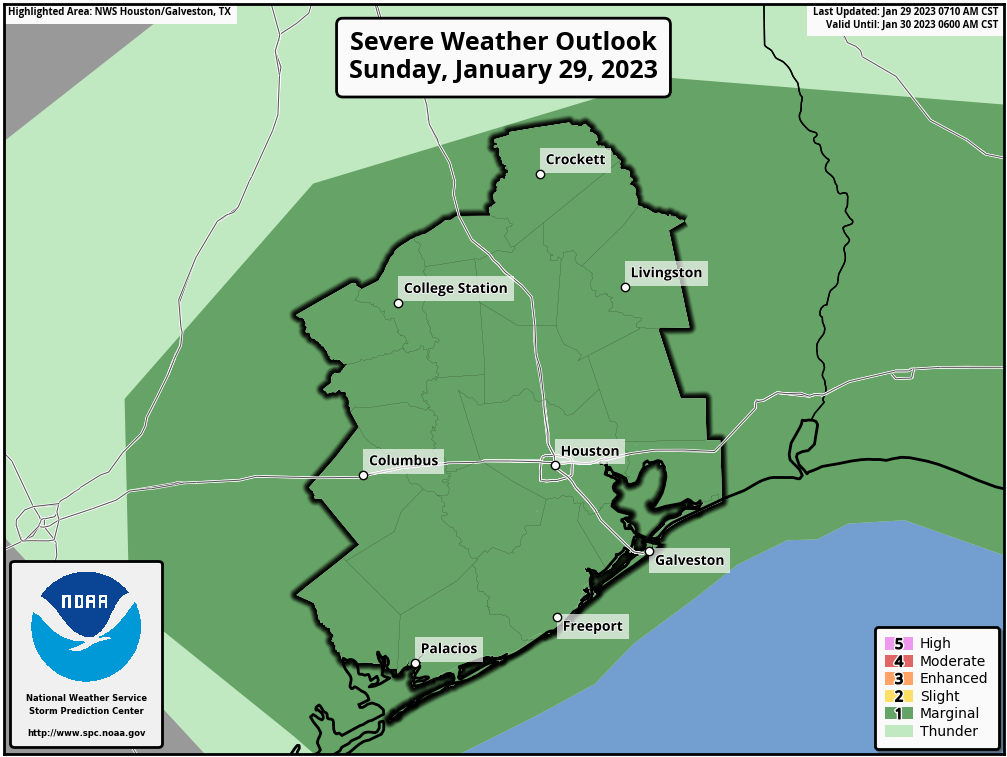 This looks to be more of a classic Houston severe weather setup, with the risk for isolated cells producing gusty winds, hail, or yes, even a brief spinup. The odds of this are modestly higher east of Houston into Louisiana. I wouldn't dwell on this too much about this today, but I also did not experience a tornado on Tuesday, so I get it. It's a good idea to just monitor the weather through the afternoon to be safe.
Monday & Tuesday
Additional showers are possible on both Monday and Tuesday this week, but at this time, we do not expect heavy rainfall. That chance may increase later in the week, however.
The front is going to essentially stall out over the area. What that does is create challenges for temperature forecasting. I would anticipate Monday being a cool day right now with temperatures generally in the 50s. All bets are off on Tuesday and beyond. Ensemble guidance projects high temperatures on Tuesday could be as low as 50 degrees or as warm as 75 degrees. Basically, the exact location of the front will determine how warm or cool we get in the days ahead. Have your wardrobe planned for multiple seasons this week. Eric will detail this more on Monday. We will update (if needed) again later today.