This has been a weird winter for Texas in general, and Houston in particular. Normally, during a La Niña winter, we see warmer and drier than normal conditions. We have checked the box for warmth—December was about 2 degrees above normal, and January is going to wind up about 5 degrees above normal. But as for rainfall, this winter has been anything but normal. Some areas of Houston have exceeded their normal allotment of rain for December, January, and February just during the last 10 days.
Those 10-day rain totals are recapped below, and occurred courtesy of cold fronts tapping into deep Gulf moisture after warm spells. This accumulated rainfall brought some bayous and waterways in northwest Houston to near bankfull on Sunday. Although we are going to remain in a wet period through Thursday, I do not think we'll see enough heavy rainfall to cause the overall situation to change. That is to say, our soils will remain waterlogged, but I don't anticipate any widespread flooding. Some clearing will finally come Thursday night.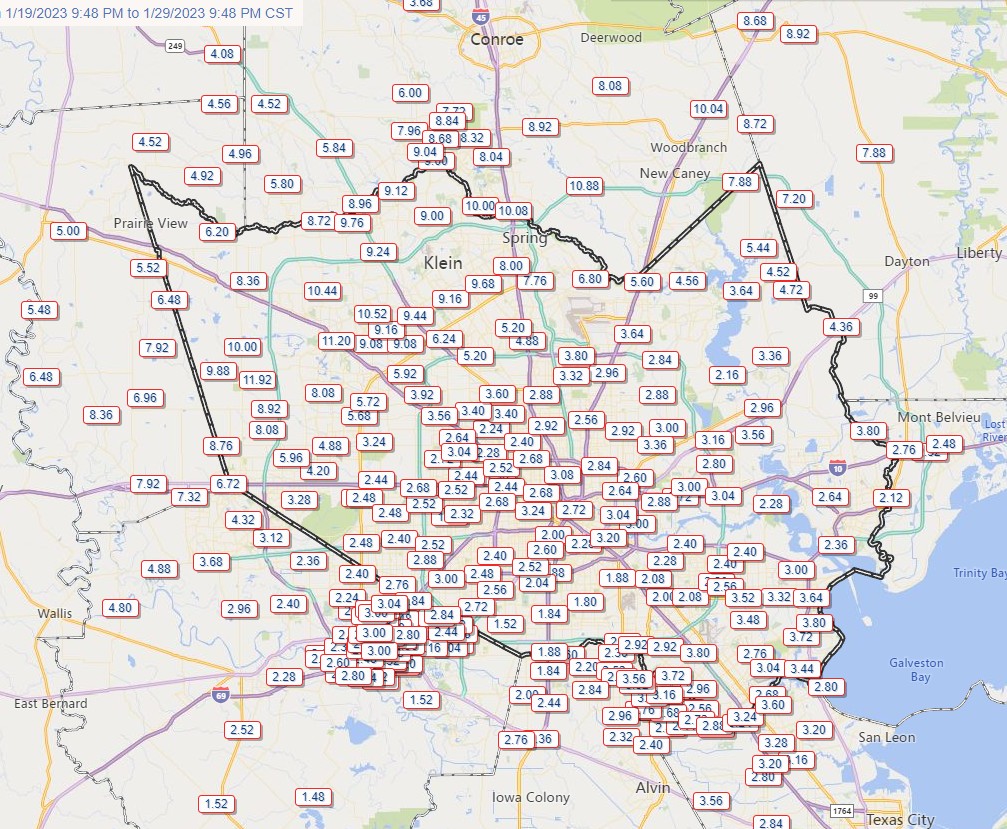 Cold and Ice in Central and Northern Texas
The other big story this morning is the cold. If you'll recall last week we waffled a lot on whether a front was going to push all the way into Houston. Well, this shallow Arctic front made it it all the way to the coast, and as a result we're going to be cold all week, with highs generally in the 40s to 50s, and lows in the 40s. This is much colder than we anticipated even a couple of days ago. That is the end of the story for Houston, but for areas just to our north and west there is a rather nasty ice storm unfolding.
In areas such as Burleson, Brazos and Washington counties a light glaze of ice is possible on the roads today and tonight. Further away from the coast in Texas, significant icing is expected in places such as Austin and Dallas, from now through the middle of the day on Wednesday. This will seriously impact travel to and around those areas, and may cause serious power outages as ice accumulates on power lines. Areas that fall under this winter storm warning are shown in pink in the map below.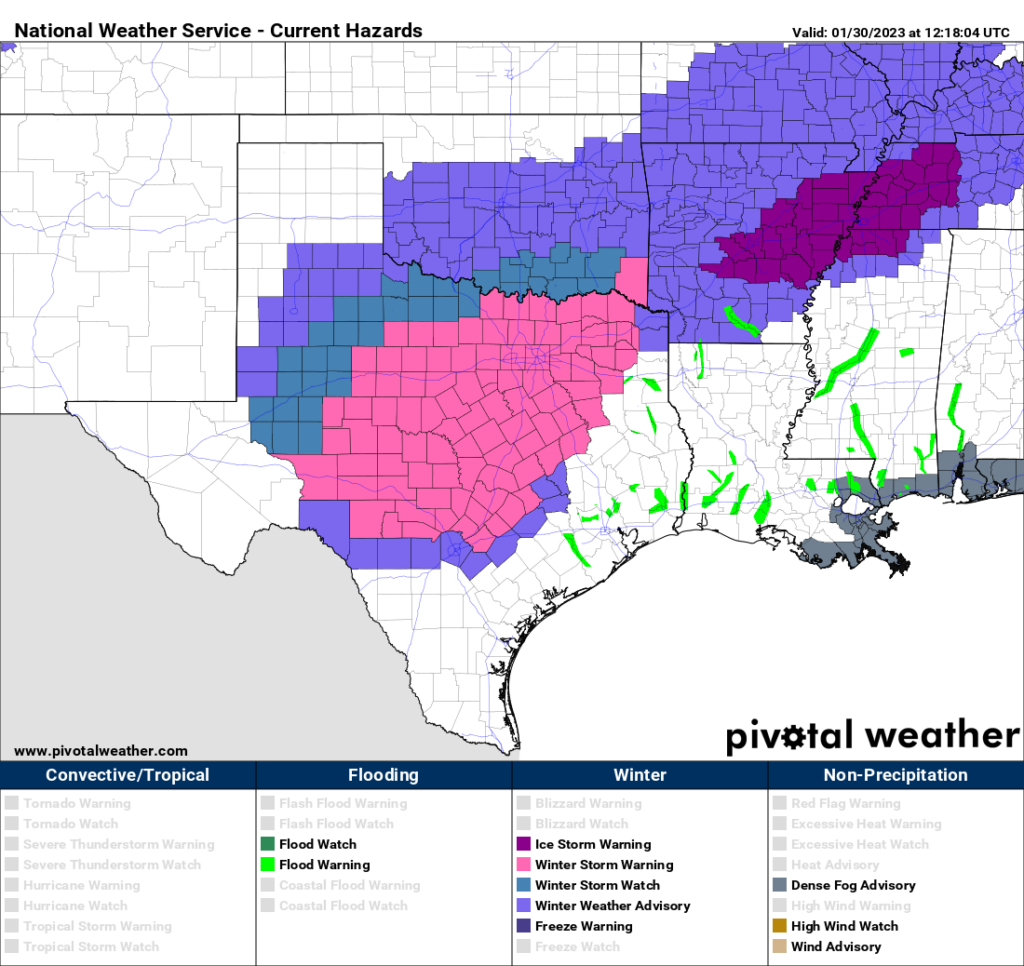 Monday
Back in Houston, we are going to see a chilly, gray day with scattered (mostly light) showers today as the cold air mass moves into Houston. Temperatures later today will range from the upper 40s for inland areas to lower 50s close to the coast. No travel issues are anticipated in the Houston metro area from the scattered precipitation, but it will be cold, with a northerly wind at about 10 mph. Low temperatures tonight drop to the low 40s in Houston, with upper 30s possible for inland areas.
Tuesday
This will be another cold and gray day with high temperatures generally in the upper 40s. We will again see decent rain chances, about 40 percent, with mostly light to moderate showers. Lows will drop to around 40 degrees on Tuesday night, with blustery northerly winds at 10 to 15 mph, and higher gusts.
Wednesday and Thursday
The atmosphere will become more perturbed by the middle of the week, with a few disturbances moving through ahead of another cold front. The bottom line is that these, too, will be cold and gray days with high temperatures of about 50 degrees, and lows in the 40s. However, rain chances will be better, especially during the Wednesday night period. Although I don't expect flooding issues to occur, areas north of Interstate 10 may pick up an additional 1 to 2 inches of rainfall through Thursday of this week, with 0.5 to 1.5 inches for areas south of the freeway. Rain chances should finally start to ebb by Thursday afternoon as the next front moves through to clear us out.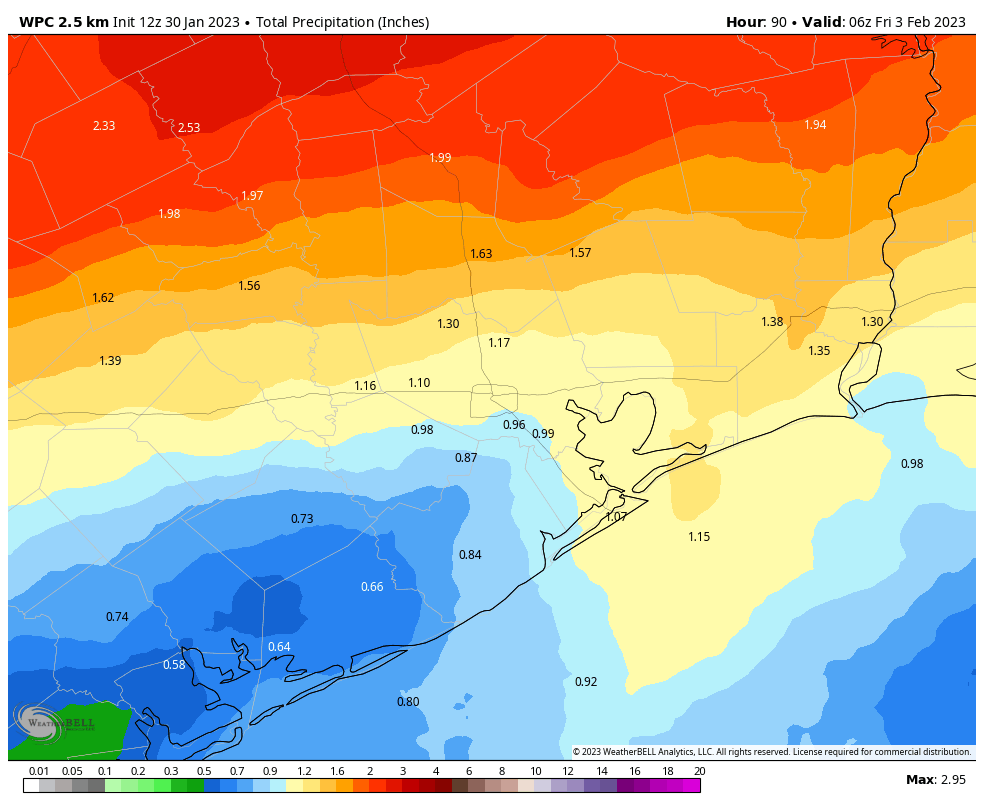 Friday
Behold, the Sun does exist! We'll see it on Friday, with mostly sunny skies and high temperatures in the upper 50s. However these clearing skies will also allow for colder temperatures on Friday night. Lows will drop into the 30s, probably, with the potential for a light freeze for inland areas. We'll see.
Saturday, Sunday, and beyond
This weekend looks to see mostly sunny skies, with highs in the 60s. Yes, my friends, a sunny weekend. It should be something. We'll be on the start of a warming trend by Sunday, with highs climbing into the low 70s by the early part of next week.