It is quite a cool morning across the region, with temperatures ranging from the upper 30s far north of Houston—in places such as Conroe and Huntsville—to the 50s right along the coast. We'll enjoy very dry air through about Wednesday before a warming trend begins heading into the weekend.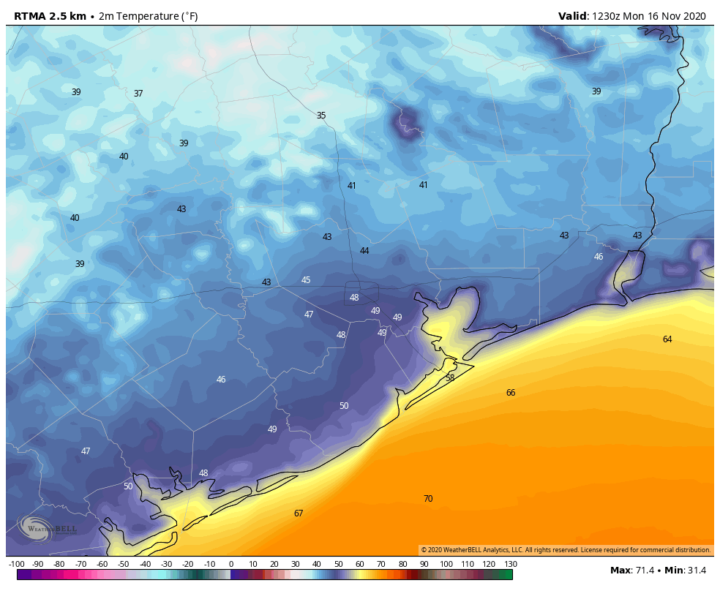 Monday
Ample sunshine will help our region warm into the low- to mid-70s today. With high pressure dominating our area, winds will be light, out of the northeast. We can expect another chilly night, with temperatures dropping down to about the same levels on Monday night as Sunday night.
Tuesday
This will be another sunny, cool day. Highs may be a degree or two warmer than on Monday, but as our light winds begin to veer and come from the east, temperatures Tuesday night will begin to moderate a bit. I would anticipate lows in the mid-50s in Houston—warmer near the coast, and cooler inland.
Wednesday, Thursday, and Friday
As the onshore flow becomes slightly more pronounced during the second half of the week, our temperatures will warm, and humidity levels will begin to creep up. By Friday, we should see high temperatures near 80 degrees, with lows only dropping into the mid-60s. Skies should remain mostly sunny throughout the week.
Saturday and Sunday
The weekend may see some more clouds, and possibly some rain chances. Right now I'd ballpark highs near 80 degrees, with a 20 percent chance of rain on Saturday, and somewhat higher chances later on Sunday or Sunday night. That's when I think—emphasis on think, because there's not agreement yet, and it's a ways out—our next front will push through. There is a healthy signal for some rainfall with this front, but it's far too early to say this with any confidence. Certainly, we could use the rain.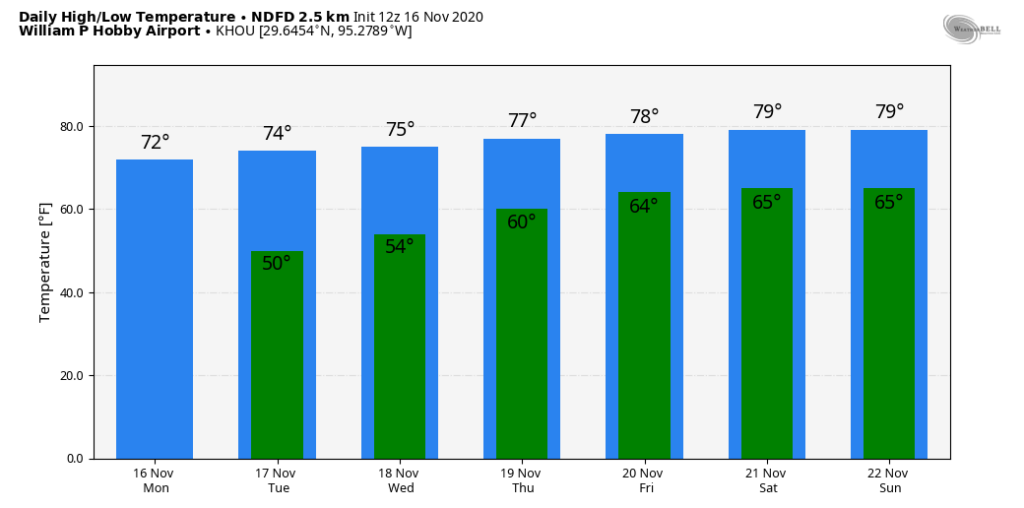 Next week and Thanksgiving
Most of the modeling guidance suggests we'll warm up fairly quickly for the front, so unless another front arrives by the middle of next week we may be looking at a warm Turkey Day, with highs in the upper 70s perhaps. However I think there's a reasonable chance another front will make it in time for Thanksgiving, to allow for a more festive feel outside. We shall see.
Tropics
Hurricane Iota is not going to come near the Gulf of Mexico, but the rapidly intensifying storm is nonetheless worth noting because it will make landfall in very nearly the same location of Honduras tonight as Hurricane Eta made two weeks ago. We have seen explosive intensification of this storm, and Iota now has 155-mph winds. This will bring destructive winds and flooding to Central America. Just terrible.
Fundraiser
We are entering the second week of our annual Space City Weather fundraiser if you are so inclined to support the site—by buying a t-shirt, sweatshirt, umbrella, tumbler, or simply donating money. The response has been tremendous so far.