We're starting the day just a tiny bit less humid than yesterday. It has sure felt like summer the back half of this week. The humidity will remain high, but temperatures are going to gradually step back a bit as rain chances kick back up later in the weekend.
Friday & Saturday
Both today and tomorrow should feature mostly similar weather. Expect a mix of sun and some clouds, with highs in the low to mid-90s and lows in the mid to upper-70s, along with fairly high humidity. Rain chances will be pretty typical for this time of year, with at least a few showers or thunderstorms around. There could be a slight uptick in storm chances late Saturday afternoon or evening as the pattern over our area begins to change to one dominated by a trough in the upper atmosphere. This would be especially true south and east of Houston.
Sunday & Monday
Both Sunday and Monday will probably see scattered to numerous showers and thunderstorms. Monday may have slightly more coverage than Sunday, but both days will see considerable chances of rain at virtually any point in the day. Look for highs in the 80s, especially Monday. Lows will be in the 70s.
Rest of next week
The overall weather pattern next week will be a bit odd across the country, with all-time record breaking heat in the Pacific Northwest (seriously, just an incredible and disconcerting weather event up that way, amid a historic drought too; both events carrying the fingerprints of climate change), a hot East Coast, and a cool trough sort of stuck over the Central U.S.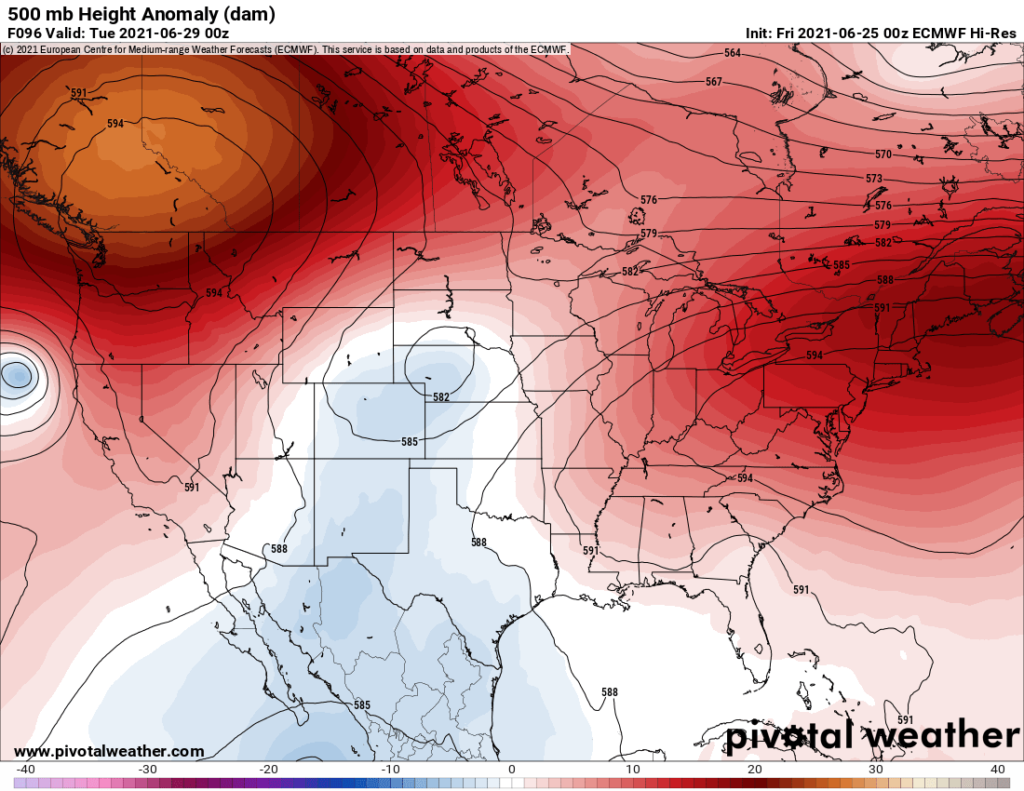 What does this mean for Houston and the surrounding area? Well, it means we shouldn't see any severe heat next week. Yay, us. High temperatures will actually be held down some because of higher rain chances. Days with more rain will be in the mid to upper 80s. Days with less rain should be in the low-90s. Lows should be in the 70s.
As is often the case, pinning down the exact timing of showers and storms and who will see the most rain is a bit of a meteorological slog; we just don't know yet how things will precisely unfold next week. But suffice it to say there will at least be chances of rain or storms each day. Right now I'm favoring Tuesday and maybe Friday for the greatest coverage of storms, as the trough tries to reload itself nearby later in the week. But we'll fine tune that through the weekend.
How much rain should we expect? As of right now, I don't think this will be a major, widespread excessive rain event. But, a healthy 1 to 2 inches should be expected in most places on average between now and next Friday, with the regular caveats that some places could see more and others a little less. I do think areas south and east of Houston have a higher chance of seeing some of those higher amounts.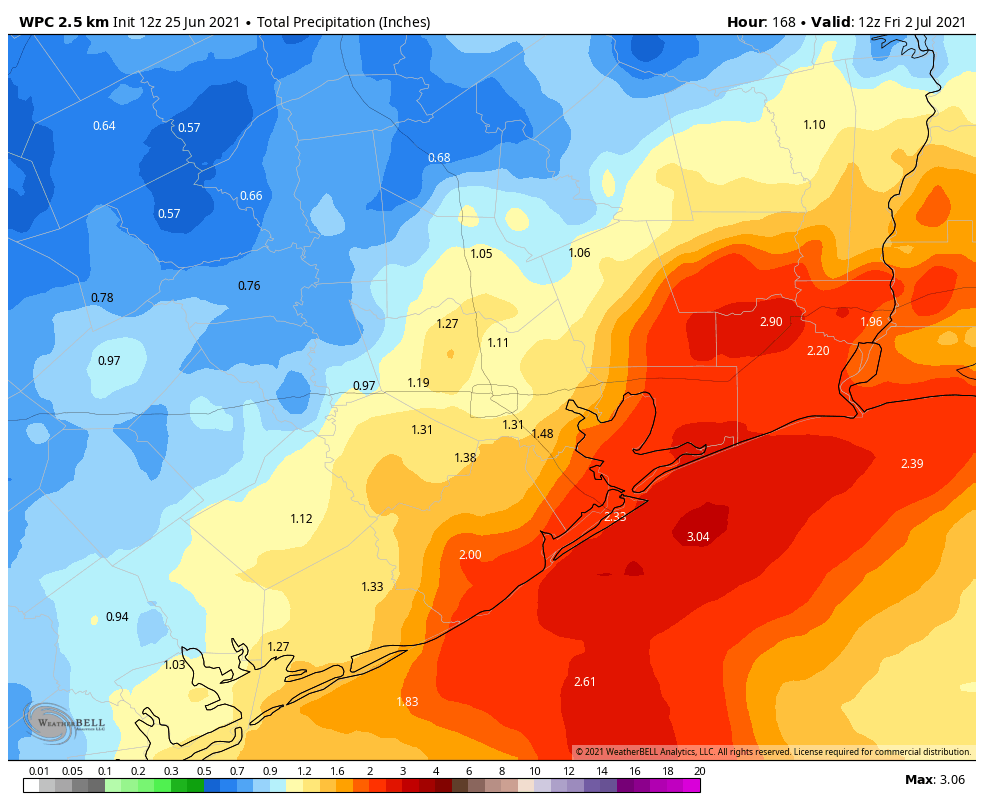 At this time, we don't expect to have to use the Space City Weather Flood Scale, but we'll be watching closely the next few days to see if that thinking changes.
By the way, it's a good time to download our weather app, so you can know right away if any changes to the forecast occur this weekend! Tap here for Apple. Tap here for Android.
Tropics
We continue to watch this tropical disturbance (Invest 95L) way out in the deep Atlantic, and also way out of bounds for what is normal this early in the season. The National Hurricane Center has dropped development odds on this one a little since yesterday, sitting at 30 percent as of 1 AM CT.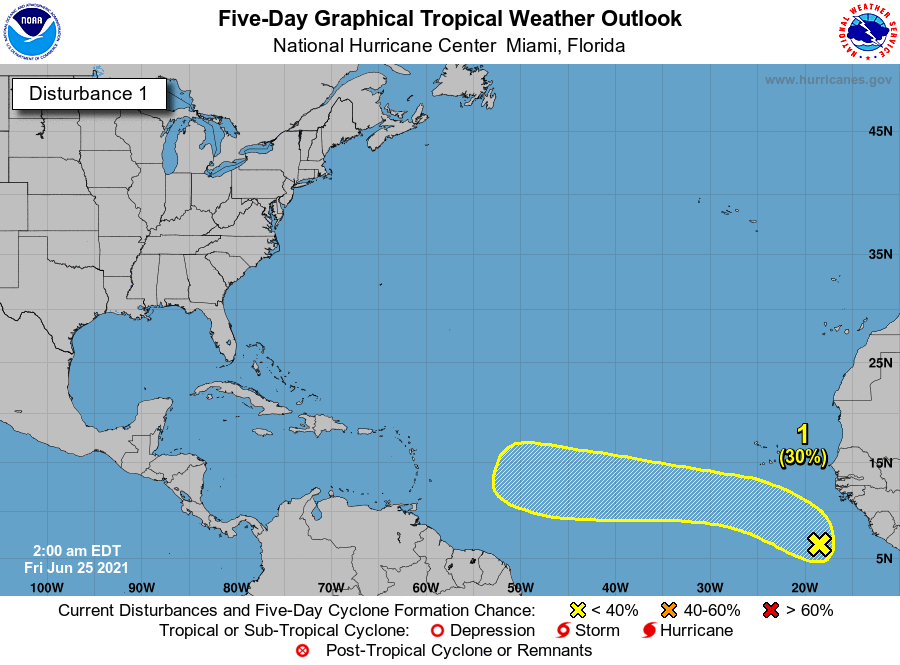 We'll get another update not long after I publish this post.
As of right now, we don't think this has much of a future in front of it as it treks across the Atlantic. Given how out of bounds it is climatologically and a somewhat hostile road west, development, if any, would be very slow and possibly erratic. Probably nothing we will need to ever worry about, but it's certainly nothing for us to worry about right now.
More on Monday morning or perhaps Sunday, if necessary.