This August has been fairly wet by Houston standards, especially in absence of a tropical system to drive widespread showers, but we may soon revert to normal. It looks like we'll get one more burst of high rain chances today before high pressure begins to assert itself. This will lead to a period of hotter and mostly sunny weather for probably a week or so, with highs eventually pushing into the upper 90s. Would we expect anything different in late August?
Wednesday
Today's rainfall will be driven by high atmospheric moisture levels in concert with an area of low pressure. This activity should spread inland this morning and last until sunset and the loss of daytime heating. About 75 percent of our area should see rain. Most will see accumuations on the order of 0.5 inch but we cannot rule out a few bullseyes of 2 to 4 inches that may cause temporary street flooding. The better chances for heavy rainfall should be along and southeast of Interstate 69/Highway 59. The rains and partly cloudy skies should limit highs to the low 90s today, with light southeast winds.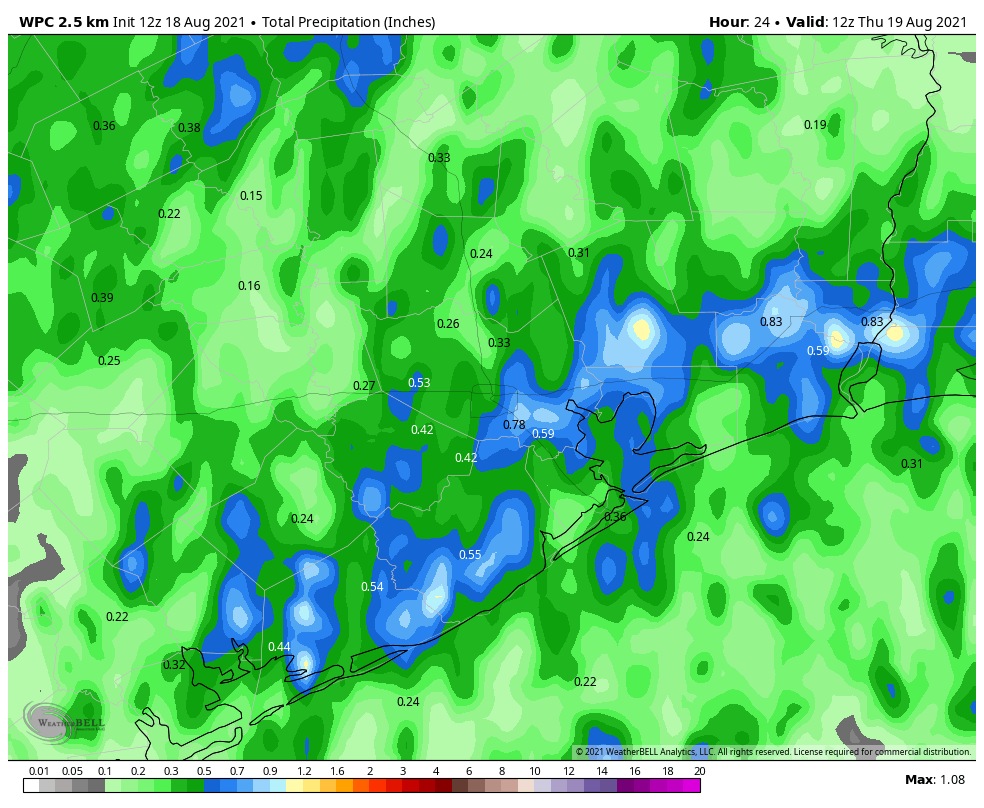 Thursday and Friday
These days will be warmer, with mostly sunny skies, and highs in the mid-90s. Rain chances will fall back to around 30 percent for both days, which means showers will be more isolated to scattered, and most likely to occur during the afternoon. Winds will remain out of the south and southeast, and may become a little more gusty on Friday.
Saturday and Sunday
The weekend looks hot and sunny, with highs in the mid- to upper-90s and mostly sunny skies. We can't rule out some isolated rain showers, but chances each day are probably 20 percent or less. If you're headed to the beach, rip currents may be stronger than normal due Grace, which likely will be a hurricane at that time, moving through the Bay of Campeche.
Next week
Frankly most of next week looks hot and sunny, with highs in the upper 90s. I really don't see much in the way of rain chances returning until the end of next week or so. August will be doing August things.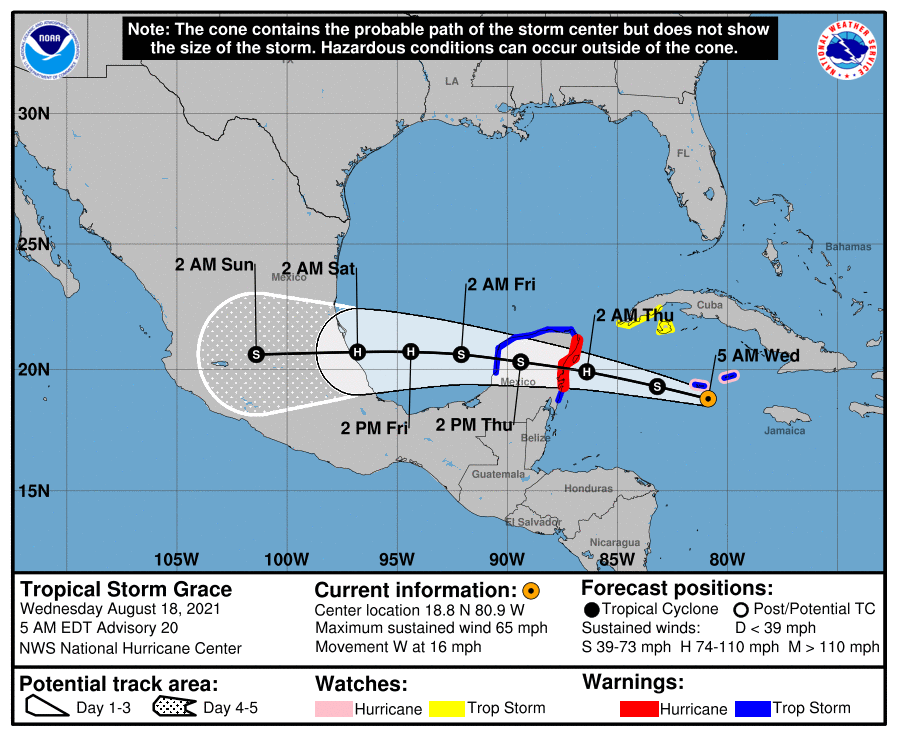 Tropics
Fred is dissipating over the Appalachian mountains this morning, and bringing heavy rains to West Virginia and Ohio. Grace is nearing hurricane strength, and will likely strike the Yucatan Peninsula on Wednesday night as hurricane. It will then hit the main part of Mexico this weekend, likely near Tampico, as a strong hurricane. In the Atlantic, Tropical Storm Henri is likely to stay offshore, but may come relatively close to the northeastern United States as a hurricane this weekend.
Things look quiet for a spell after these storms pass.