It's cold—but not extremely cold—across the Houston region this morning. Although wind chill temperatures are in the teens, the mercury has generally remained in the upper 20s for most of Houston during the overnight hours due to persistent cloud cover that has helped the surface retain some of its heat. That should change Tuesday night, with clearer skies allowing for colder overnight temperatures.
Tuesday
On New Year's Day, the high of just 41 degrees gave Houston its coldest daytime temperature since Jan. 10, 2015. We'll probably be colder today as skies remain partly to mostly cloudy for Houston, and limit highs to the upper 30s. For coastal areas, there is also a slight chance of sleet today, but we aren't worried about any kind of freezing precipitation accumulation. For one, much of the sleet is likely to evaporate before reaching the ground. And secondly, temperatures along the coast will be sufficiently above freezing today.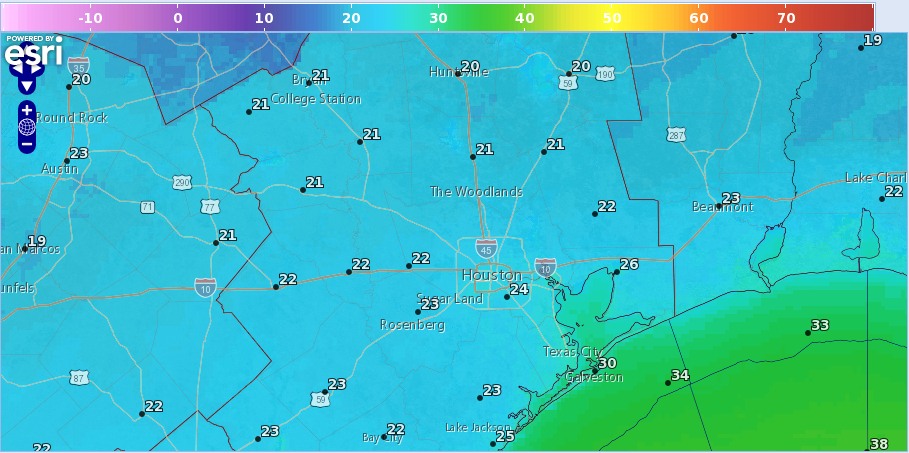 As skies clear across the region tonight we'll see ideal weather for radiational cooling, and this is when we expect to see very cold overnight lows ranging from about 20 degrees for far inland areas to 30 degrees along the coast. Houston's record low temperatures for January 3rd is 25 degrees, and I believe we will definitely threaten that at Bush Intercontinental Airport.

Wednesday and Thursday
For the first time in awhile, sunshine returns in abundance to the Houston area. We'll see mostly sunny days on Wednesday and Thursday, with highs in the mid- to upper-40s. Nights will remain cold—lows in the upper 20s are possible for inland areas on Wednesday night—but in terms of cold the worst is over for Houston. And the sunshine will be delightful.
Friday and Saturday
Sunny conditions continue, for the most part. As a result highs on Friday should rise into the 50s, and Saturday could see a high of around 60 degrees. This will feel positively balmy as Houston has not seen a high temperature of 60 degrees since Christmas Eve.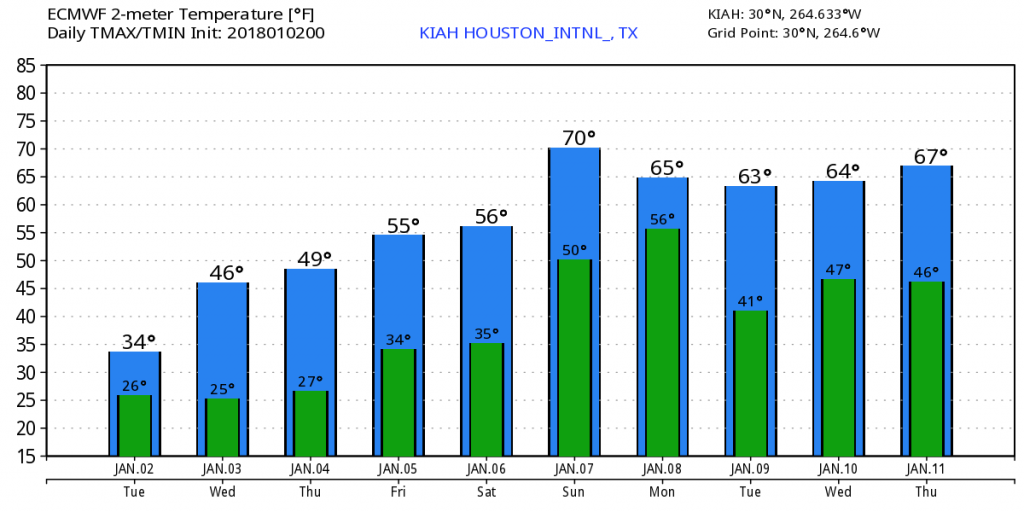 Sunday and beyond
Sunday and Monday look warmer, as moist air from the Gulf of Mexico returns. This should allow high temperatures to bounce back to around 70 degrees, and will bring with it a chance of rain along with increasing cloud cover. A weaker front early next week should keep highs in the 60s for most of next week, with nothing too extreme on the horizon.
Houston marathon
I'll have a post this afternoon—and every afternoon this week—providing a forecast for the Chevron Houston Marathon on Jan. 14th.