Good morning. We hope everyone has a safe and enjoyable New Year's Eve today and tonight. There have been a lot of questions about how cold it's going to get, whether it's going to snow or ice and what to expect over the next few days. So, we'll set out to answer those questions for you this morning!
Right off the top, we do expect hard freeze type conditions in most of the area at multiple points over the next several days. If you need tips or advice on how to prepare for cold weather, here's some info from the city of Houston. I grew up in the Northeast, where we'd laugh about getting worked up about low temperatures in the low or mid-20s. Turns out, cold of that level can indeed be quite damaging here. If you're new to the area, I can tell you from experience, it's smart to go through the checklist and do what you can.
Today
It's a gray, drizzly morning, and that probably won't change a ton as the day goes on. We may see a bit less drizzle later this afternoon or evening. Temperatures today aren't going to be any warmer than they are right now. We'll stay steady in the mid or upper-40s, slowly dropping back toward evening. Upper-30s arrive in the Brazos Valley by late afternoon. Winds will gradually increase through the day today too. Expect gusts of 20-25 mph today.
But bottom line here: No travel issues are expected during the day in Houston. If you're headed north, there are icy spots reported west of I-35 and north of I-20, mainly in the Panhandle and up toward the Red River. If you are traveling out of Houston today, I'd strongly suggest you check DriveTexas.org for the latest.
Tonight
Winds will continue to howl and temperatures will continue to drop. By Midnight, temperatures in the city of Houston will likely be down to about 34-36° north of I-10 and 36-38° south. Up toward College Station, it'll be at or below freezing by Midnight in all likelihood. Same goes for areas around Conroe or Huntsville. Some wet roads may have patchy black ice on them, so if you will be out returning from holiday festivities or commuting late, use extra caution along and north of Hwy-105. In and around the city of Houston, we do not expect any travel issues even after midnight.
Overnight, it gets colder. Expect low temperatures on Monday morning around 30° in the city of Houston proper and near freezing in Galveston. North of Houston, it gets more into hard freeze territory, and indeed Hard Freeze Warnings are posted for Liberty, Montgomery, Walker, Grimes, and San Jacinto Counties tonight. We should see lows in the upper-20s in The Woodlands and mid-20s in Conroe. Further north, we could do low-20s in spots in the Brazos Valley or up toward Huntsville. Same goes for East Texas north of Beaumont.
In addition, we'll still have some wind, so expect wind chills down to around 15° in Houston and colder in spots north of Houston. Take extra steps to secure any coverings for sensitive plants as well to ensure you can lock in as much ground warmth as possible. If you're heading out tomorrow morning, bundle up.
(Space City Weather is brought to you this month by the Law Office of Murray Newman)
Monday into Tuesday morning
Monday will be a cold one. Temperatures are going to limp into the mid-30s. If you're lucky, you'll see upper-30s Monday afternoon. We'll have a mix of clouds and some sun. No wintry precipitation should occur Monday. A weak disturbance Monday night may increase clouds and moisture well south of Houston (toward maybe Freeport, Matagorda, or Palacios). If that happens, a little freezing drizzle or sleet would be possible Monday night into Tuesday morning in those areas. We think this will avoid Houston. If something changes, we'll let you know.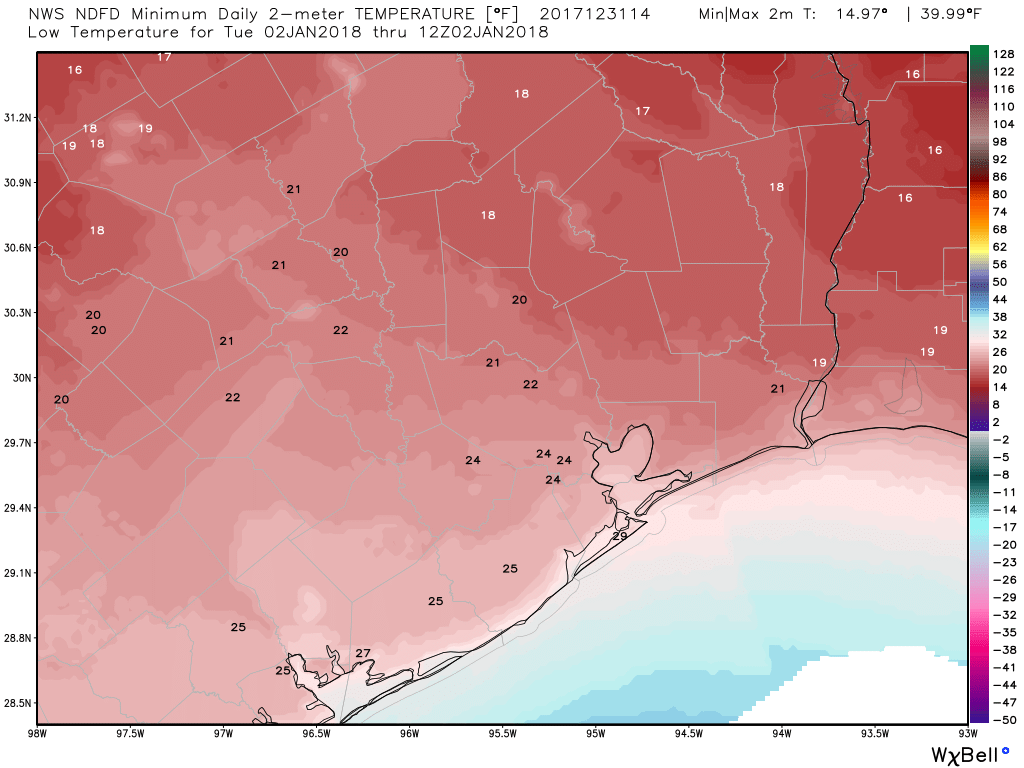 Monday night into Tuesday morning looks really, really cold. Expect a hard freeze over much of, if not most of the area. But exactly how cold we get will depend on how much cloud cover we see. If we end up partly cloudy or mostly clear, the temperature forecast above will verify without much trouble. If we see more clouds than expected, you can probably add 2-4° to temperatures, especially in Houston and south of I-10. But I would plan based on these colder forecast values. Expect mid-20s south of Houston to the bays. Mid to upper-20s will be the rule on the beaches. In the city of Houston itself, we should be able to get into the low-20s north and low to mid-20s south. For The Woodlands, Spring, and Tomball, expect low-20s to around 20° by Tuesday morning. North of there, toward Conroe and Huntsville, expect upper teens for lows.
Beyond Tuesday morning
Tuesday will be another cold day, with temperatures struggling to reach the mid or upper-30s. Tuesday night into Wednesday morning will be very much in hard freeze territory again. We could end up colder than Tuesday morning depending on how cloud cover pans out tomorrow night. Skies Tuesday night into Wednesday should clear out, allowing for temperatures to plunge, or what we call "ideal radiational cooling." The only ingredient we lack is a fresh snowpack. Guess we can't be greedy.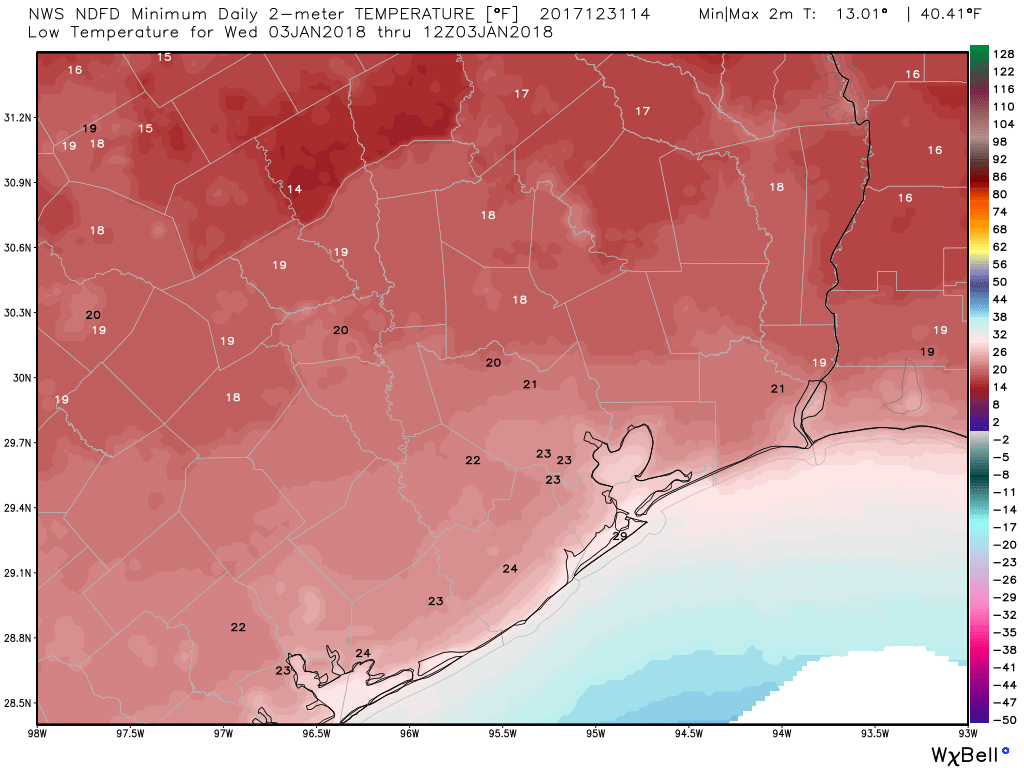 Expect teens from The Woodlands north, low-20s in Houston, and low to mid-20s south of Houston.
Beyond Wednesday, we could have one more hard freeze Thursday morning (especially north of Houston) before temperatures finally start to warm up. 60° is going to feel downright balmy by Saturday.
Eric and I will update you tomorrow if needed, but we don't expect a ton of changes right now. Assuming that's the case, look for our normal morning updates to resume on Tuesday. Have a safe and happy New Year!