First off, our sympathies are with what we assume are large numbers of our readership without power today. We hope you get it restored soon, but the news has not exactly been great today.
But here is some relatively good news to get you started. As of this writing, both Bush and Hobby Airports are up to 22 degrees. With the sun out, we might be able to squeeze another couple degrees out of things today. That sun is also helping to melt some of the snow and ice on area roadways.
Crews are working on clearing roadways but these extreme temperatures will continue so slick conditions will continue as well. pic.twitter.com/BRSnHibUZK

— TxDOT- HOU District (@TxDOTHouston) February 15, 2021
While those roads are still difficult to impossible to traverse, we may restore a little road functionality today. However, after sunset and with temps plunging again tonight, any slush that is leftover on area roads (particularly on side streets in Houston and various area subdivisions) will refreeze into solid ice, making travel tonight virtually impossible, possibly even worse than this morning.
One other safety reminder: If area retention ponds or lakes in subdivisions begin to freeze over, while it will look neat, it will be exceptionally dangerous to attempt to walk on. Simply put: Admire from afar, and please make sure children stay away from them.
Our morning low at both Bush and Hobby was 17 degrees, which is the coldest we've registered since the December 1989 cold blast. And we may (probably) dip below that before midnight.
We're also seeing a true rarity in Southeast Texas: Lake effect flurries and clouds.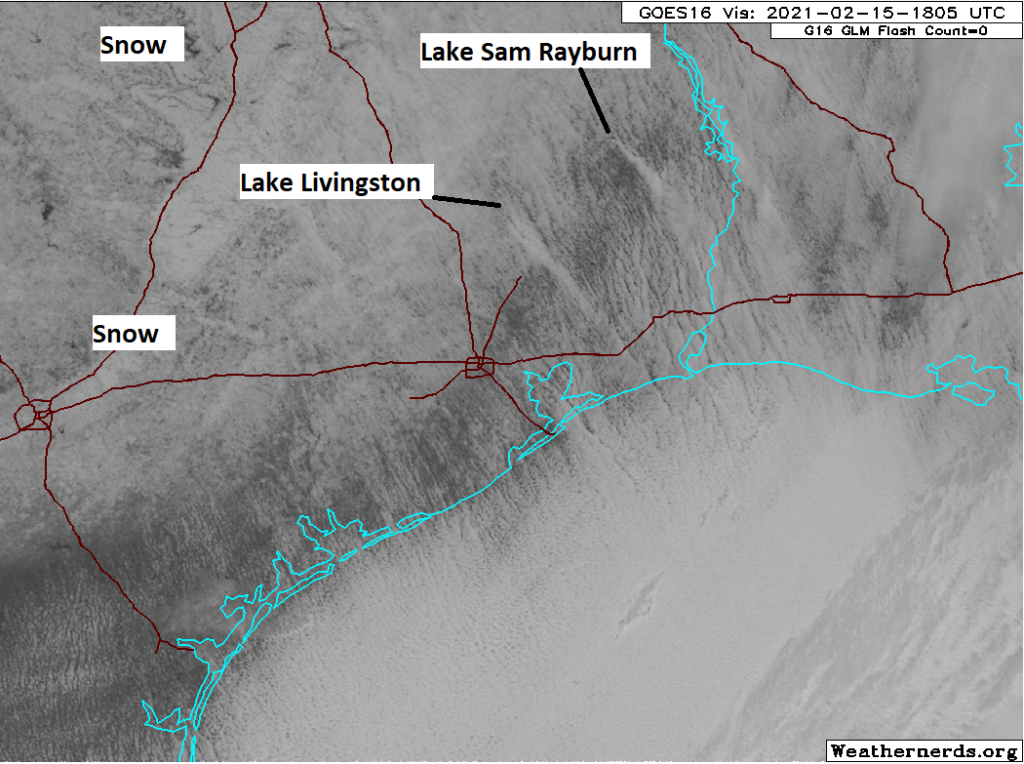 Two distinct plumes are coming off Lake Livingston and Lake Sam Rayburn this afternoon and even Lake Conroe if you squint. You can also see a plume of "bay effect" clouds coming out of Galveston Bay and into the Gulf. This is why even with the sun out, it may have felt like you were living in a snow globe this morning.
Tonight
So how cold will it get tonight? Clear skies, diminishing winds, and a fresh layer of snow is a recipe for what we call "ideal radiational cooling." Reliable model guidance tonight ranges from 10 to 17 degrees at IAH/Bush, and in an ideal radiational cooling situation like this, typically you'd subtract a couple more off that.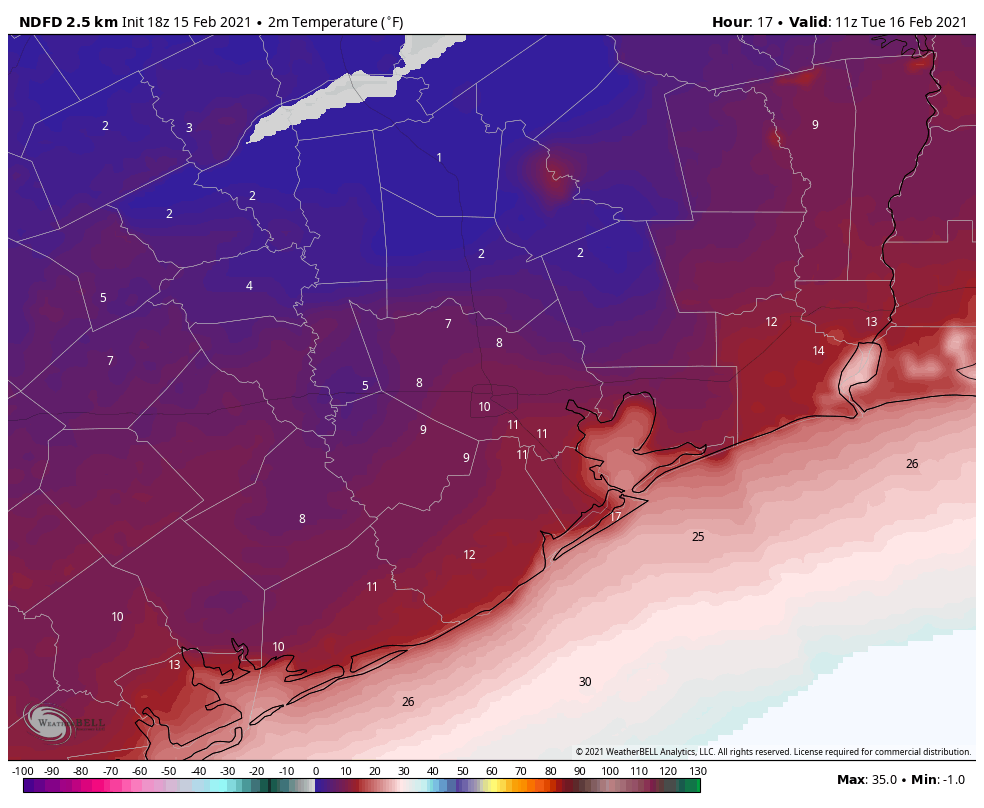 Add in that the models have generally been underdoing the intensity of the cold, and you have a forecast map like the one above from the National Weather Service. There may be some chance that we fall short of these numbers, but I would not be betting on that, and most of the area should expect lows of 5 to 15 degrees, coldest northwest, warmest southeast. Houston's all-time record of 5° from 1930 is probably safe, but not by much and with little room for error. Either way, tonight promises to be a once in a generation type cold that will unfortunately cause a lot of damage to infrastructure, pipes, etc. We wish our readers the best.
Tuesday and beyond
Not much has changed in terms of what to expect the next couple days. More sunshine tomorrow should help further melt snow and ice on roads and most areas south of I-10 should get above freezing. North of I-10 is another matter, which plays into Wednesday's outcome. We will continue to be honest that there is still a lot of uncertainty as to how much cold air will remain locked in over the area. Gulf air and onshore flow doesn't typically have to compete with a snowpack here, so it creates a difficult forecast. What I think we can say for Houston: Most of the metro area should eventually see plain rain on Wednesday, with temperatures above freezing. Based on modeling, we are growing concerned about a very serious ice storm north of about Conroe up to just south of Dallas, but details will likely still be elusive until tomorrow.
With Eric still powerless, I'll have one final brief update for you once more this around 8:30 or 9 PM. Stay safe, and try to stay warm everyone.