With the deep freeze on the way to Houston, Eric thought it would be a good idea to take a look at some previous significant cold in Houston, so we can place this outbreak in historical context. As Space City Weather's unofficial history guru, I've taken on the challenge!
Quick forecast update
Eric's morning post does a nice job discussing what we know and expect over the coming days. Not a whole lot has changed, though I think three things stand out.
1.) First, there is a real chance that there could be some freezing drizzle or light freezing rain overnight tonight and Sunday morning. Please check with us or other local outlets if you are planning to travel anywhere tomorrow morning.
2.) Second, the start time of Sunday evening's precipitation has sped up a bit, and we may see rain or freezing rain or sleet begin as early as 3 or 4 PM on Sunday.
3.) It seems colder air may push in here a little faster on Sunday night and Monday morning. This is both good and bad. It's bad in the sense that we're likely to endure a longer stretch of temperatures in the mid-20s or colder. It's good, however, in the sense that this might lead to more sleet (or snow) and less freezing rain. Forecasting precipitation types is extremely challenging, as Eric noted this morning, so I expect more curve balls to be thrown our way between now and tomorrow evening, but at least this afternoon, it looks like sleet may be the more common precipitation type we see tomorrow night. We'll have more for you in the morning.
February 2021
So, to begin our trip through history, let's set the table with the current cold outbreak.
Current coldest forecast temperature: 10° on Tuesday 2/16
Nights forecast at or below freezing: Five
The current official NWS forecast low for Houston on Tuesday morning (at IAH Airport) is 10 degrees, which would rank as a tie for Houston's 5th coldest morning all-time (back to 1889). Since official records have been kept at Bush Airport (1969), this would rank as the second coldest, with only December 23, 1989 being colder (7 degrees).
Some may try to talk down this cold outbreak because of its less impressive duration than, say, 1989 which saw three of Houston's 25 coldest mornings on record. However, the current Monday through Friday forecast (as of Saturday afternoon) shows an average temperature of 28.5 degrees for the 5 day period. This would rank as Houston's 12th coldest 5 day stretch on record. If that does verify, it will be our coldest 5 day stretch of weather since 1983. So this certainly qualifies as an upper echelon, if not historic cold snap.
So let's look back at some other memorable Houston cold snaps through the years.
January 2018
Coldest temperature: 19° on 1/17
Nights at or below freezing: 10, split up over 20 days
We've gotten a few comments from folks questioning how this upcoming cold could be classified as "coldest in years" when we just had cold like this in January 2018. Well, the reality is that January 2018, while impressive, was split up over 3 weeks and came with comparatively mild daytime highs.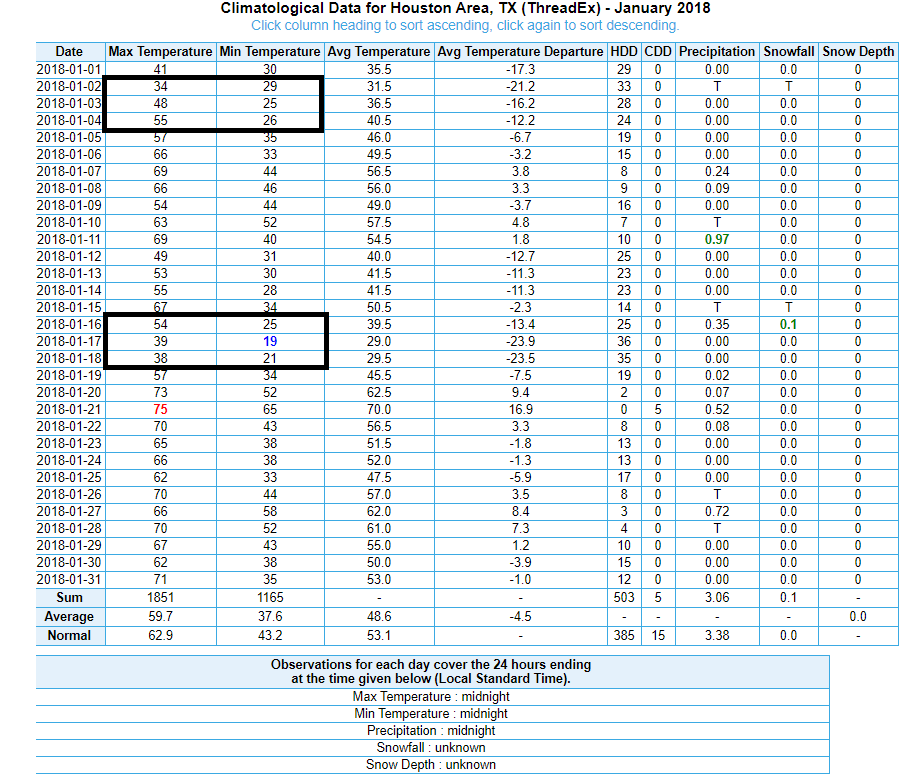 We did hit 19 degrees, which at that time was our coldest low temperature since 1996. We managed to reach the upper 30s on both days, which isn't overly impressive. That event also came with snow, sleet, and ice. Impressive, but probably not historic.
February 2011
Coldest temperature: 21° on 2/2
Nights at or below freezing: 12 over 2 weeks
Another one we hear about is 2011. I remember February 2011 vividly because I moved to Houston for a time that month and arrived at the end of January. Quite the welcome. Houston officially bottomed out at 21 degrees on February 2nd. We registered 5 straight days with lows in the 20s from February 1-5 and 4 days from February 9-12. There was also an ice storm of sorts on the 4th. Eric wrote about it at the Houston Chronicle. I actually remember forecasting this and it being a really good lesson in the challenges of forecasting winter weather in the South.
While this was not really a record-setting event in Houston, other parts of Texas saw some impressive records. El Paso's coldest February day on record was February 3, 2011. Dallas was plagued with cold and wintry weather as well, marring the 2011 Super Bowl.
December 1989
Coldest temperature: 7° on 12/23
Nights at or below freezing: 14 over 2-3 weeks
In pantheon of modern Houston cold snaps, December 1989 is front and center.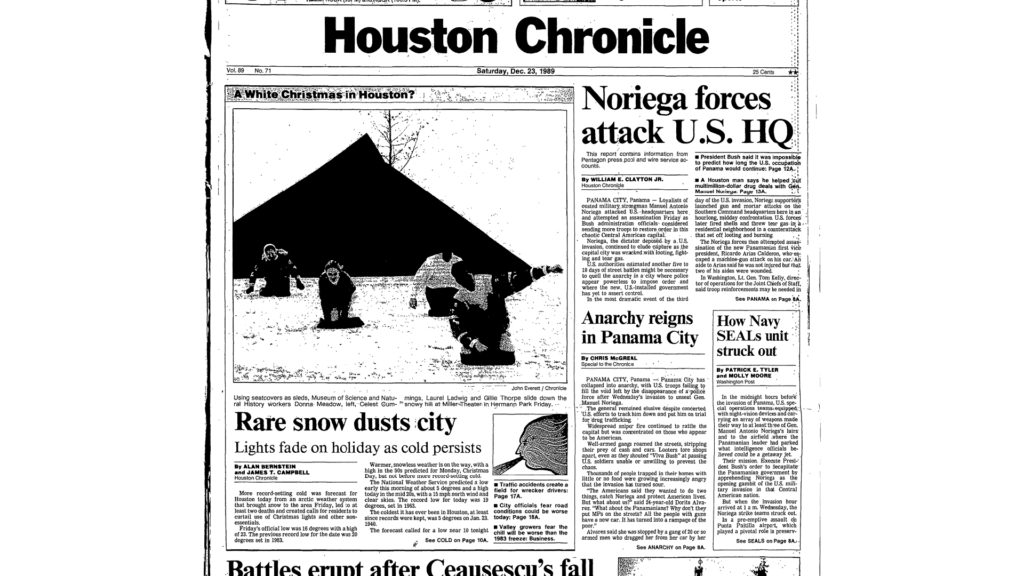 Six record low temperatures still stand from 1989.
December 12: 25°
December 13: 19°
December 16: 19°
December 22: 13°
December 23: 7°
December 24: 11°
December of 1989 was Houston's coldest December on record back to the 1880s. Between crop losses and other damage, the cold of December 1989 was estimated at the time to cause $300 to $500 million in damage (up to $1 billion in 2021 dollars) in Southeast and Coastal Texas, according to NOAA's December 1989 StormData publication. This event merits a whole post on its own, which we'll hopefully one day get to!
December 1983
Coldest temperature: 11° on 12/25
Nights at or below freezing: 12, including 11 in a row to close the month.
The December 1983 cold wave was another hall of fame event for Houston. We closed the month with 11 straight mornings below freezing, including four full days that failed to crack above 32 degrees.
The 1983 cold snap caused an estimated $50 to $100 million in damage in Texas at the time (up to about $250 million today). December 1983 is Houston's second coldest December behind 1989. December 1983 was to Dallas what December 1989 was to Houston, leading to their coldest December on record.
January 1978
Coldest temperature: 21° on 1/20
Nights at or below freezing: 20 (!) over the course of the month
The January 1978 cold snap doesn't have much intensity on any single day, but it makes up for that in terms of duration, which ultimately led to 1978 being our coldest January (and coldest month) on record.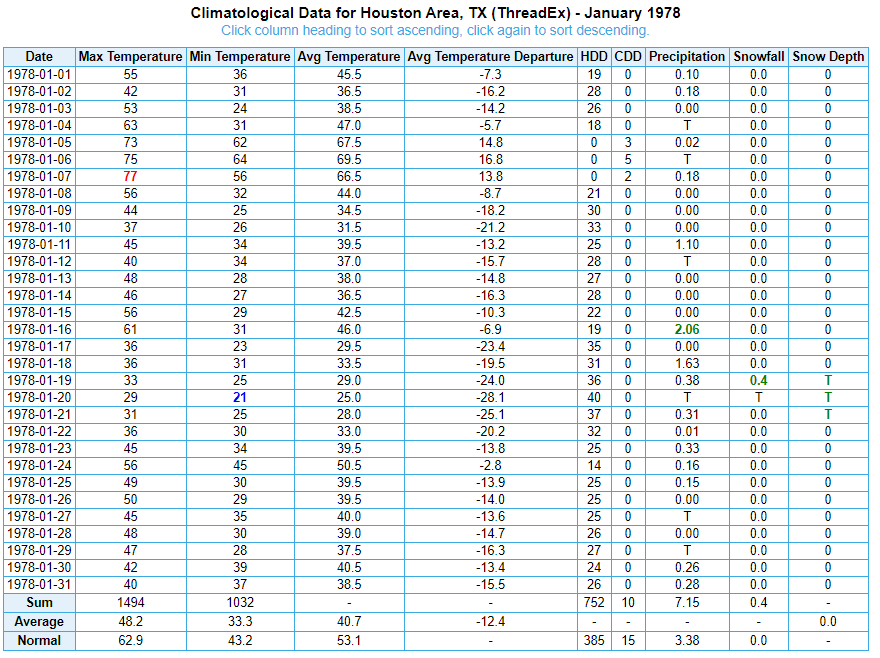 The 1970s had some pretty amazing winters across the United States, and for Houston this was almost certainly the peak. Although, 1973 saw four days of snow in Houston between January and February.
January-February 1951
Coldest temperature: 14° on 2/2
Nights at or below freezing: 6 in a row
January 1951 started off quite mild with 14 days in the 70s. The switch flipped on January 28, when temperatures dropped 40, and then January 29 when they kept dropping to 24 degrees. We then had four straight days below freezing all day long. The January 29-February 3 period remains Houston's coldest stretch of 6 days on record, averaging 26.3 degrees.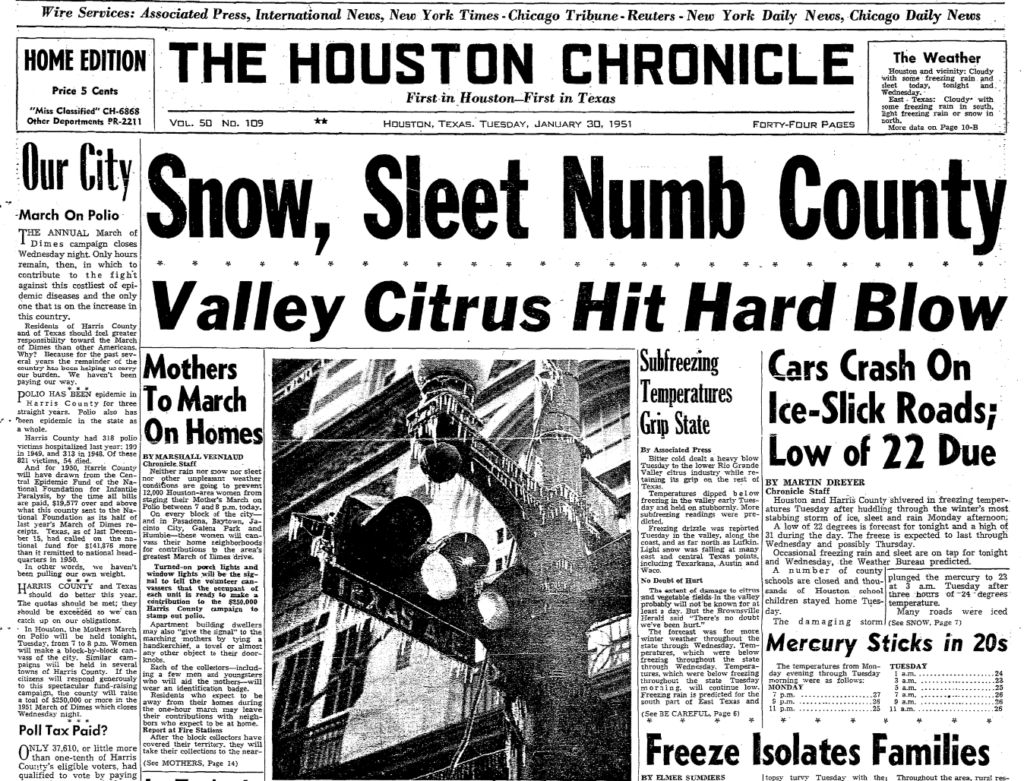 In addition to the cold, what is likely the worst ice storm in city history led to serious damage and disruption. Almost an inch and a half of precipitation fell during the cold snap. Another event likely worthy of its own post.
January 1940
Coldest temperature: 10° on 1/19
Nights at or below freezing: 11 in a row
The 1940 cold snap came with snow on January 22nd, with up to 3 inches reported from Houston into southern Louisiana and more elsewhere in the states. Only twice has Houston seen 11 straight days of low temperatures at or below freezing: January 1983 and January 1940. The 1940 cold is notable for both intensity and duration.
January 1930
Coldest temperature: 5° on 1/18
Nights at or below freezing: 8, coming in two 4-day waves
January 18, 1930 is Houston's coldest morning on record, with a low of 5 degrees above zero. The cold came in two punches, this first strong one, followed by a second one a couple days later in which we bottomed out at 15 degrees on the 22nd.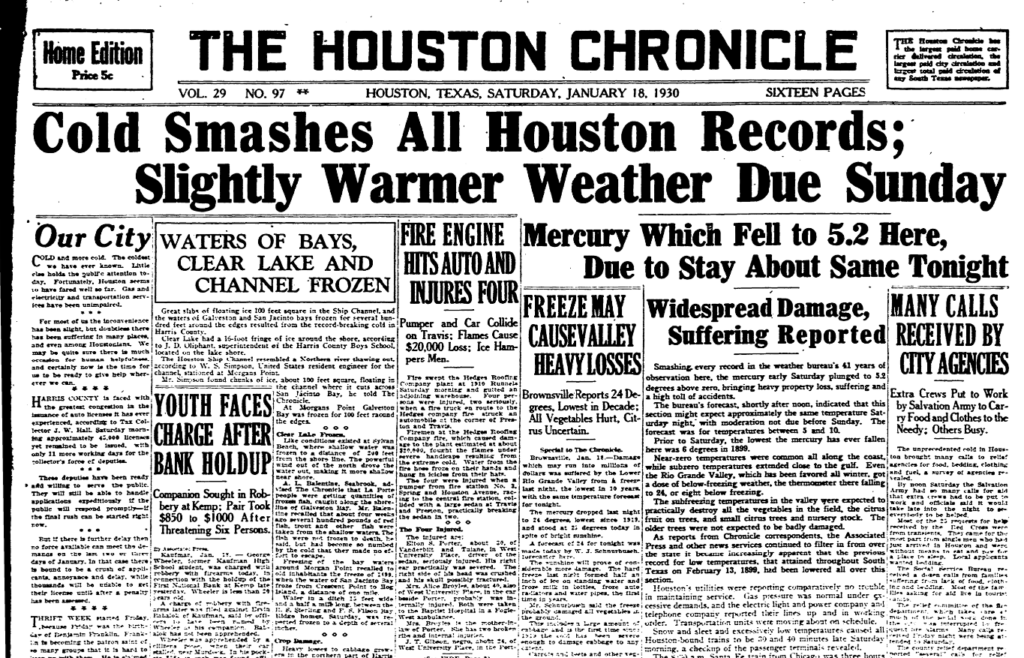 Five days after hitting 15 degrees, we were back up near 70, so further proof it won't stay cold forever!
February 1899
Coldest temperature: 6° on 2/12 and 2/13
Nights at or below freezing: 9 in a row
The February 1899 cold snap covered most of the eastern half of the United States, and it could be deemed the granddaddy of them all in the South. Several records from that event still stand today, including the coldest on record for Amarillo (-16°), Dallas (-8°), Galveston (8°), and the Texas all-time record (Tulia was -23°, a record shared with Seminole in 1933). In addition to Texas, state records still stand or are shared today from this cold snap in Nebraska, Ohio, Louisiana, and Florida.
The February 13, 1899 edition of the Houston Post described the cold snap thusly:
"When a younger friend approaches him now and suggests to him, with a degree of profanity based on the length of time he has been exposed to the chilling, biting, nipping North wind, that 'it's pretty cold,' the oldest inhabitant cannot yawn, draw closer to the welcome fire, and say, with an air of conscious superiority, 'Yes, but away back in '73 there was a norther that–.' He has no recourse but to moodily assent, put a few more coals in the blazing grate and reflect on what has been, what might have been and what may be. And all this makes him sad, very, very sad."
February 1899 is front and center in the pantheon of cold as well.
February 1895
Coldest temperature: 10° on 2/8
Nights at or below freezing: 12 over the course of 2 weeks
February 1895 was a memorable cold snap, with 4 daily records still standing today. But what set 1895 apart for Houston was our greatest snowstorm of 20 inches, which we conveniently wrote about back in 2017!
The final word
So, will 2021 join these memorable cold snaps? Probably. But ultimately, whether it really can join the ranks of a 1989 or 1983 or 1899 will depend on just how cold it gets Tuesday morning.