Nearly three months have passed since we first addressed COVID-19 and the then-unknown effect of weather on its spread in warmer climates. Since that time we have learned some things, and have three months of data to draw upon in Texas. From this we can conclude that although weather may have some modest effect, it is not likely to have a significant dampening effect on the transmission of the disease.
COVID-19 and Texas
We'll start this post by looking at the spread of COVID-19 in Texas. I encourage you to visit this site, put together by Peter James Walker, which provides amazing visualizations of coronavirus data (from the Texas Department of State Health Services) with regard to testing, positive cases, deaths, and hospitalizations. This allows us to understand trends in the data.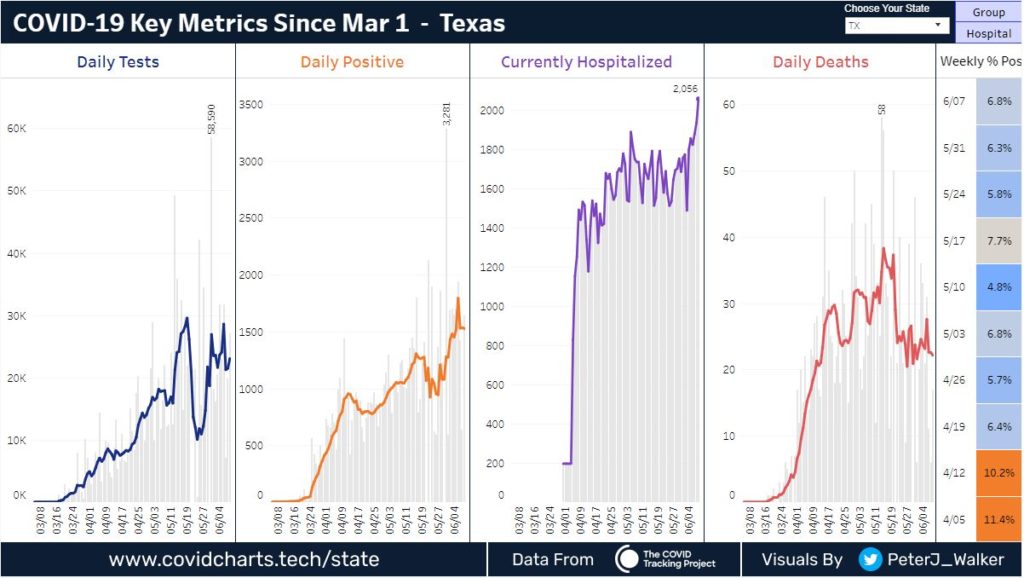 Here we can see that cases are more or less increasing in line with more testing across the state. However, after initially dropping, the share of positive tests seems to be increasing, up to 7 percent from 5 percent about one month ago. So far, at least, deaths have not caught up to cases. This may be due to better care, or some other factors. It's just hard to know.
What concerns us is that hospitalizations have reached a record high in Texas for COVID-19. You may have questions about the test data, or false positives, but hospitalizations for COVID-19 are measurement that is difficult to fudge. The trend is upward, and real. We are still a ways away from reaching hospital and ICU capacity in Houston or across the state, but the concern is where does the trend go from here? I don't think anyone can say.
Weather and COVID-19
What we can say is that this spike in hospitalizations (and thus, severe cases) due to the virus is occurring at the very moment when summer heat is beginning to descend on Texas. The state's average temperature in June reaches 90 degrees. Much of the state is humid most of the time in summer. And still, the disease is spreading. In fact, based upon the hospitalization data, it seems clear that COVID-19 is more widespread now in Texas than at any time before. The disease is spiking even harder in other, similarly warm states, such as Arizona.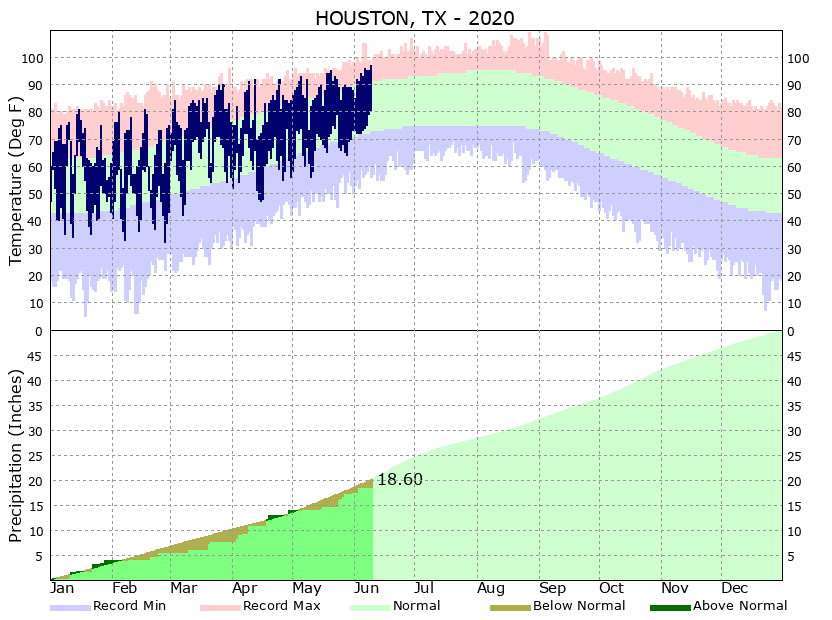 This supports the emerging science viewpoint on weather and COVID 19, that summer heat will not be much of a factor in slowing its initial spread through the human population.
The public health messaging from the World Health Organization and the U.S. government amidst this pandemic has not been consistent or particularly good. However, the data are telling us that COVID-19 is still spreading in Texas despite the heat. It may become even more widespread this summer as we (understandably) seek to return to a business-as-normal posture. What seems prudent is the continued wearing of masks in locations where social distancing is not possible. When you wear a mask it may be uncomfortable, you may think it makes you look funny. But you're also telling the person next to you that you value them, and want to do your part to prevent spreading COVID-19 too far.
Sponsor Note from Reliant
To support our neighbors across Texas, Reliant has committed $765,000, including $440,000 to the Greater Houston area, for local community relief funds, initiatives to protect frontline workers and those adversely impacted by COVID-19, and treatment/prevention solutions. The donations are part of our community program, Reliant Gives, to provide support across the state of Texas and our parent company, NRG Energy, Inc.'s $2 million donation to pandemic relief efforts. Learn more about our commitment and customer support resources here. Now more than ever, we're working to light the way and keep Texans powered and connected to one another.