Welcome to a semi-regular series at Space City Weather we're going to call "SCW Book Club." Anyone who follows me (Matt) on Twitter knows I almost always share what I am reading with everyone. Often it has to do with Revolutionary Era history, but sometimes I actually read about stuff that is more relevant to my job. The goal of these posts is to share with you books about topics relevant or tangential to weather, specifically here in Houston. Given that I do read about other things (like the history of Ukraine at the moment), this will be an irregular series, but I will make sure to make mention of what relevant read I will be tackling at some point next, hopefully sooner than later.
The first book I want to share with you in this series is Rachel T. Kimbro's "In Too Deep." Kimbro is the Dean of the School of Social Sciences at Rice University and a professor of sociology. Her recently published book, "In Too Deep" examines the experiences and decision-making processes of a group of 36 mothers in an upper-middle class neighborhood of Houston. She does not name the flood-prone neighborhood, instead calling it "Bayou Oaks, which is a pseudonym for the area in southwest Houston. If you read the book and are from Houston, it becomes fairly evident which general neighborhood is being discussed. Much of the neighborhood's identity centers around children and the elementary school, which provides a major focus of the book.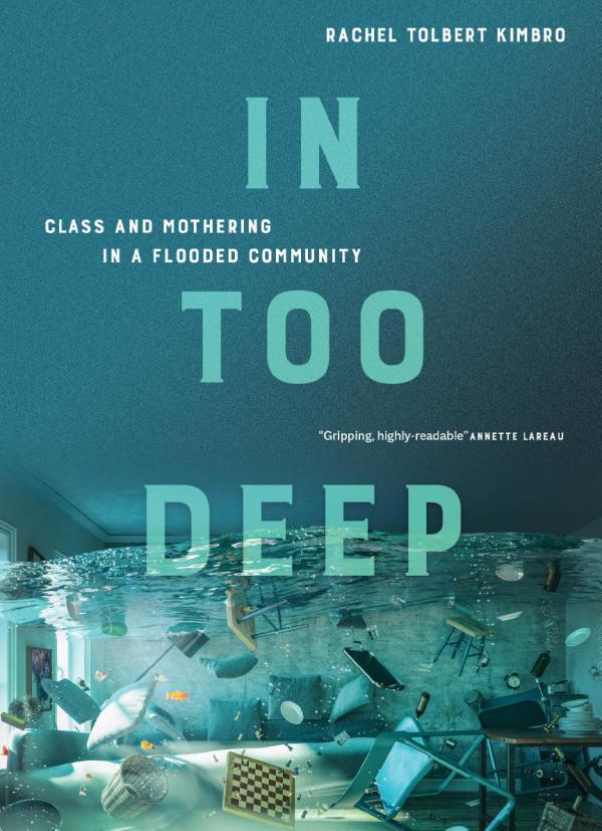 In her introduction, Dr. Kimbro argues that the disaster experiences of more affluent families are an overlooked part of disaster research, which understandably often focuses on those most vulnerable with the fewest resources to call upon. After reading her book, it makes a lot of sense to me why it was a good idea to write, beyond the story it tells. Kimbro details why these families chose to live in this particular neighborhood and why they rejected the suburbs or other neighborhoods in the city. That becomes important in understanding why most of them chose to stay, even after repetitive flooding.
She coins a phrase in the book that I find quite useful: "Flood capital." In other words, the experiences of these families through repeated flooding, as well as their extremely deep social network in the community provides them access to resources many people in our area can't find as easily. Some of these families were able to make arrangements for housing and repairs even before the storm hit because of the flood capital they had gained. This of course is in addition to their well-off socioeconomic standing that allows them access to many financial and recovery resources as well. As Kimbro notes, there is disaster research suggesting that those that are well-off before a disaster are often even better off after the disaster and disasters actually increase social inequality. Her research will add to the understanding of how that could be.
The bulk of the story really does focus on the mothers though. They generally raise their families using the principal of "intensive mothering," which is basically child-centered, expert-guided, labor intensive, and expensive. The book delves into how this parenting technique is practiced specific to these families. You'll also learn how within these families, there is a large difference between how the fathers and mothers viewed the risks from Harvey, as well as how they managed the recovery. I will just say that the mothers of this story handled the majority of the labor involved in both the preparation and recovery, and they have been through an awful lot.
This topic is not one that's easy to discuss, and it's one that is uncomfortable at times. But the story is critical to understanding the Harvey experience, disasters, why buyouts won't appeal to everyone, and why some people fare so much better than others. This should help shape how community leaders can help less well-off residents improve their reactions and response to disasters. Additionally, it shines a light on why people stay in places they know are disaster-prone, which can offer food for thought for community planning in the future.
Kimbro's writing is really clear and understandable, and the book makes for a pretty brisk read. She seamlessly weaves in the sociology with first-hand accounts from the mothers she interviewed, and it makes for an informative story — but still a story. This book has valuable academic results, but it does not read as an academic book, which should allow it to appeal to a broader audience. I thought it was excellent, and I would encourage you to consider also giving it a read.
A quick warning: The book does discuss the actual flooding, damage, and impacts, so for some of you, it may trigger unpleasant memories. While still very informative, if you were deeply impacted by Harvey it will be an uncomfortable read at times.
If you want to learn more, Rachel presented her work for a Kinder Institute webinar, which you can view here. You can also follow her on Twitter.
You can order "In Too Deep" from your favorite bookshop, or from Brazos Bookstore!
The next book in the SCW Book Club series will be "The Worst Hard Time: The Untold Story of Those Who Survived the Great American Dust Bowl," by Timothy Egan, which I hope to get to later this spring. I'd like to have some kind of informal discussion with readers about the next book—perhaps in the form of an online book club—so if you're interested in that get reading.