So far, Memorial Day weekend has been exactly what the doctor ordered for our area. At least we've been able to allow the river systems to move their water without adding new rain. Our window is slowly closing however. The good news is that the rain today looks relatively minor and no new issues are expected.
TODAY
A decaying cluster of showers and thunderstorms (another MCS as Braniff eloquently described yesterday) is moving through Central Texas. This one is progressive and weakening at is moves toward Houston however, and the rain on radar this morning will likely continue to weaken.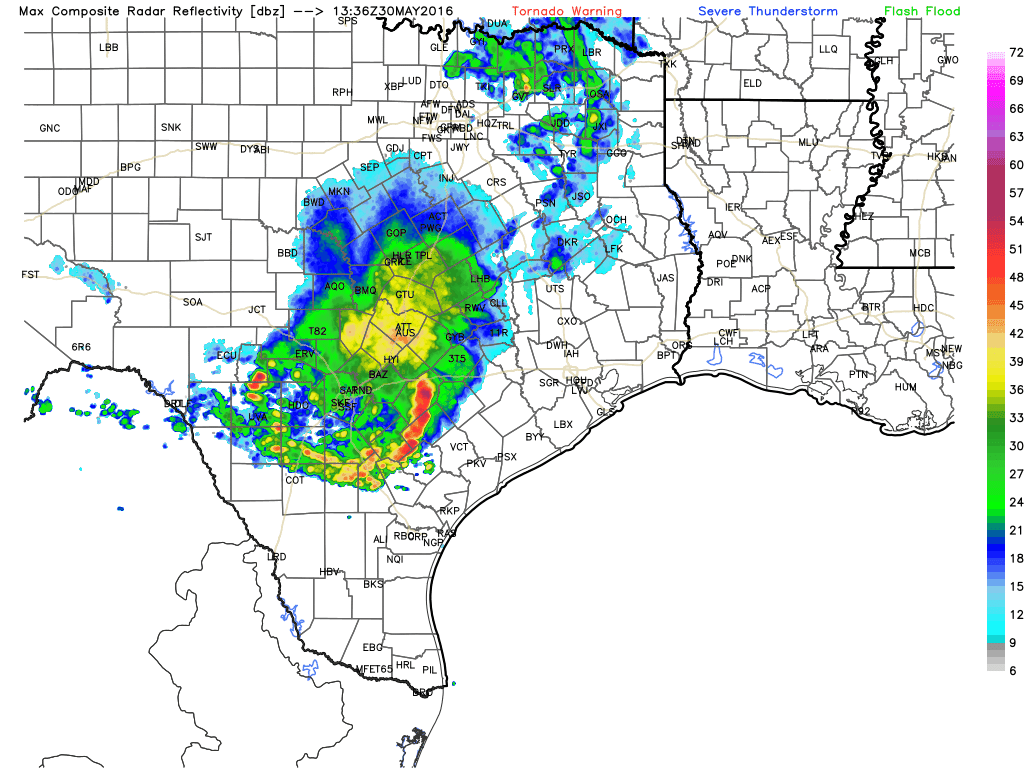 Heavier thunderstorms continue south toward Corpus Christi. So we don't need to worry about flooding rains here. That said, this may dampen some outdoor plans late this morning, especially south and west of Houston (some areas north and east of Houston may not see anything at all). But the expectation is that the cluster of rain approaching will weaken quickly, so the afternoon will not be a washout and no flooding is expected. As a result we're in for another day today with partly sunny skies, highs in the upper 80s, with a few scattered showers and thunderstorms popping up with daytime heating this afternoon. The forecast is similar for Tuesday.
By Wednesday we're going to need to be on the lookout for additional storms, as an upper-level storm system moves into Texas and stalls out. This will create the lift needed in the upper atmosphere to squeeze showers and thunderstorms out of our moist atmosphere. How much rain are we talking between Wednesday and Sunday? We're going to go with widespread accumulations of 2 to 4 inches, but we could potentially see a fair bit more than that in some locations. It is impossible to say where, however. This wet, cooler and cloudy pattern should persist at least through the weekend and possibly into early next week.
FLOODING UPDATE
The Brazos River continues to rise, and it will be the worst on record or the worst since 1913 depending on where you are along the river.
Near Sealy, the river has crested and is beginning a slow fall.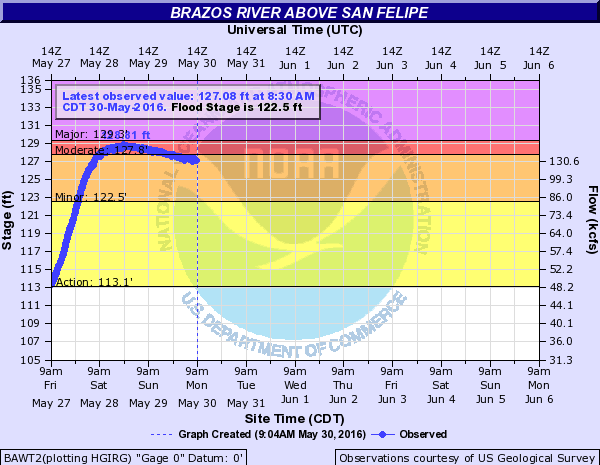 At Richmond, it's still forecast to crest around 53.5′ early tomorrow.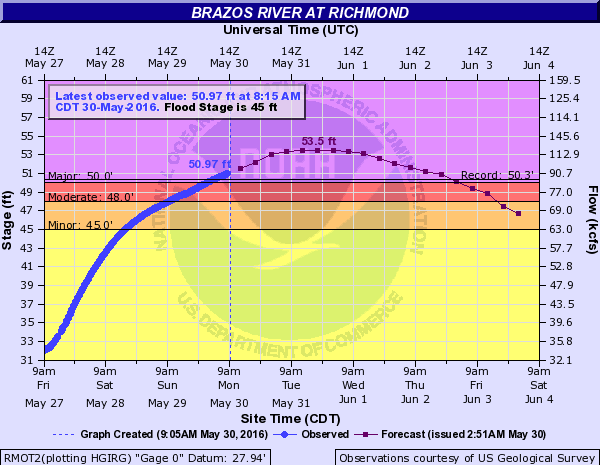 This is an all-time flood for this locations and will break the old record of 50.3′ by over 3′. Just a remarkable and truly awful event, especially given that these locations have seen multiple floods since last year.
Further downstream, Rosharon is expected to see the Brazos crest at its highest level since 1913. There will be severe flooding along the Brazos in Brazoria County.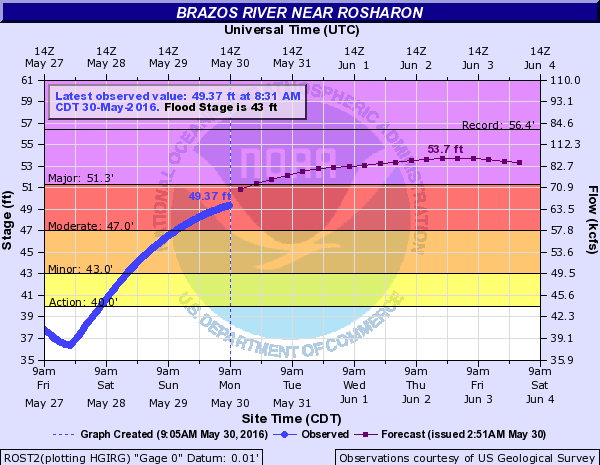 The rise in Brazoria County will be a slow and steady one, with the river cresting sometime on Wednesday or Thursday most likely, earliest north, later south.
Northeast of Houston, the San Jacinto River continues to flood around Humble. The good news is that the river has crested and is beginning a slow, steady decline.
That said, major flood stage is forecast to be exceeded until Thursday, so expect lingering problems and detours in that area.
According to Harris County Flood Control's website, Addicks Reservoir has peaked for the time being. I suspect we will see it hold steady or slowly decline in the coming days. Still, expect some detours and closures along or near Highway 6 for a bit longer.
Eric will have the latest on this and upcoming rain chances Tuesday morning.
Posted at 9:30 AM by Matt Lanza