As temperatures have plunged across the Houston area during the last six hours, rain has turned into a wintry mix of sleet, freezing rain, and snow. (Yes, it has already snowed lightly at Bush Intercontinental Airport this morning, the first time that has happened three times in a winter season since 1973). Here's a look at what happens next.
More precipitation is coming
Houston has seen some breaks in the rain and sleet this morning, but there are additional areas of precipitation to the west of the region that will move into the metro area today. Although accumulations are unlikely to be too significant, it doesn't take much moisture on the surface of a road to make it slick. Forecast models have been pretty consistent in bringing additional rounds of sleet, freezing rain, and snow through the region until about 4pm to 6pm CT today. Snow is more likely than other precipitation types this afternoon.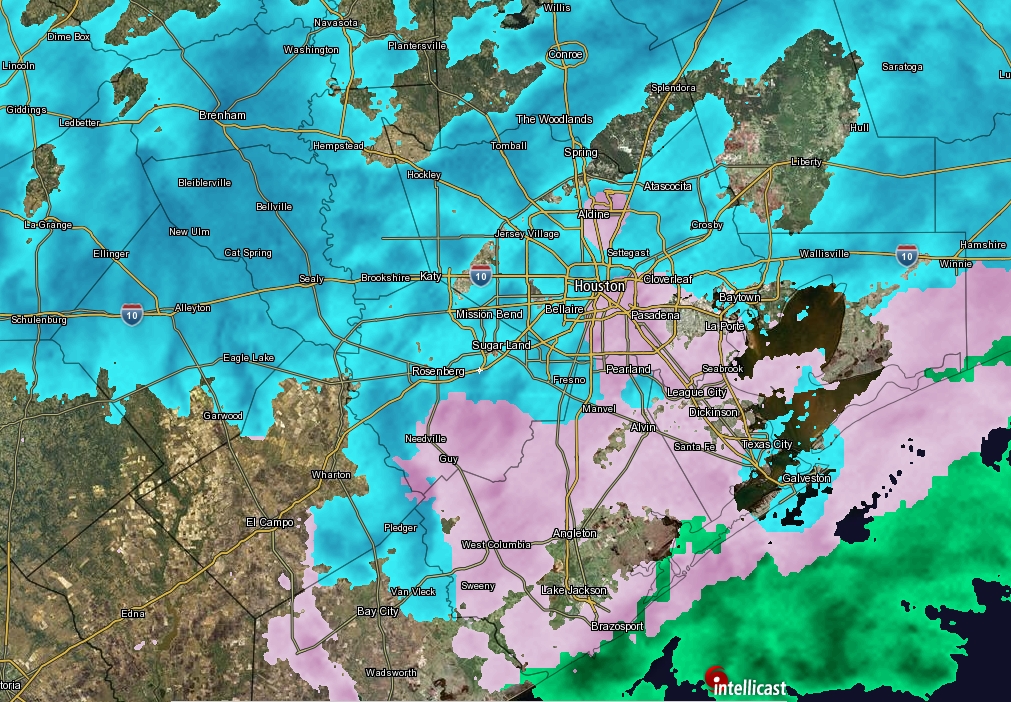 Roads are starting to freeze
Houston Transtar is keeping a (steadily growing) list of roadways affected by ice in the metro area. So far, most of the problems have occurred to the north, in Montgomery County, and west of Houston. This is understandable, as those areas have experienced freezing conditions for a longer period of time. Most roadways within Houston itself are still covered with just water, because the ground is still "warm" from Monday, when highs reached into the upper 60s. But now that most of Houston is now at about 30 degrees, and likely to slip into the upper 20s this afternoon, wet roads will gradually become icy roads—especially bridges and overpasses. How much of an ice rink Houston becomes depends upon the amount of precipitation this afternoon. With enough wind and breaks in the precipitation, there is a chance for some evaporation and perhaps we will have dry roads by the time the hard freeze hits tonight. Perhaps. But probably not. Best to leave work early today, if possible, and stay home this evening.

Road conditions Wednesday
We're not sure what Houston will wake up to tomorrow. If roads are icy this evening after the sun sets, they're likely to remain icy overnight. Ice on untreated roads, of course, will not melt when the temperature is below freezing. At sub-freezing temperatures it also cannot sublimate (convert from ice directly into water vapor) without energy, which it gets from the Sun. Therefore the status of roads on Wednesday morning will be determined by two factors: the extent to which they are wet tonight, and the ability of road crews to treat them with a salt-based solution that lowers the freezing point of water. If roads are icy on Wednesday morning, I'd expect them to improve pretty quickly by 9 or 10am on Wednesday morning, as sunlight spreads over the region.
Hard freeze tonight
The other thing we're watching closely is the likelihood of very cold temperatures tonight, with teens possible for many areas north of Interstate 10.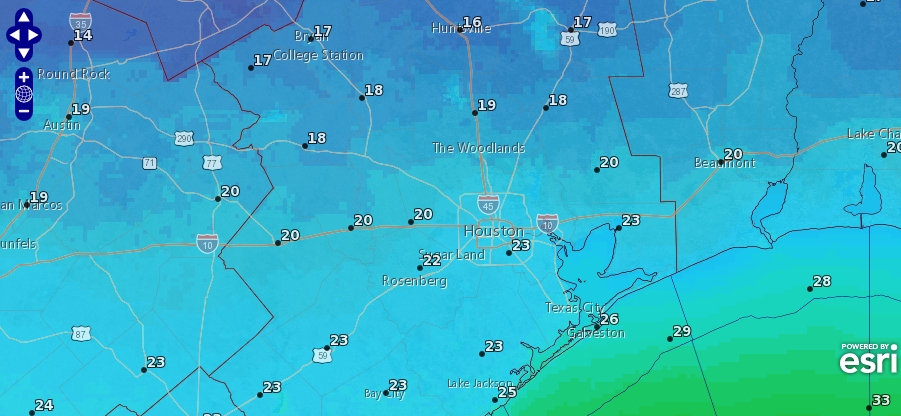 All precautions for people, pets, plants, and pipes should be made for what will be one of the coldest nights this century in Houston and surrounding areas. Looking at you, Huntsville!
Note
Just a word of thanks to Reliant, for keeping the site free, and the lights on, during severe weather events such as this winter storm.