Just so we're all on the same page for this crazy weather, I want you to recall that on Monday—just three days ago—the high temperature in Houston was 81 degrees. And now we are talking about snow. And speaking of snow, here is the scene in College Station on Thursday evening, shortly after sunset.
College Station, TX @TxStormChasers pic.twitter.com/G5wrhBnXsL

— Josh Woosley (@Joshwoos) December 8, 2017
A winter weather advisory is in effect for northern counties in the Houston metro area (i.e. Waller, Montgomery, and Grimes) where moderate snowfall may stick to some bridges this evening as surface temperatures fall to below freezing. Up to 2 or even 3 inches of snow is possible for some areas in the Brazos Valley area, as the snow continues to fall.
Here's a look at the radar, showing (in blue) areas of snow as of 8pm.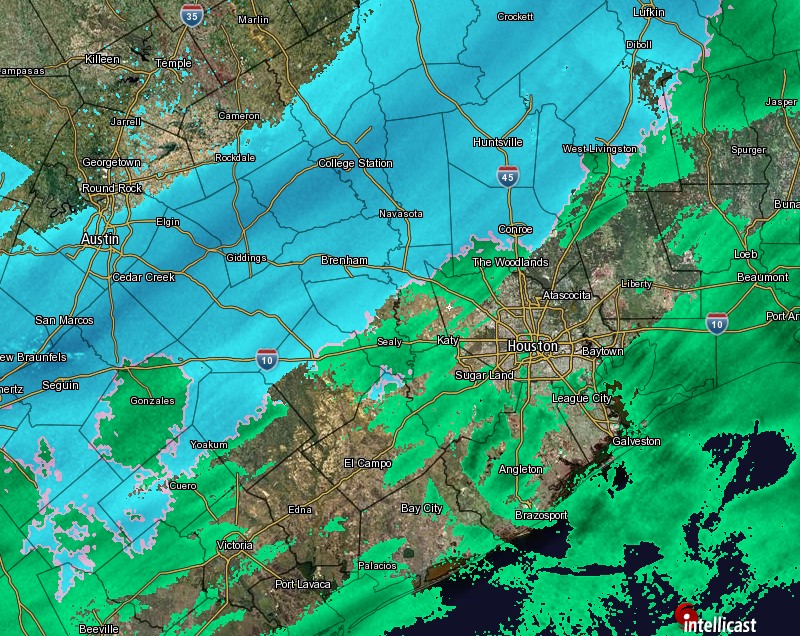 This system is slowly moving to the east-southeast. Short-term models suggest the band of moderate to heavy snowfall that stretches from Austin to College Station to Huntsville in the map above will weaken as it moves into the Houston area later tonight. This perhaps means the central part of Houston will see only flurries, or no snowfall at all. We're not entirely sure.
(Space City Weather is brought to you this month by the Law Office of Murray Newman)
However, as this system slides toward the coast after midnight and during the early morning hours on Friday, it should pick up some Gulf moisture, and there is a window during which (and I can hardly believe I'm writing this) heavier snow could begin to fall. This most likely will occur between Interstate 69/Highway 59 and the coast. I still think the ground is warm enough near the coast that we're not going to see much in the way of accumulation on roads and streets. But certainly, I would not bet against some snow sticking to car rooftops and yards.
We're not sure exactly what Houston is going to wake up to, but at this point we don't expect snow or ice to stick to roadways. We are a bit concerned about elevated roads and bridges, so be sure and check travel conditions when you wake up in the morning. We'll have a full update first thing in the morning.