This is the third in our series of posts sponsored by Reliant. They're covering our site for the entire 2017 Atlantic hurricane season, and in return we're writing a handful of posts that highlight their services to readers. Today's post relates to your questions and answers regarding choosing a generator.
We're now three weeks past the storms of Hurricane Harvey, and the rains are still fresh in our minds as we're thinking about the next time. For most homeowners, the power didn't go out this time, a real blessing amid the torrential rainfall. The power remained mostly on during Harvey because winds never reached sustained tropical storm speeds in Houston—but for hurricanes making landfall closer to our region that won't be the case. Therefore, as you're updating your hurricane survival plans after Harvey, this post will answer some questions you may have if you're considering a generator.
For Houston residents, our sponsor, Reliant, has the expertise to help take the guesswork out of the process. They can help by providing guidance about the installation process, selecting the right model, the right fuel—natural gas, portable, even solar— and addressing costs. The purpose of this post is to answer some of those questions.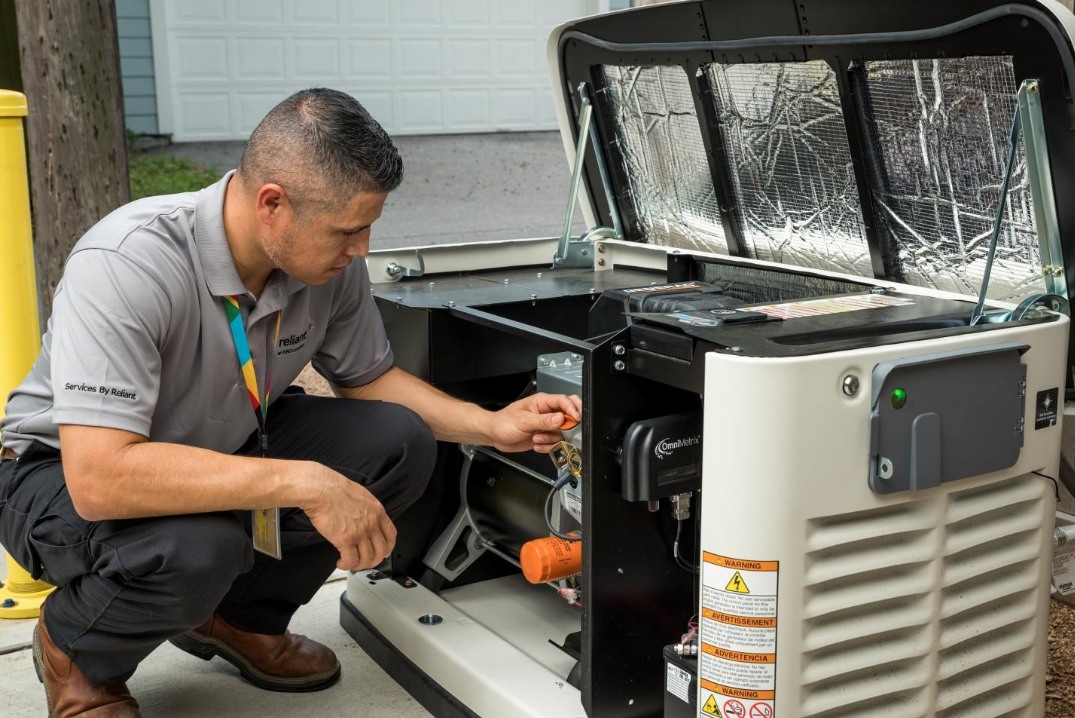 The first step is to request a free assessment. Reliant will come to your home to determine the best generator for your needs, installation location and budget. This is a good time to ask all of the questions you have about the whole process. Here are some of the general installation questions likely to come up:
Is my home eligible for a Reliant generator installation? You must own the home and have natural gas line access to the house.
Where do you install the generator? Reliant tries to place the unit near the breaker box. If it can't be installed there, Reliant will work with you to find a desirable location.
Will any construction be needed at my home? A concrete slab will be poured, similar to what an outside air conditioning unit sits on. A licensed plumber and electrician will run piping and wiring to connect the generator to the gas line and electrical breaker box. Sometimes these are below ground; sometimes they are attached to the house. All work done complies with building code standards.
Who will perform the construction and install the generator? Professional technicians who are licensed, insured and background-checked perform all construction, installation and maintenance.
How long does it take to install a generator? From start to finish, it usually takes 5 to 7 business days.
Do I need to contact the city about permits for my generator installation? No. Reliant will handle all permitting for you, and notify both the city and your transmission and distribution provider (CenterPoint in Houston) on your behalf.
Once you've addressed whether how and where to install a generator, the next questions concern what kind of a model to buy. Here are some basic questions you might ask:
How much power can a generator provide? Depending on the model you select, the residential generators Reliant offers deliver 8kW to 24kW of power.
What size of generator do I need? This depends on several factors, which a Reliant representative will evaluate and discuss with you. Different generators can power your entire house during an outage, or only specific areas or appliances. The more items you want to run, the more powerful your generator needs to be. In general, 10kW to 14kW can run basic appliances (refrigerator, a fan, and some lights). A 15kW to 20kW generator can run a small home (no AC) and 21kW to 25kW can run a small to medium-sized home, with the higher kW generators able to support an AC system.
What about a portable generator, is that enough? For smaller appliances and devices, a portable generator may deliver the power you need. Check out solar-powered options from Reliant's sister company Goal Zero, which use advanced battery technology to draw power from the sun and can even be run safely indoors, unlike gasoline-powered generators.
Finally, there are questions about cost. A generator is no doubt a sizable investment for any family. Are they affordable?
How much does generator installation cost? The cost varies due to different factors: the size of the generator, where the generator is installed and whether additional piping, wiring or special permitting is required. Reliant will walk you through all your options and provide a final estimate. Consider too that a generator may add value to your home for future sale and rental, so it could help offset cost in the long-run.
Can I get a quote over the phone? A technician must evaluate your home to provide an accurate quote. Every home is constructed and laid out differently.
Are payment plans or financing available? Do I have to pay in full? Reliant offers flexible financing options, determined on a case-by-case basis with payment plans up to 10 years. If you pay outright, 50% is usually due at the beginning of the installation, and the rest upon completion.