Good afternoon. Round one of rainfall this morning was mostly uneventful, with the notable exception of the Deer Park area, which received over 4 inches of rain, much of which fell in an hour or so.
Armand Bayou is the one bayou worth watching closest as we head into this evening. It is running near bankfull after the earlier rains, and we could see some portions of the bayou come out of banks with round 2 in a couple hours. Please stay vigilant in that area.
We remain in a Stage 1 Flood Alert, as Eric has noted, and the NWS has just issued a Flood Watch for the entire metro area through Saturday in anticipation of several more rounds of rainfall.
That next round is on the way as of 1:30 PM.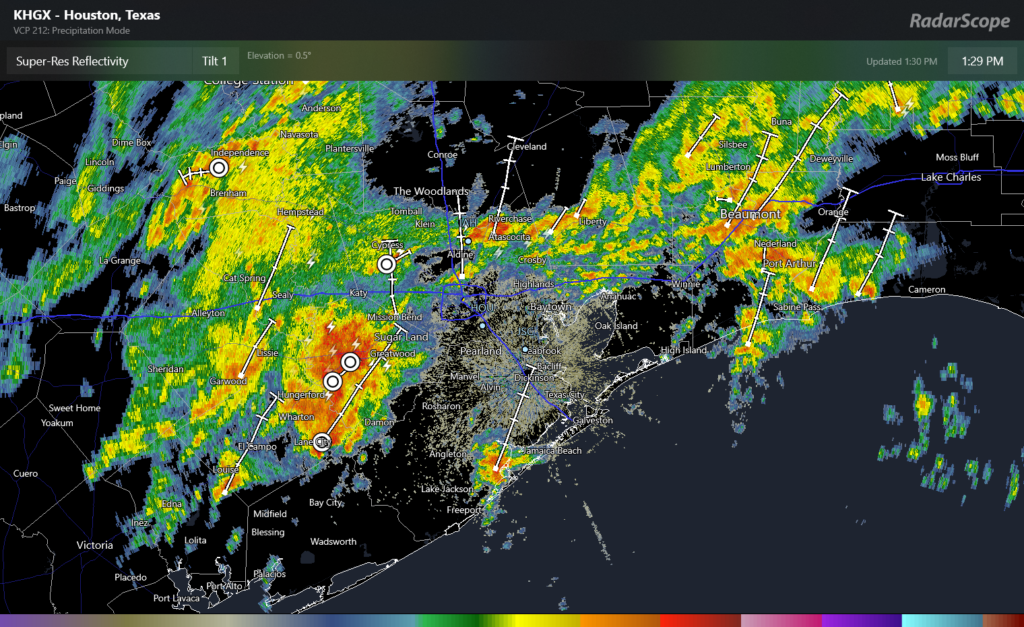 This cluster of rain will produce thunder, lightning, some gusty winds, and very heavy downpours. Additional rains of 1 to 3 inches are possible as this band passes through between now and 4 or 5 PM this evening. Please use caution if you have to travel between now and then, and if you can postpone travel a couple hours to avoid the worst of the rain, that may be prudent. Street flooding is likely in spots, hence our stage 1 alert. And as noted above, we'll be monitoring the Armand Bayou watershed in particular for any worse issues. We are hopeful that the heaviest of this rain will pass north of the harder hit areas in Deer Park this morning.
The good news is that things do settle down a bit tonight. Additional scattered showers and storms are likely once this wave passes through, and those will continue through about Midnight, but the intensity and coverage should be less than this afternoon. Overnight looks quiet with just some scattered showers possible.
Additional showers and storms are likely tomorrow and especially in the first half of Saturday. We'll update on those once we get today's platter digested.
A reminder: We offer our posts in Spanish at Tiempo Ciudad Espacial! If you yourself prefer reading in Spanish or have friends and family that would enjoy our site more in Spanish, please spread the word! As always, a thank you to Maria Sotolongo for always being on top of things for that site.
Fundraiser
As I sit here writing this on Thanksgiving Day, I am reminded of how thankful I am for our readers. We know you feel likewise about us, and for your trust, support, and loyalty, we are grateful! If you would like to support us in our annual fundraiser, it will continue through this weekend. You can click here to buy items. And if you don't wish to purchase merchandise and just want make a contribution, click here and check the box that says "I'd like to make a donation only."
Eric or myself will have another update tonight if necessary, and certainly by tomorrow morning. Thank you, and have a safe Thanksgiving.