Good morning. I hope this message finds you happy and healthy on this Thanksgiving morning. I have much to be thankful for in both my personal and professional life. One of the things I am most happy about is the trust placed by readers in the work Matt and I do. So thank you for spending a few moments with Space City Weather on this holiday morning.
This morning's forecast will focus the forthcoming rain event that will bring two days of showers and thunderstorms to the Houston region. While most of this rainfall will be manageable—most locations should receive 1 to 4 inches—we're concerned about more isolated areas that could receive up to 6 inches of precipitation between now and Saturday morning. This may cause street flooding, and therefore we have called for a Stage 1 flood alert.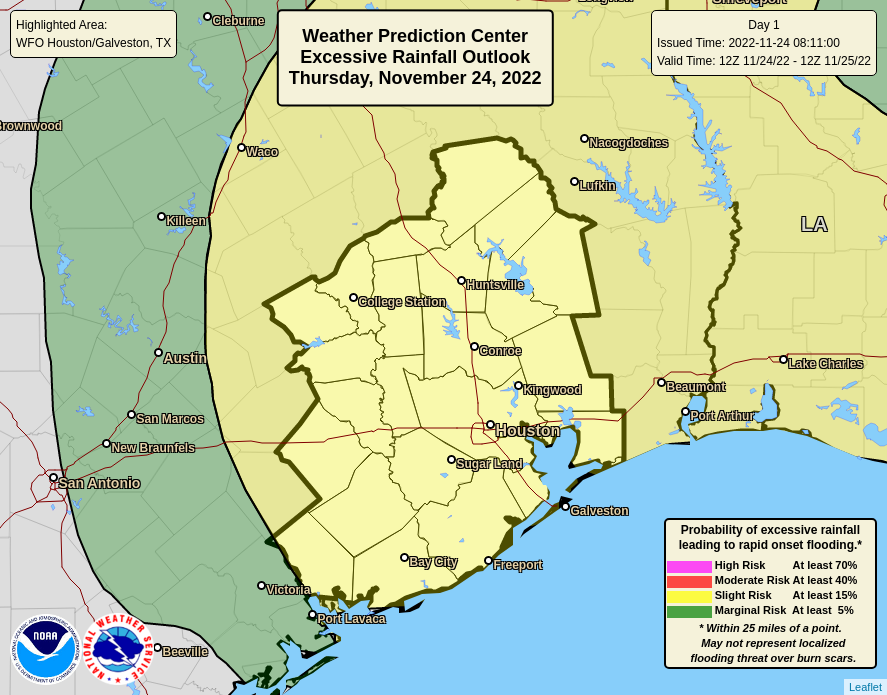 Thursday
As anticipated, we are seeing the development of storms near the coast this morning, in the Freeport and Lake Jackson area. These storms are associated with a warm front moving in from the Gulf of Mexico, and will become more widespread leater this morning. This front should progress toward Interstate 10 by around noon, and it is likely that the strongest storms this afternoon will lie to its north. Therefore, today, we are most concerned about rain accumulations along and north of Interstate 10. Highs today will reach about 70 degrees, give or take, with cloudy skies and muggy air. I expect that showers will back off this evening and during the overnight hours, while the atmosphere recharges.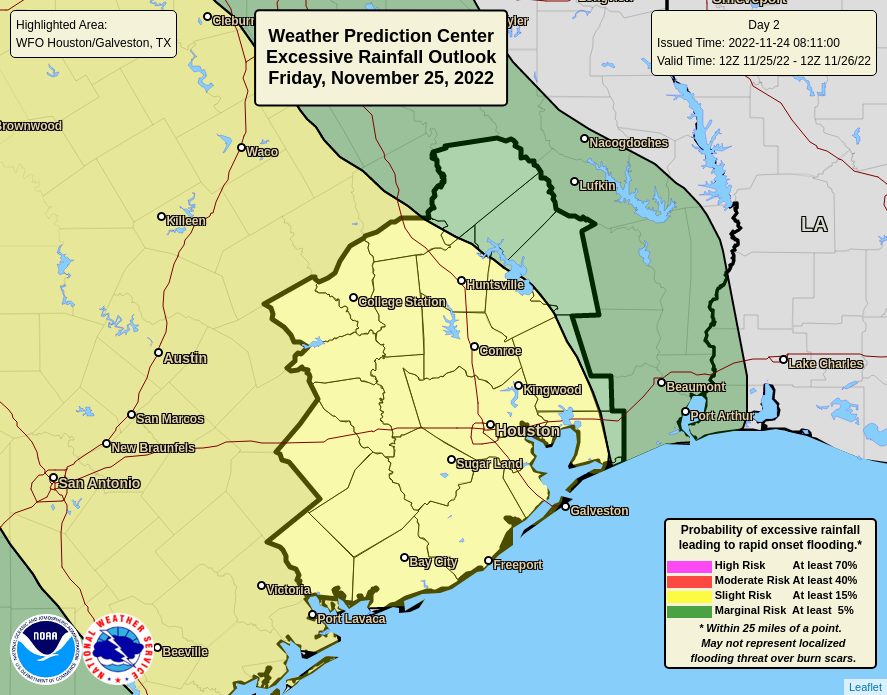 Friday
Conditions will continue to favor widespread showers and thunderstorms as a cut-off low pressure system lifts moist air at the surface. At this time our higher resolution models are suggesting that storms on Friday will peak during the afternoon, evening, and overnight hours. Over the last couple of days the overall movement of this low pressure system has slowed down, so it's entirely possible the heavy rainfall threat will extend into Saturday morning. That's something we'll be watching for. Highs on Friday will be in the mid-60s.
Saturday and Sunday
We're still expecting things to clear out significantly this weekend, but there's now the potential for some lingering storms on Saturday morning. Skies should become partly sunny during the afternoon, with highs in the mid-60s. We'll be sunny, with a high near 70 on Sunday. Expect this warming trend to continue until Tuesday or Wednesday, when the next front arrives.
As we continue to track this dynamic rainfall situation, Matt will have an update for you this afternoon.
Fundraiser
There is still time to support the work we do here in our annual fundraiser. You can buy Space City Weather merchandise here, or donate by clicking "I'd like to make a donantion" only. Thank you!