Well, it's over. The remains of Beta are crossing Galveston Bay this morning, and with all of the storm's heaviest precipitation far to its east, we are done. Houston should begin to see some rather fine weather later today and Friday, on the backside of Beta with a northerly flow. And then, while we cannot absolutely promise this, our confidence is fairly high in a robust, fall-like cool front arriving in about one week's time. Before the forecast, however, I wanted to share a few quick thoughts about our not so dearly departed tropical storm.
It could have been much worse
Let me tell you, if you would have told me a tropical cyclone was going to make landfall about 120 miles down the coast from Galveston, in mid-September, I could envision all manner of nightmare scenarios.
But we had two big allies over the last week; moderate wind shear to prevent Beta from strengthening, and dry air over the state from a weak front that disrupted its circulation and prevented the formation of several, thick bands of rainfall. Instead, if you watched the radar closely, there was only ever really one strong band that was perhaps 10 to 15 miles across. This just happened to set up over Houston on Monday and Monday night, hitting the communities of Friendswood, Pearland, Sugar Land, and more.
Here is a map of the three-day rain totals that show this narrow corridor of 10 to 16 inches of rain over south and southwest Houston. The vast majority of the rest of the upper Texas coast saw 6 inches of rain, or less, from this storm.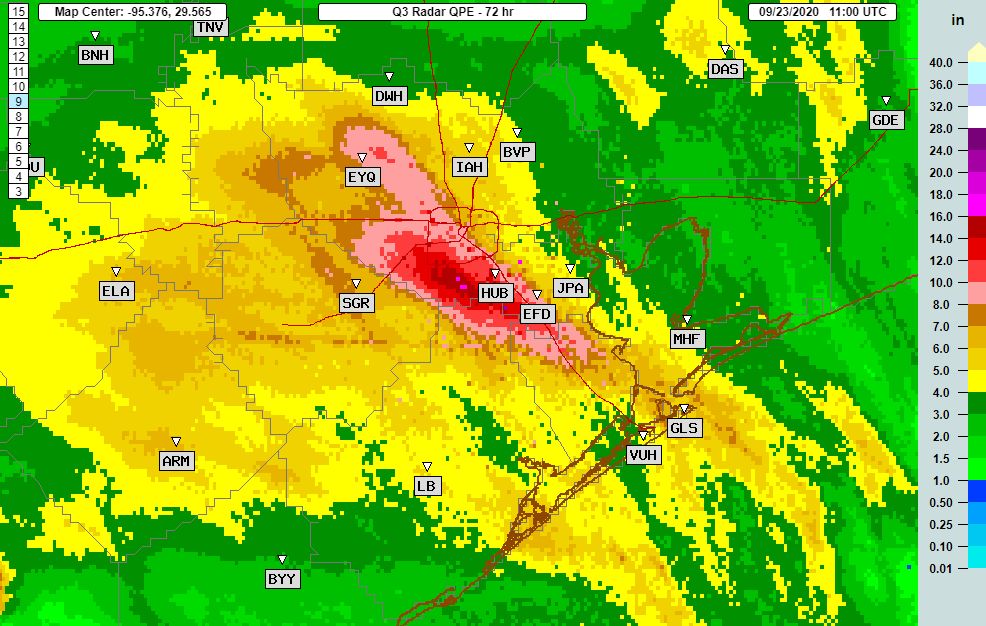 While Beta was not as long a duration event as Hurricane Harvey (which, by the way, dropped 40-60 inches of rain over much of the area in yellow and green above), three days of potentially heavy rainfall is a long time. Slow-moving tropical systems are no joke. With Beta, not only was there just one main band, but its rainfall rates were not particularly high. I believe this was due to dry air, but I am not sure and will look forward to a post-storm analysis. In any case, we generally saw rainfall rates of 0.5 to 1.5 inches under this band, with a few exceptions, versus rates of 3 to 6 inches that tropical storms often produce.
We have not done nearly enough
Three years have now passed since Harvey, and a tropical storm that we discussed above as pretty moderate, brought the area's flood systems to its knees. Only the Clear Creek watershed south of Houston, which received 7 to 16 inches of rain across much of its extent, really flooded in a significant way. But a lot of other bayous, like White Oak, Cypress, Buffalo, came up to the top of their banks or briefly spilled over them. A tropical storm that brings a range of 5 to 15 inches rain across Houston, with rainfall rates below 2 inches per hour, is a fairly common event. We will see more like this, and more that are much worse in years ahead.
I know the community has done some nice things, like work on Brays Bayou, since Harvey. But it is not nearly enough. Local, state, and federal officials need to work together to develop and implement a broader flood management plan. I know that is difficult in our nation's political climate, but the desirability of living in Houston is at stake. Who enjoyed the stress about flooding over the last three days?
I missed Matt
Matt's wife delivered a son early on Sunday night, so I was flying solo on the site for a couple of days amidst the height of the storm. It sure made me value the fact that I normally have someone to share the load with, and talk through the forecast. Clearly, we need to chain Matt to his desktop when future inclement weather threatens.
Houston's forecast
There is not a whole lot to say about our weather ahead. All heavy rainfall from Beta has exited the area, and by this afternoon we should start to see some sunshine across Houston. High temperatures will probably get to around 80 degrees. All of the bayou flooding issues we've seen, including Clear Creek, should end by this afternoon. Northerly winds will bring slightly drier air into the region, so temperatures tonight may drop into the upper 60s tonight.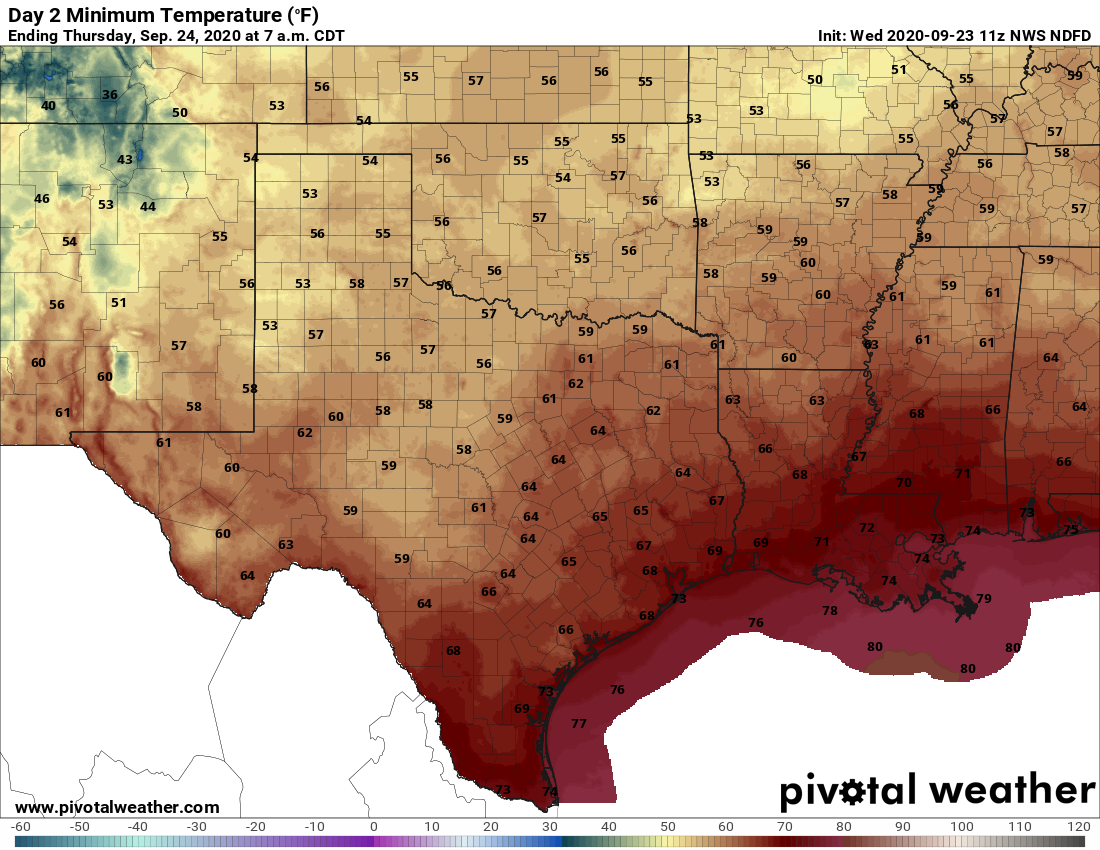 Friday and the weekend
The weekend looks outstanding for late summer. I think we can generally expect lots of sunshine, highs ranging from the mid-80s to 90 degrees, and lows around 70. It will be humid, yes, but not as humid as it can get in Houston. We're definitely entering the end stages of summer in Houston. Rain chances remain low.
Next week
This warm, but not too warm trend will likely continue until about Wednesday of next week when there is fairly good agreement among the global models in a cold front passage. Since this is still a week away it remains too early to say definitively that this will happen, but the signal is pretty strong, and the overall flow pattern in the atmosphere is supportive. I think at least part of the Houston region will have a good shot at lows in the 50s during the second half of next week.