Not a whole lot to cover in this morning's post, which is good news for most of us. But there are a couple things we'll dig in on, mainly heat index values this weekend and rain chances with the cold front next week.
Today through Sunday
All of the next few days look fairly similar in nature, with sunshine, some clouds, and at least a smattering of afternoon downpours across the region. Exactly how numerous those are will likely vary from day to day, with today seeing the best odds of a downpour (still probably no worse than about 30 percent coverage) and tomorrow or Sunday probably seeing the lowest odds. Areas along and south of I-10 probably have the highest odds of seeing a shower play out, while areas north of Houston likely have the lowest odds.
The other weather issue you'll contend with this weekend is heat. Look for highs in the mid to upper-90s today through Sunday with nighttime lows in the 70s to around 80 degrees.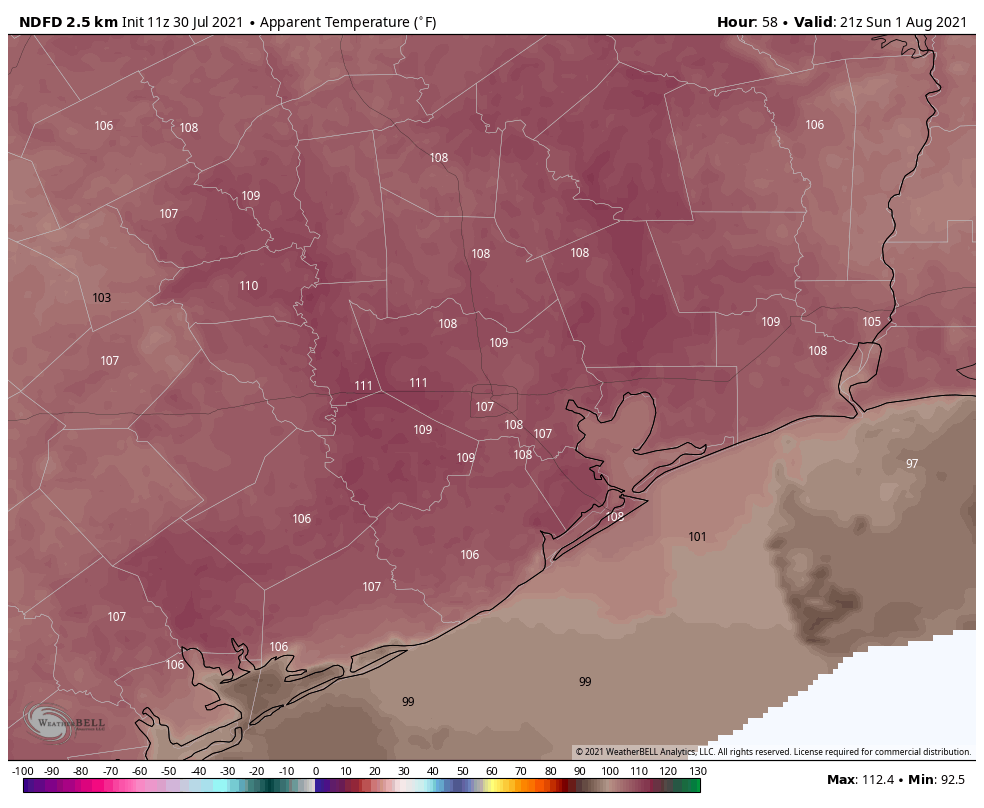 It will feel more like 104° to 108° each afternoon when you factor in the humidity, with some places possibly even sneaking up close to 110° at times. It's a good idea to take it easy outdoors this weekend and drink lots of water.
Monday
Consider Monday our transition day, albeit late. We will start off like the weekend, with ample heat and humidity. Look for 70s to near 80° in the morning again and daytime highs in the mid to upper-90s as well. The front will arrive sometime Monday night or early Tuesday it appears. As Eric has noted, August fronts don't usually arrive with a ton of fanfare in the temperature department, so you probably won't realize when it gets here. But, storms are possible by Monday evening.
Tuesday through Thursday
With the front overhead or just offshore, it will serve as a focal point, in concert with the sea breeze each day for showers and thunderstorms. Because we'll have more clouds and higher rain chances, we can expect cooler temperatures. Highs will likely be in the upper-80s to low-90s with lows in the 70s. You may walk outside one morning and comment, "Hey, this isn't all that bad." But short of that, this looks like it will remain a fairly warm and humid period.
How much rain should we expect with all this next week? I think it depends on exactly how far offshore the front gets. Today that means probably an inch or two for some areas, a bit less in others.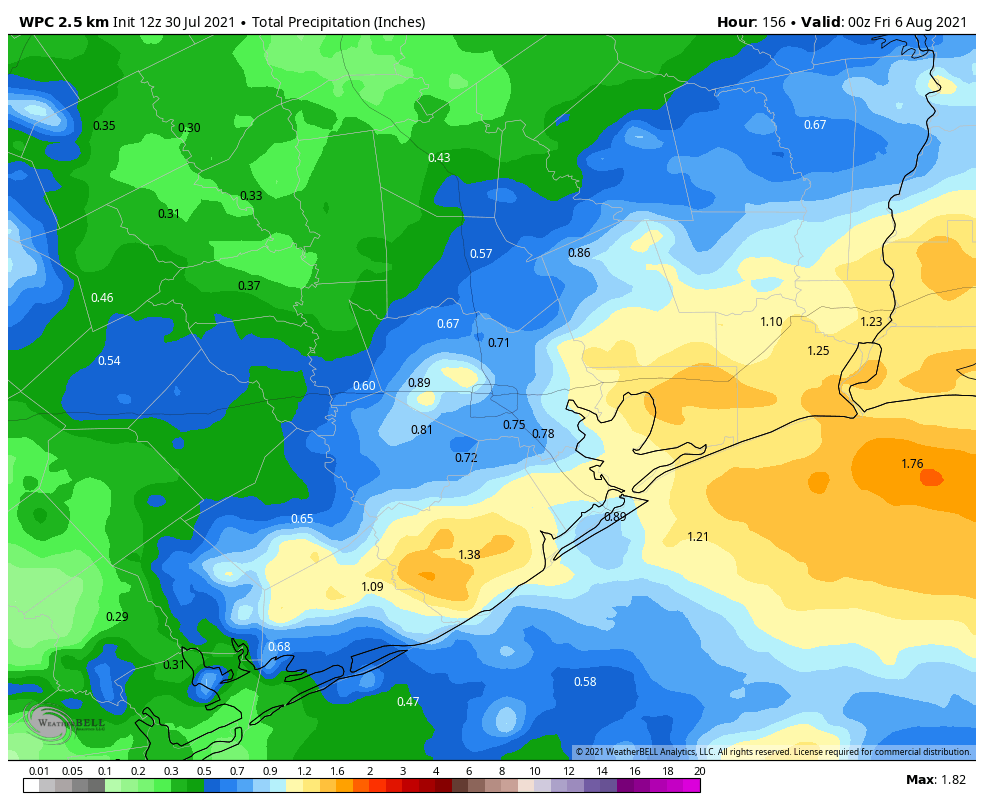 Some higher amounts will be possible in isolated areas, but honestly this doesn't look like too menacing a period, and it will probably just be mostly a nuisance couple of days for us. Rain chances should peak Tuesday and Wednesday and probably begin to tail off a little by Thursday. There is still some uncertainty on these details, so you'll want to check back with us on Monday to see what has changed over the weekend.
Tropics
All remains quiet right now and probably for at least the next 5 to 7 days. There are some hints that activity may begin to pick up again the week of August 9th. But as of now, there is nothing specific we can hone in on anywhere in the Atlantic basin, so that's purely speculation, albeit speculation rooted in meteorology. We shall see. But nothing to worry about for now at least!