Good morning. Overall the forecast story remains the same, with scattered afternoon rain chances this week, a hot and sunny weekend, and then better rain chances next week as a rare August front moves into Texas and approaches our area.
Thursday
It's rather sultry outside this morning, with temperatures solidly at 80 degrees or above for most of the metro area. Our weather today will continue the pattern we've seen for this week, with hot and mostly sunny conditions, and high temperatures in the mid- to upper-90s. Winds today will be out of the southeast at 5 to 10 mph. The sea breeze should generate some shower activity late this morning and into the afternoon, but showers should be fairly scattered with one-third or less the metro area seeing rainfall. Lows tonight will again be warm.
Friday
See Thursday's weather.
Saturday and Sunday
As the influence of high pressure over the plains states expands further, Houston's temperatures should rise into the upper 90s this weekend, and rain chances will transition from "scattered" to "isolated." This will be a classic August weekend as we head into August.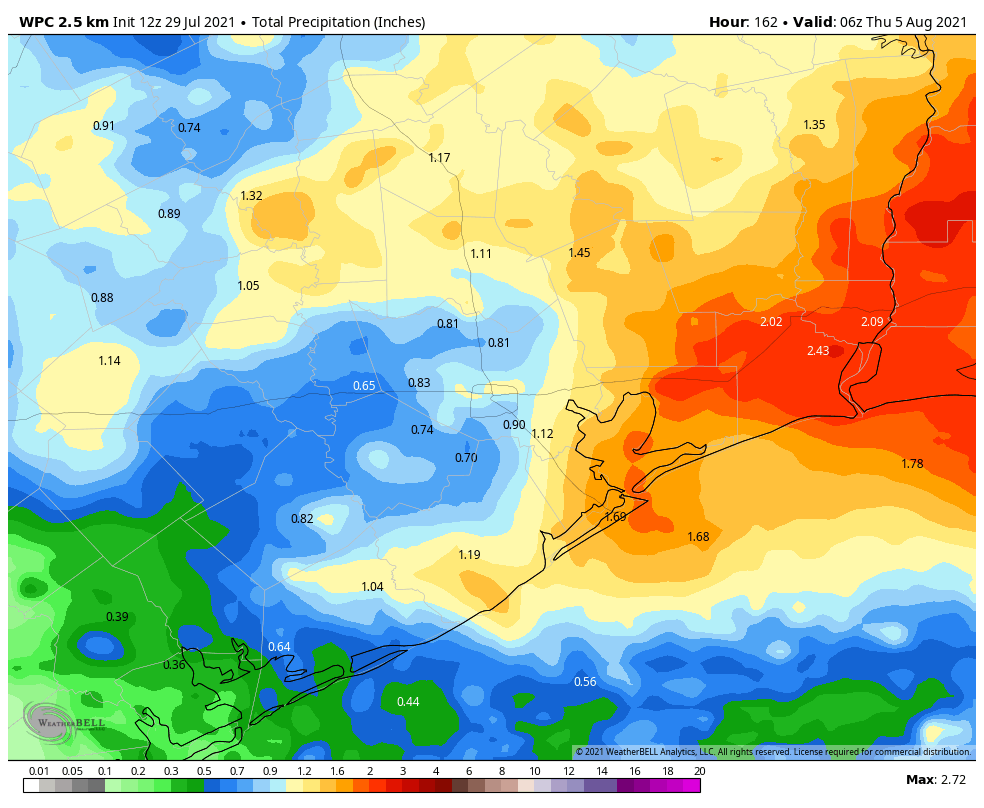 Next week
Monday looks hot and sunny again, but then an honest-to-goodness front will push into Texas and move toward the Houston region on Monday night. I want to set expectations accordingly, as this front won't bring much cooler or drier air. Rather, it should instead drive increased shower activity on Tuesday and perhaps Wednesday of next week, and the increased cloud cover may push highs into the lower 90s. After a hot week some showers and somewhat cooler weather would not be unwelcome.