Some fairly heavy storms rolled into Houston on Tuesday, and as boundaries collided during the afternoon hours the region picked up 0.0 to 2.5 inches of rain with some heavy thunderstorms. After two weeks of mostly dry weather the rain and some of its outflows offered a brief reprieve from summer. This morning, with a weak front offshore, it feels almost pleasant out there for late June. But it won't last.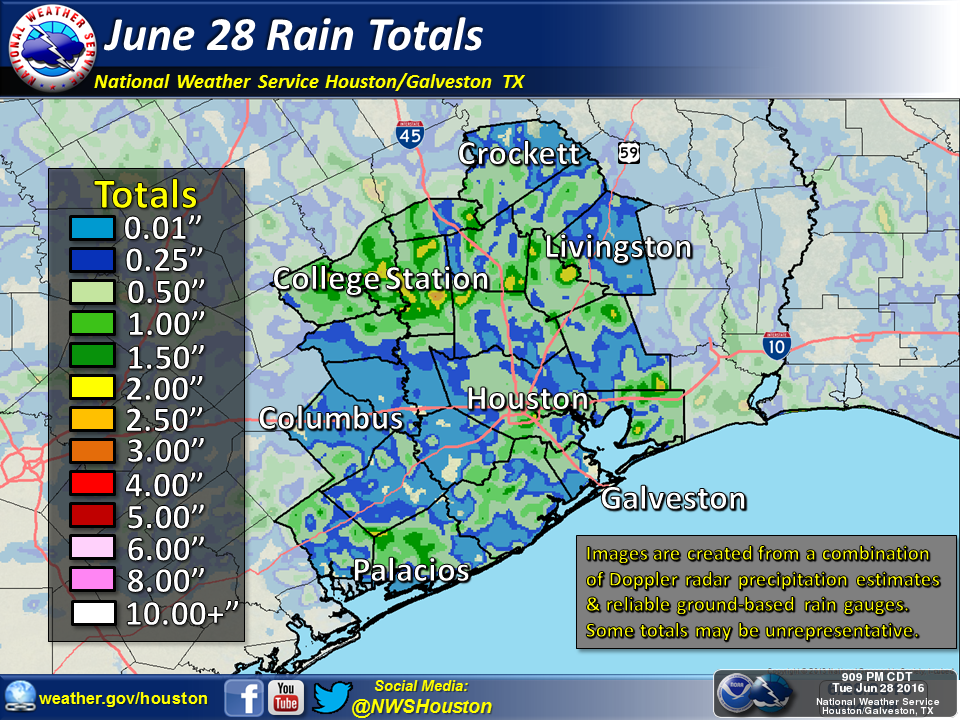 Today
The main area of instability remains offshore this morning, which means we're unlikely to see any rain before some daytime heating. However we could see development of some scattered showers this afternoon with the sea breeze. Rain chances appear to be highest for coastal counties and areas to the east of downtown Houston. Further inland, for Montgomery county and areas west and northwest of the city I'd rate rain chances as very low (although not non-existent.) Highs in the low- to mid-90s.
Thursday through Saturday
The warm pattern continues, but high pressure won't quite have a stranglehold on the area, which means that some sea breeze showers will have a chance to sneak in, especially during the afternoon hours. Again these should be well scattered and not lead to any great accumulations.
Sunday through God knows when
High pressure does clamp down by Sunday, and we'll see hot (mid- to upper-90s) days and warm (80 degrees) nights through the early part of next week. This isn't entirely one of those classic August high pressure systems where there's no rain for weeks on end—at least I don't think it will be that bad. But we're going to see some of the warmest, most humid and rain-free days of the year. Prepare to sweat. Quite a bit.
Posted at 7:15am CT on Wednesday by Eric Berger