7:55 pm CT Monday: Tropical Storm Beta is limping toward the Texas coast this evening, at a speed of about 5 mph, and will come ashore near Matagorda Bay tonight. It has maintained sustained winds of 45 mph today, but its overall organizational structure is poor. Now that the storm is nearing land, we should start to see some very gradual improvement in coastal flooding over the next two days. The bigger issue is rainfall, particularly a persistent band of showers up the I-45 corridor this evening.
Track
First of all, the most likely track for Beta now is that the storm comes barely inland near Matagorda Bay, and noodles around for pretty much all of Tuesday before beginning to lift to the northeast. Please note it is entirely possible that the center of the storm will slide far enough east that it reemerges over the Gulf of Mexico later on Tuesday or early Wednesday and then scoots up the Texas coast toward Louisiana. If this over-water track happens it will not have much sensible change on our weather in terms of winds and seas. At this point, the near-term track of Beta is almost immaterial—we've felt the lash of its winds, and its waves. Now all that's left is how much rain it puts down over the next two days before exiting stage right.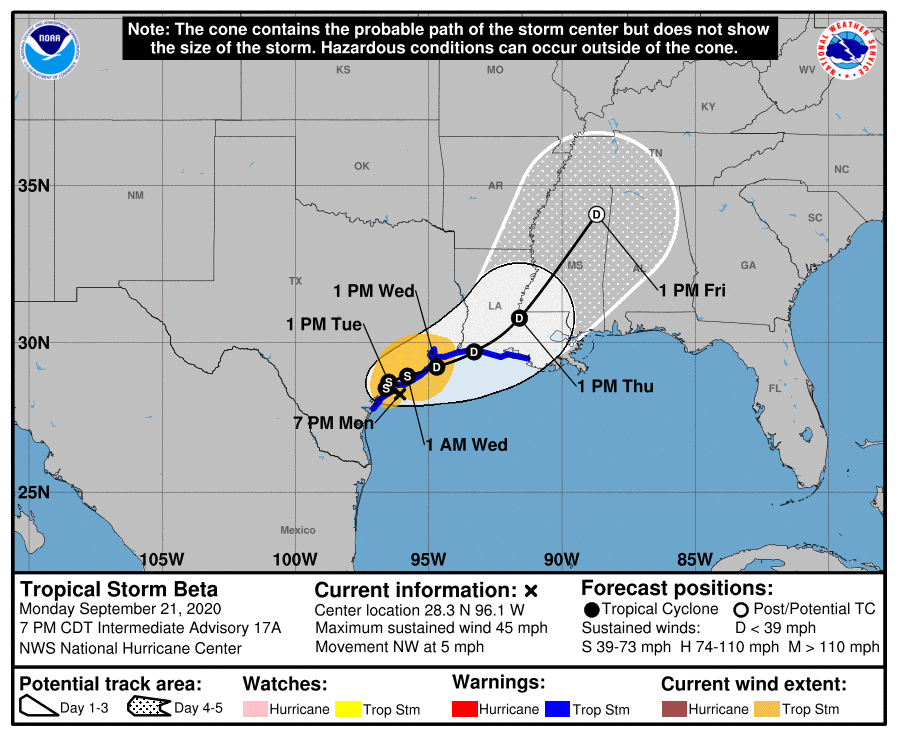 Rainfall
For the most part Beta's rainfall has been moderate today, and the good news is that most of the storms that have moved through have produced rainfall rates of 0.5 to 1.0 inch per hour. This is within the capacity of our streets and bayous the handle. The one problem area is roughly the Interstate-45 corridor between Galveston and Pearland. Some communities along and adjacent to the freeway have seen in excess of 5 inches today as storms have basically trained over the area since around noon. Even at relatively moderate rainfall rates, these totals add up over time. As a result the National Weather Service has issued a flash flood warning for this area through 8:30pm.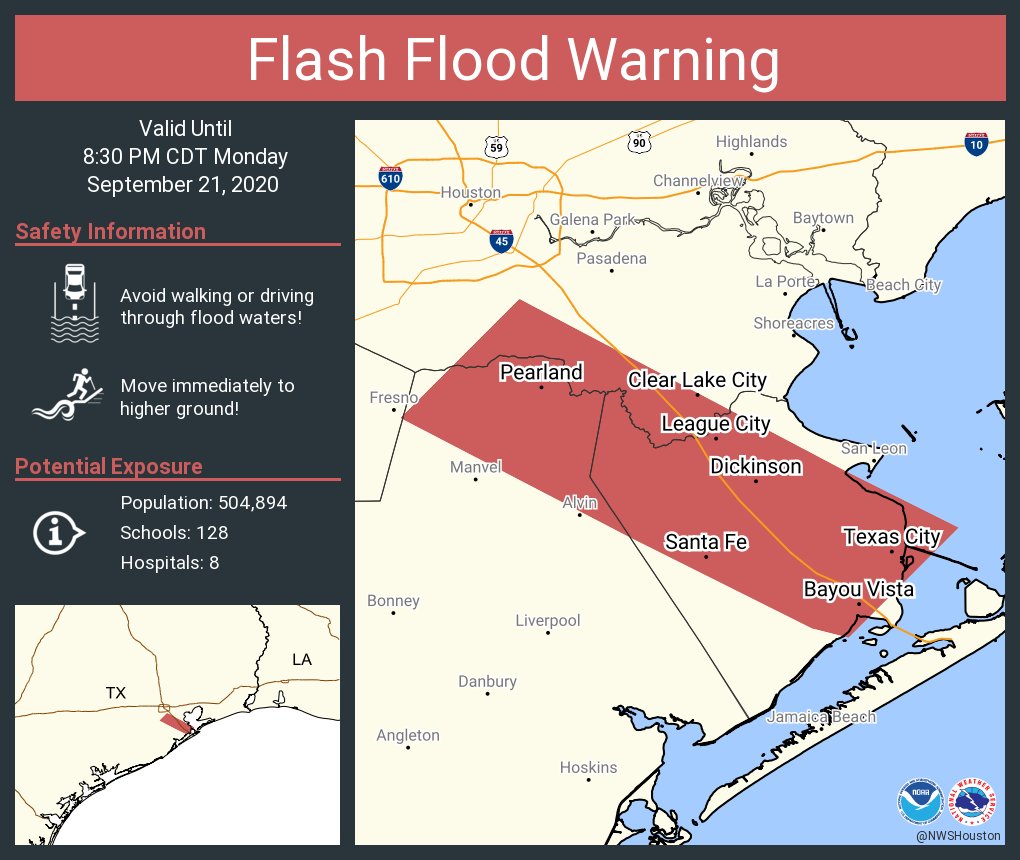 So what happens this evening and overnight? This I-45 band has slowly been lifting north, so the areas "under the gun" will hopefully get a reprieve later this evening, and we'd expect the heaviest rains to probably fall a little to the east of where they occurred today. However, if the band does not move it could lead to rises on Clear Creek, Chigger Creek, Cowart Creek, and Mary's Creek—all of which remain comfortably within their banks for now.
At 7:45 pm another area of heavy rainfall just north of Pearland was pushing into Sugar Land and West Houston. Most of these areas, except for Sugar Land, have generally only see 1 to 2 inches of precipitation so far today, so they can handle the additional rainfall. But these will be strong storms as they push through and need to be monitored for additional development.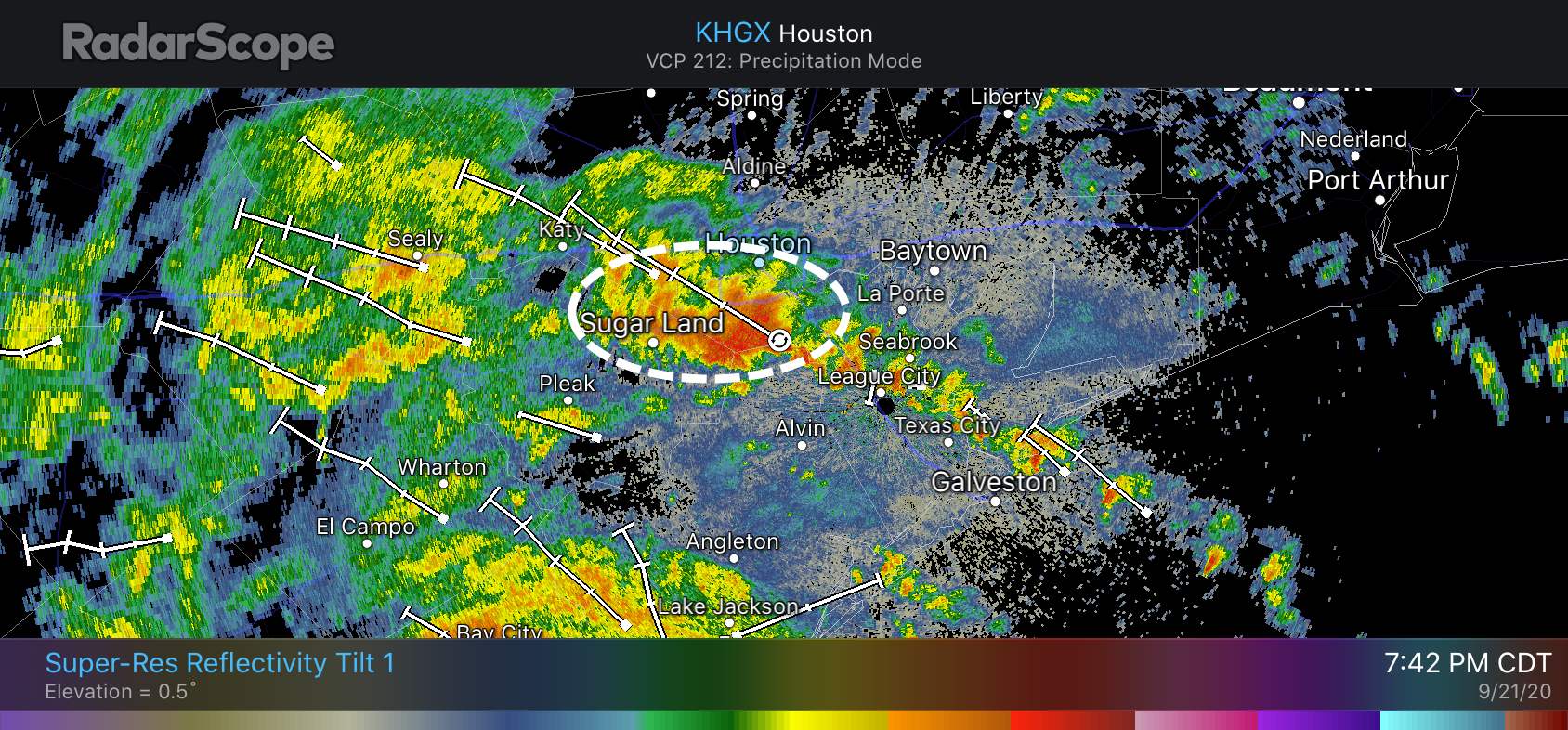 The high resolution models do not have a great handle on trends during the overnight hours, and I want to see what happens with these banding features before hazarding a prediction beyond the next hour or two. Therefore I will update again by about 10 pm CT tonight.
Baby Lanza update
Tropical Storm Beta has brought some wind, some rain, some coastal flooding, and Theodore Kelvin Lanza who arrived a little earlier than we had expected on Sunday night! Mama and baby are doing great. Thanks to all for well wishes and messages. pic.twitter.com/Rld5VBIJ6Y

— Matt Lanza (@mattlanza) September 21, 2020