1:45pm CT Monday: Tropical Storm Beta continues to slog toward the Texas coast this afternoon. In its 1pm update, the National Hurricane Center said the storm has weakened this morning, with sustained winds dropping from 50 to 45 mph, and a rise in the storm's central pressure from 996 to 999 mb. This is another indication of a system losing some of its organization. Beta is still moving toward Texas with a landfall tonight near or south of Matagorda Bay.
Although Beta is weakening—a very welcome trend for a cyclone nearing landfall—it is nonetheless creating some unfortunate impacts on our region's weather. Let's talk about coastal surge and rainfall, and then take a look at the forecast for the rest of today.
Coastal surge
There are reports of water covering low-lying areas along the coast, and inland along waterways connected to the Gulf of Mexico, such as Galveston Bay and Clear Lake. Based upon the latest modeling, we believe this morning's high tide was the worst of the surge our region will see, with this evening's tide perhaps half a foot lower than conditions observed Monday morning. Conditions should slowly improve on Tuesday and Wednesday.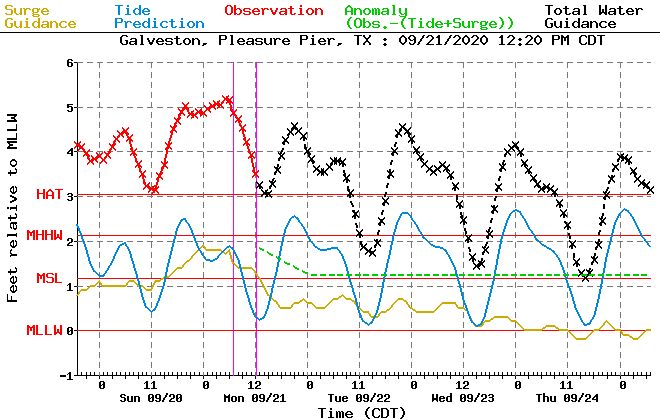 Rainfall
We have begun to see some bands of moderate to heavy rainfall move into the coast today, particularly in southern Brazoria and Galveston counties. Fortunately, most of these storms have been producing rain at rates of 0.5 to 1.5 inches per hour. (Rates above 2 inches per hour will generally flood streets). The heaviest band of these training storms is now lifting into the Houston metro area, and will be the focus of activity this afternoon. Currently, it looks like these storms may produce 2 to 3 inches of rain total as they slowly progress northward, so it could impact the afternoon and evening commute home. We don't anticipate more than some street flooding at this point, but please do take care. Should the situation warrant, we will update the site.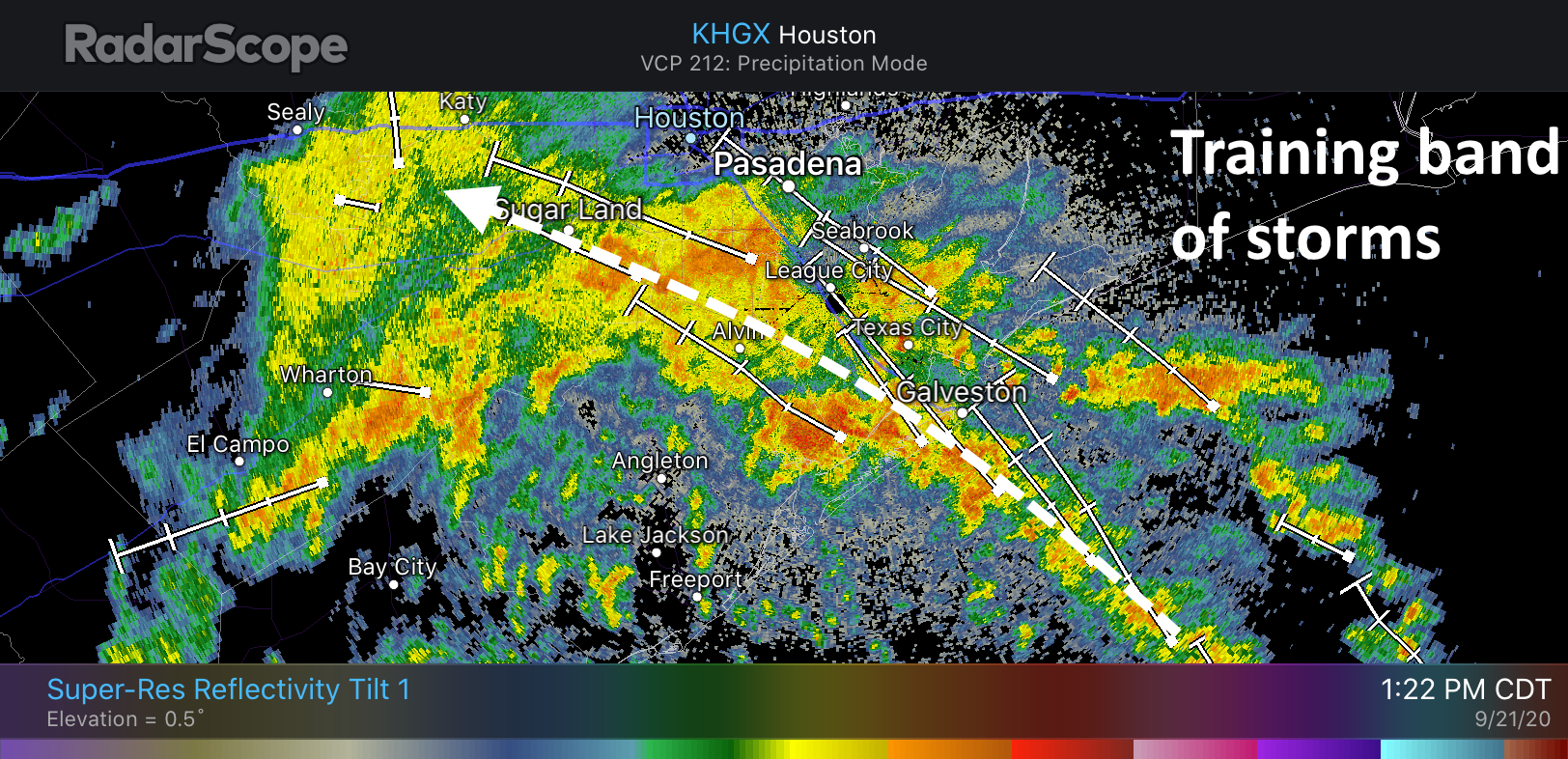 Another threat today is tornadoes. NOAA's Storm Prediction Center says a few "brief" tornadoes are possible this afternoon and evening, although it is holding off issuing a tornado watch for now. Overall, the environment is not strongly supportive of tornadoes, but we do often see a few in the northeast quadrant of a landfalling storm. Earlier, the National Weather Service issued a tornado warning for an area near Texas City, but a tornado was not confirmed on the ground.
This evening
We will have to continue to watch the progression of Beta's rain bands this afternoon and evening as the storm moves closer to the Texas coast. However, we do not expect continual rainfall at this time across the area.
Our next update will be posted no later than 8:30 pm CT.