Good morning. A line of thunderstorms is moving through Houston this morning, heralding the passage of a cold front. These storms may bring briefly gusty winds in addition to 0.5 to 1.0 inch of rain to some areas as they cross the region from north to south. Cooler and sunny weather will follow, persisting into early next week.
Thursday
The storms will cross Houston this morning from 6 to 10 am, and afterward we should see fairly rapidly clearing skies. This will allow high temperatures to reach about 80 degrees, but the air will feel somewhat drier. Winds after the front will be out of the north at about 10 mph, with higher gusts. Lows tonight will drop into the mid-50s, with cooler conditions inland, and warmer near the coast. On this Veterans Day, please let me express our appreciation for all who have served, and do serve our country.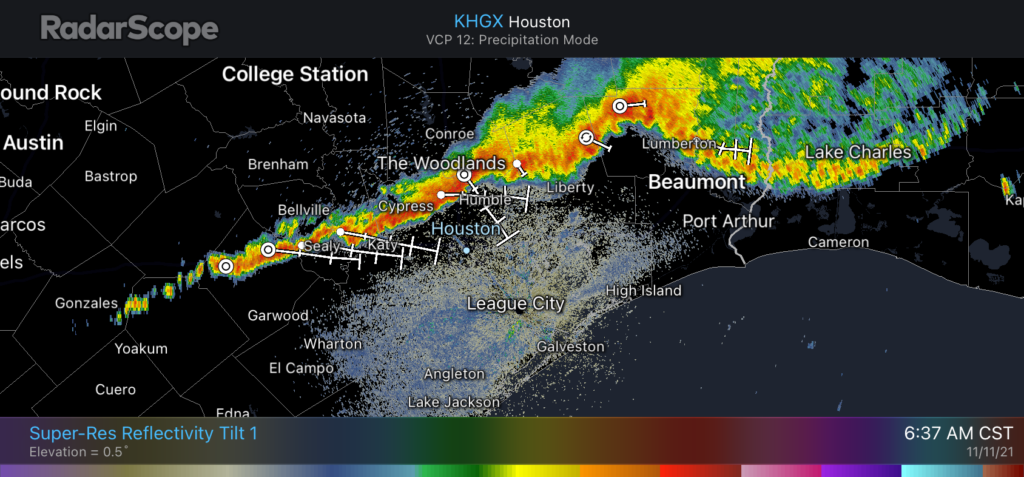 Friday
This will be a sunny, fine day with high temperatures in the upper 70s. A reinforcing cold front will follow on Friday afternoon (there will be no rain with this one, due to the drier air), and this will set the stage for a chillier start to the weekend as lows fall to around 50 degrees in Houston, with 40s for inland areas.
Saturday
This will be the coolest day of the forecast period, with highs likely only in the upper 60s, even with sunny skies. Winds will be moderate, out of the north at 5 to 10 mph. Saturday night will be clear and cold, with temperatures possibly dropping into the upper 40s in Houston itself and all the way to the coast.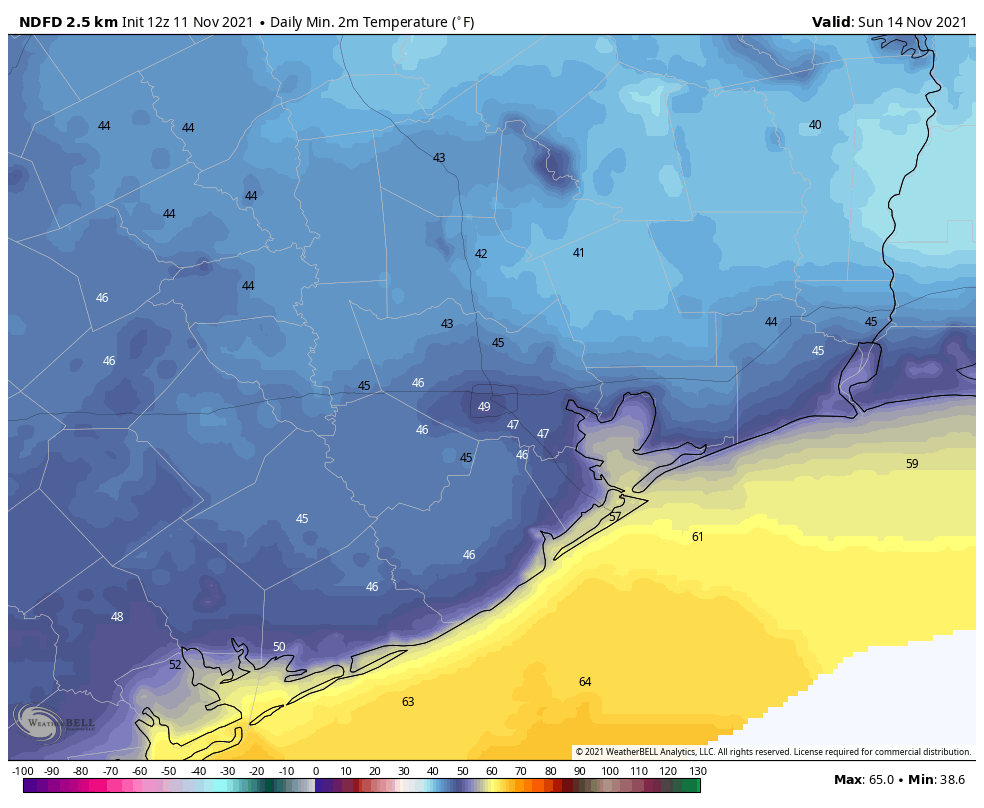 Sunday
Another sunny day, and despite the chilly start highs should work themselves into the mid-70s. Lows Sunday night will be a few degrees warmer than Saturday night as well.
Next week
As a southeasterly flow returns, we'll see a warming trend next week, and by Wednesday or so temperatures could pop back up above 80 degrees. For a day or two, things could get fairly warm and muggy for November, but another front is likely to move through by Thursday or Friday. Some readers have asked about a forecast for Thanksgiving, and I'd love to oblige. But we're still 14 days away and there's no strong signal in the models, so there's just not much sensible to say right now.
2021 Fundraiser
We're in the middle of our annual three-week fundraiser, and any merchandise you purchase, or donations you make, will sure help us next year. Thank you so much.