Good morning. Matt and I just wanted to thank everyone who generously supported the site as we kicked off our annual fundraiser Tuesday. The response so far has been tremendous. If you want to help, we're selling plenty of Space City Weather merch, and also accepting donations. Read more about it here.
Overall our forecast remains on track. Houston will have one more somewhat warm and muggy day before a front moves into the region on Thursday morning, setting the stage for sunny, clear, and cool weather through early next week. Some storms may accompany Thursday morning's front.
Wednesday
Skies are mostly cloudy this morning across the region, with patchy fog. Despite the lack of much sunshine, highs today are going up to about 80 degrees. Winds will be out of the south at about 10 mph, with gusts possibly up to about 20 mph. Some brief, light showers are possible today and tonight, but accumulations, if any, will be slight. Most of us will just see gray skies. Lows tonight will not drop much below 70 degrees for most of the area.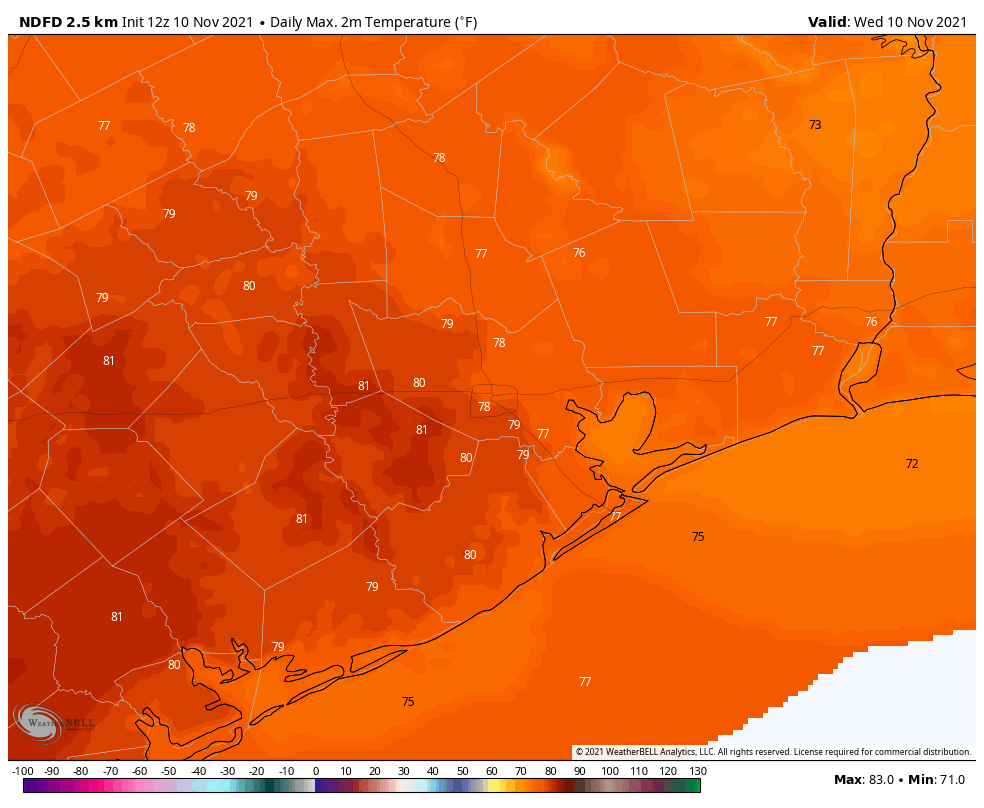 Thursday
Some forecast models are now indicating the potential for at least a broken line of showers and thunderstorms to move into Houston ahead of a cold front on Thursday morning. If you're planning to attend a Veteran's Day ceremony on Thursday morning shortly after sunrise, this will be something to have in the back of your mind. Generally, this system should move through the region from northwest to southeast, somewhere in the time frame of 4 am to 10 am CT. A few areas may see a quick inch or two or rain, whereas the majority of the region will probably see one quarter of inch of rain, or less.
Dewpoints will begin falling in the wake of the front, and we should see at least partly sunny skies by Thursday afternoon with highs in the 70s. Lows Thursday night will drop into the 50s. Winds will be out of the north, but we're not expecting anything too gusty.
Friday
Expect highs in the mid-70s with lots of sunshine and drier air. A reinforcing shot of colder air will arrive Friday night, and this will set the stage for a cooler start to the weekend. Lows Friday night will probably drop to around 50 degrees in Houston, with cooler conditions in outlying areas.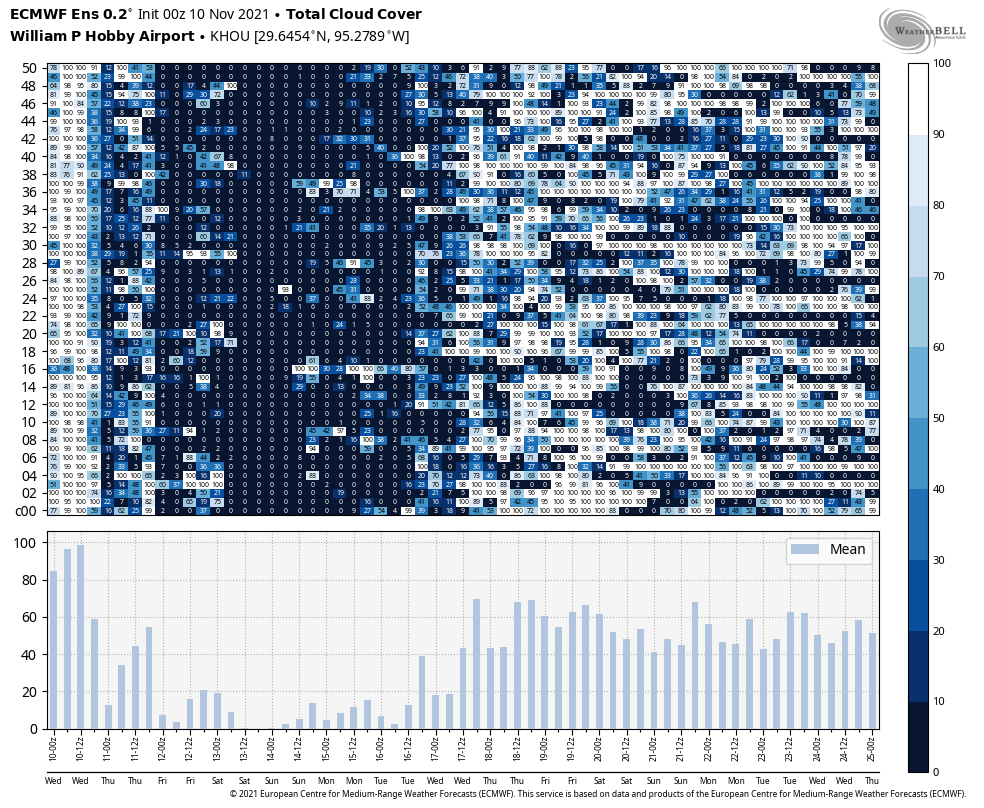 Saturday and Sunday
Despite sunny skies, highs may struggle to reach 70 degrees on Saturday, and Saturday night could bring lows in the upper 40s in Houston. Sunday will be a few degrees warmer, with more sunshine. Plan your weekend activities with confidence.
Next week
Most of next week should see highs in the mid- to upper-70s, with partly sunny skies. Another front appears likely to move through toward the end of next week, perhaps around Friday, November 19. But, my friends, our confidence in that is about as firm as tissue paper.