As expected, Thursday produced some heavy showers across the metro area, with as much as 3 inches of rain falling in parts of Clear Lake. Fortunately, the deeper moisture associated with these heavy rains should now move off to the west—giving Houston some drier weather in the days ahead.
Friday and Saturday
A few showers and thunderstorms will be possible, but for the most part the combination of lower atmospheric moisture levels and sinking air should reduce rain chances both days. You may still want to take an umbrella with you for a stray storm, but if you're planning an outdoor activity chances are you'll be fine. Mostly, it's just going to be hot, with highs of around 90 degrees, and humid.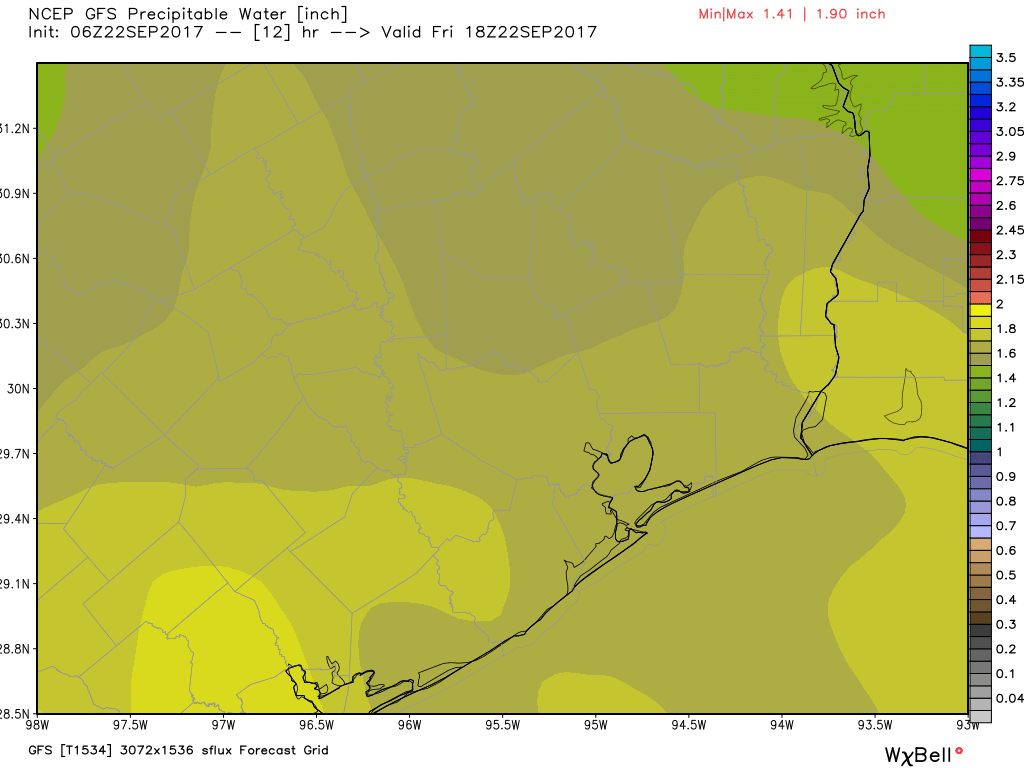 Sunday and Monday
Moisture levels creep back up during the second half of the weekend, but again, the atmospheric dynamics do not appear to be such that we're going to see widespread showers like on Thursday. Instead, expect scattered storms, with most of Houston seeing moderate amounts or no rainfall. Temperatures remain warm, with highs near 90 degrees.

Tuesday and beyond
I expect this pattern of scattered showers to continue into the middle of next week, but thereafter the forecast is not clear. The big picture is that a cold front is going to start moving into Texas, and slowly push down toward the Houston area. It will probably slog through Houston sometime on Friday, give or take a day. The big question with the front is how much rain it will bring, as some models show at least a few inches of rainfall, and others are pretty dry. I'm not overly concerned about the prospect of heavy rains right now, but we'll be watching for the possibility toward the end of next week. After the front passes, early October should feel pretty nice.
Tropics
Hurricane Maria remains a potent storm, with 125mph winds. It may eventually threaten Bermuda, but most of the guidance keeps the storm's center away from the Eastern United States. Here's a look at the ensemble track forecasts for Maria from the European model.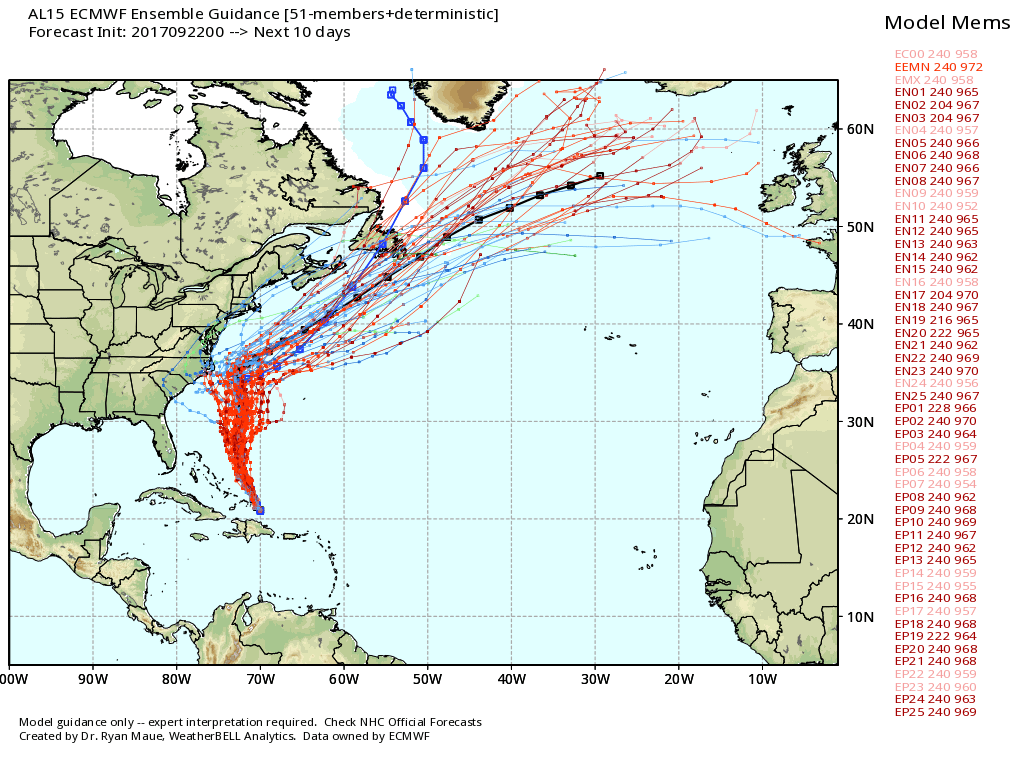 Beyond Maria and a weakening Jose, the tropics are not particularly active. The Gulf of Mexico should remain quiet for at least the next week or 10 days.
Note
Matt has been traveling at a weather conference this week, and I'm taking a few days off. So unless Houston's weather turns unexpectedly bad this weekend, we'll see you Monday morning. I know some readers actually enjoy this region's heat and humidity, so I encourage you to soak it up this weekend. Fall really is coming fairly soon.