Every year I struggle with whether to write this post—because there's always a chance it will be wrong. However, the fact is after this date the chance of a hurricane striking Texas is vanishingly low, about 1-in-50 for any given year. I'll discuss this more below, after the forecast.
Monday through Wednesday
Houston's late summer-like pattern will persist over the area for the next few days, with hot days and highs of around 90 degrees, steamy nights in the 70s, and scattered showers. A few thunderstorms could be pretty strong, but most of Houston will see moderate, little, or no rainfall over the next three days. Area-wide accumulations will probably be measured in tenths of an inch, if that.
Thursday and Friday
Warmer weather will hang around as a cold front backs into the area from the northeast. These northeasterly winds should arrive by sometime on Friday, but we may not feel the drier or moderately cooler air until Friday night or Saturday morning. Until then we can expect more warm days and muggy nights, with slight rain chances.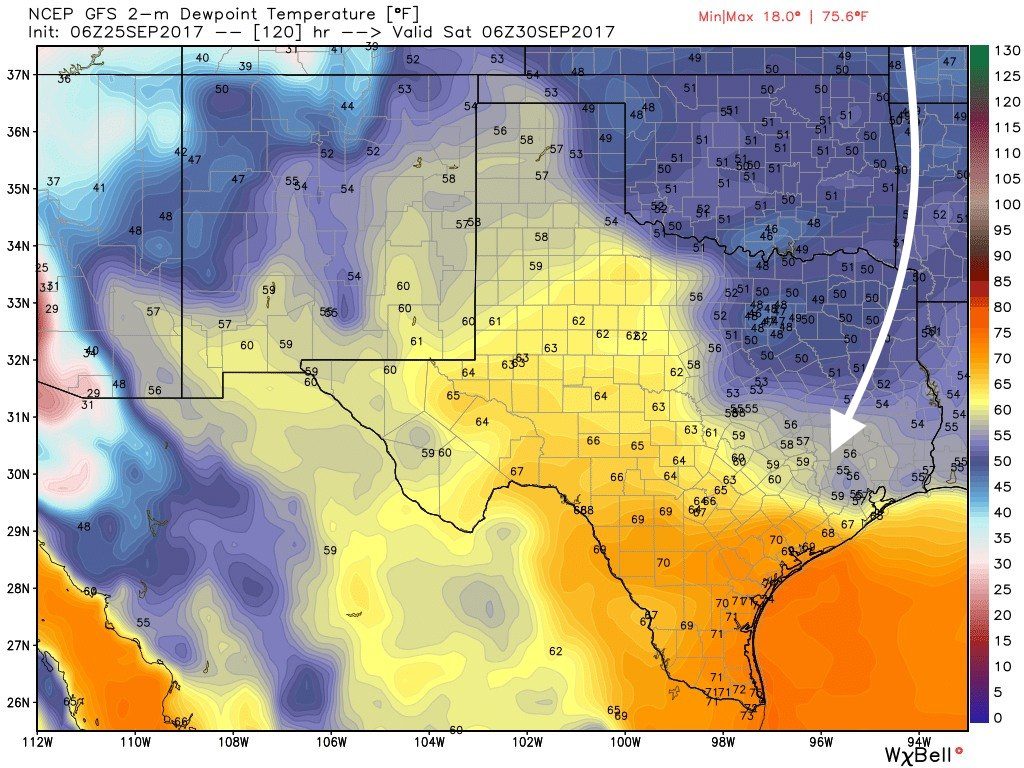 Saturday and Sunday
Houston is going to have a great weekend to end September and begin October. It's not going to be cold by any stretch, but the air will be drier and that will make a big difference. Expect mostly sunny skies with highs most likely in the mid-80s. Overnight temperatures should fall to the mid-60s for inland areas, with warmer conditions near the coast.

Tropics
Maria remains a hurricane over the Atlantic—although the storm is weakening as it gains latitude and sea surface temperatures cool. Some storm surge flooding is possible along the Carolinas, particularly the North Carolina Outer Banks, on Tuesday before Maria gets pulled away from land to the northeast by the middle of this week.
Closer to home, there remains the possibility that a low pressure system will develop in the western Caribbean Sea in about a week or 10 days, but most likely if something does form it will get picked up and moved across Florida rather than moving west toward Texas.
I have been told it is irresponsible to declare the Texas hurricane season "over" while there remain more than two months in the Atlantic hurricane season (which officially ends on Nov. 30). However, let's be real. Yes, anything can happen during tropics season, and Texas has got hit this late before. But the chance now of a tropical system, or especially a hurricane, moving into Texas is historically very low. That's especially the case now that we're going to get a second cold front later this week.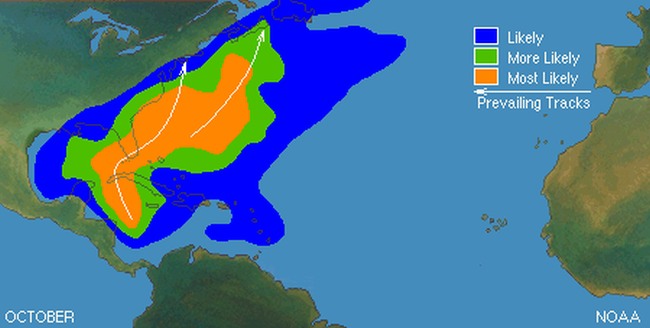 The bottom line is that the Atlantic hurricane season doesn't end for a couple more months. But I'm telling my family in Texas not to worry about the tropics any more this year, and you can take that however you'd like.