After a cold, winter-like weekend in Houston, temperatures will moderate some. But we're not going back up to warm, 80-degree weather any time soon, and in reality the overall pattern looks really pleasant for at least the next week or so. At this end of today's post we'll also take a preliminary look ahead at weather for the Christmas holiday.
Monday
After a chilly start with lows in the 30s for inland areas and 40s close to the coast, southerly winds and sunshine will allow for highs to warm into the low 70s. The return of a southerly flow will be brief, however, as a cold front pushes into the region—likely sometime between midnight on Monday night and sunrise on Tuesday morning. There won't be enough moisture ahead of the front to produce any precipitation.
Tuesday through Friday
Truth be told, there won't be much change in our weather this week thanks to a front early on Tuesday, and an additional front Thursday. We're going to see mostly sunny skies, mostly clear nights, highs in the low- to mid-60s, and overnight lows generally around 40 degrees for inland areas, and upper 40s to 50 degrees right along the coast. This is pretty typical weather for mid-winter in Houston.
(Space City Weather is brought to you this month by the Law Office of Murray Newman)
Saturday and Sunday
Temperatures will warm some this weekend. As a best guess, we'll see partly sunny skies with highs in the upper 60s on Saturday, and low 70s on Sunday, although there's a bit of uncertainty. Some kind of front may approach the region by the end of the weekend, and this could be the spur for a few showers, but right now rain coverage looks spotty at best. We'll have a watch that, as this weekend will bring our next chance at any precipitation.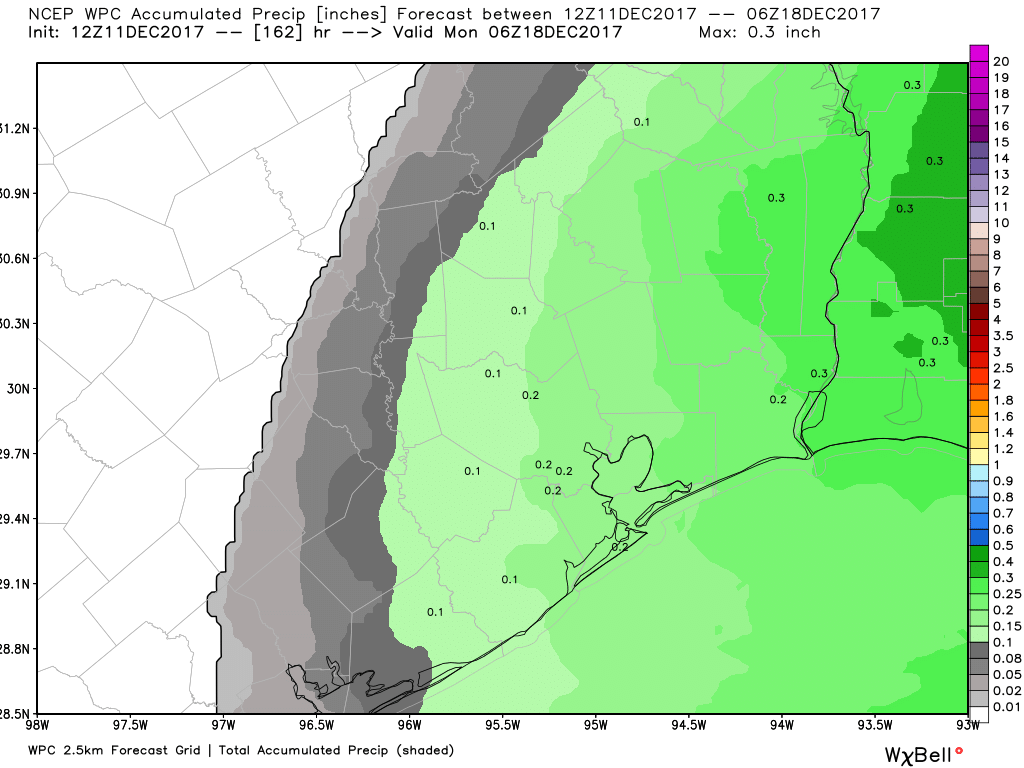 And Christmas?
We're now two weeks away from the holiday, which lies beyond the ability of any forecast to provide specific information about conditions on Christmas Day. However, the overall pattern suggests that next week will be kind of warm (some highs in the mid-70s) before a strong-ish front moves through and cools things down (sometime in the Dec. 22 or Dec. 23 time frame). If this scenario holds, and I'd put the odds above 50-50, then we're probably looking at a cold Christmas, with highs in the 50s or lower 60s. Can't say too much about precipitation yet, but it's certainly not something we can rule out.