It's official, both Lousiana and Texas had their warmest winters on record. According to NOAA, Louisiana had an average temperatures 6.8 degrees Fahrenheit above average, and Texas was 5.7 degrees above average. From the graphic below it's not hard to find the culprit for the warm temperatures—the Gulf of Mexico—heated at least in part due to a warming climate.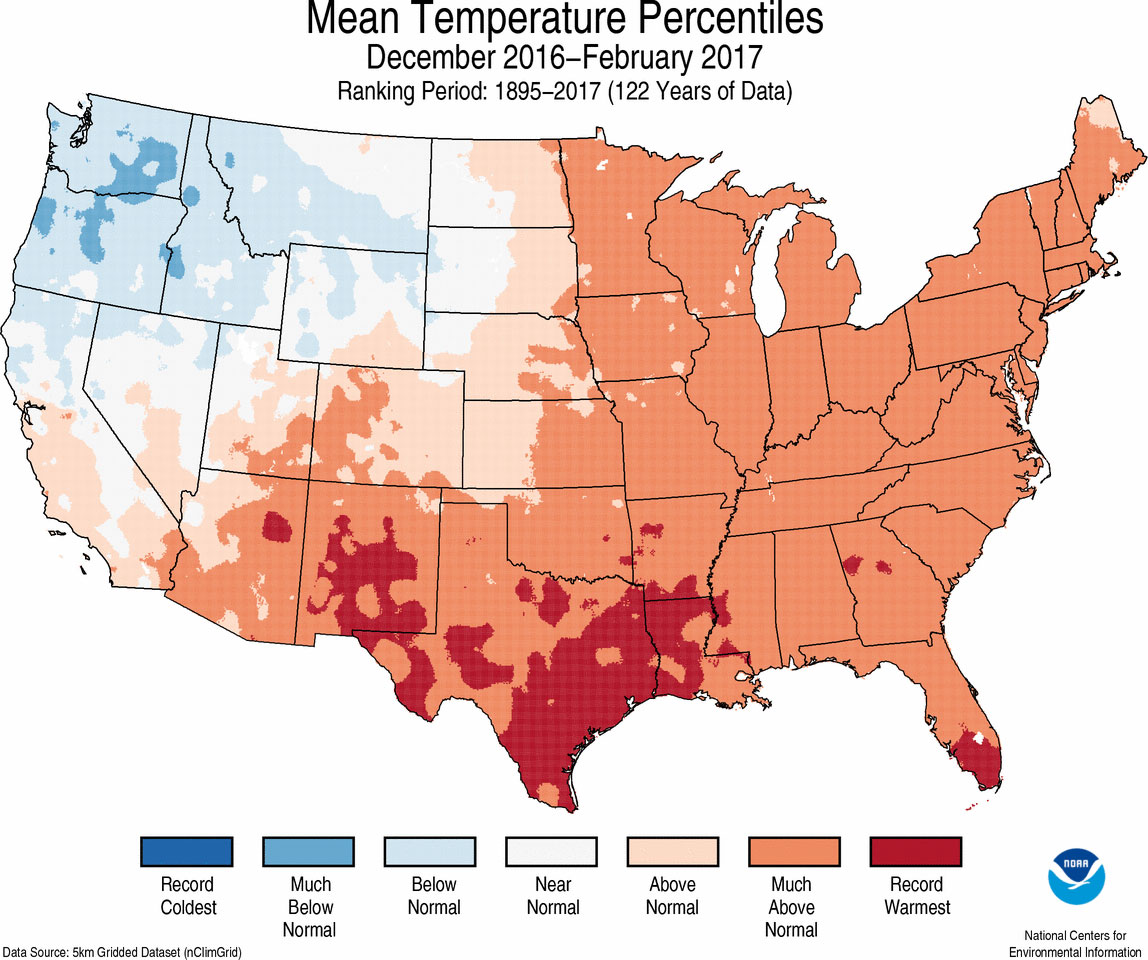 Now let's jump into the forecast, which will show a hint of cooler weather for next week, and a mostly pleasant Spring Break week.
Today
Temperatures are in the mid- to upper-60s this morning across Houston, and this is helping to cause some fog over the sea and for areas near the coast. It should clear by mid-morning. Skies should remain mostly cloudy during the afternoon hours, with highs climbing into the upper 70s. With the moisture now coming back and an unstable atmosphere, we're going to be returning to a pattern where thunderstorms are possible later today, although I think most of the region will probably remain dry.
(Space City Weather is sponsored by an anonymous donor this month.)
Friday and Saturday
Thunderstorm chances will increase for the end of the week, however, as the atmosphere continues to destabilize. High temperatures near 80 degrees on both days could also contribute to the development of showers, and likely thunderstorms on both Friday and Saturday. Rainfall amounts for both days will probably be, on average, about 1.0 to 1.5 inch. Regardless, if it's thundering and lightning, you need to get indoors. A cold front will move through the area sometime this weekend, probably late on Saturday night, and this could yield one final line of showers and thunderstorms.
Spring break week
Sunday will be quite a bit cooler in the wake of the front, with highs only in the low 60s for most of Houston with clearing skies. After what has been a wet week we're going to see considerably drier weather for spring break, with mostly sunny skies through Wednesday or Thursday. A second cool front should arrive by Monday or Tuesday, keeping high temperatures in the low 70s through at least the middle of the work week. Rain chances look to return late next week.
Posted at 6:50am CT on Thursday by Eric