After a few showers yesterday, we should see a few more around today. An unsettled weather pattern is going to remain in control through Saturday night before some more pleasant weather next week. The details…
Today Through Sunday
Today will be a bit of a tricky one. There's going to be a chance of showers anywhere at almost any time today, but exactly how widespread the showers are and where they are will have to be something tackled as the day goes on. A "backdoor" cold front (coming from the northeast) will collide with ample Gulf moisture, some instability, and some upper level energy. The combination will lead to scattered showers and a chance of thunderstorms. The best chances will probably be both northeast and southwest of Houston.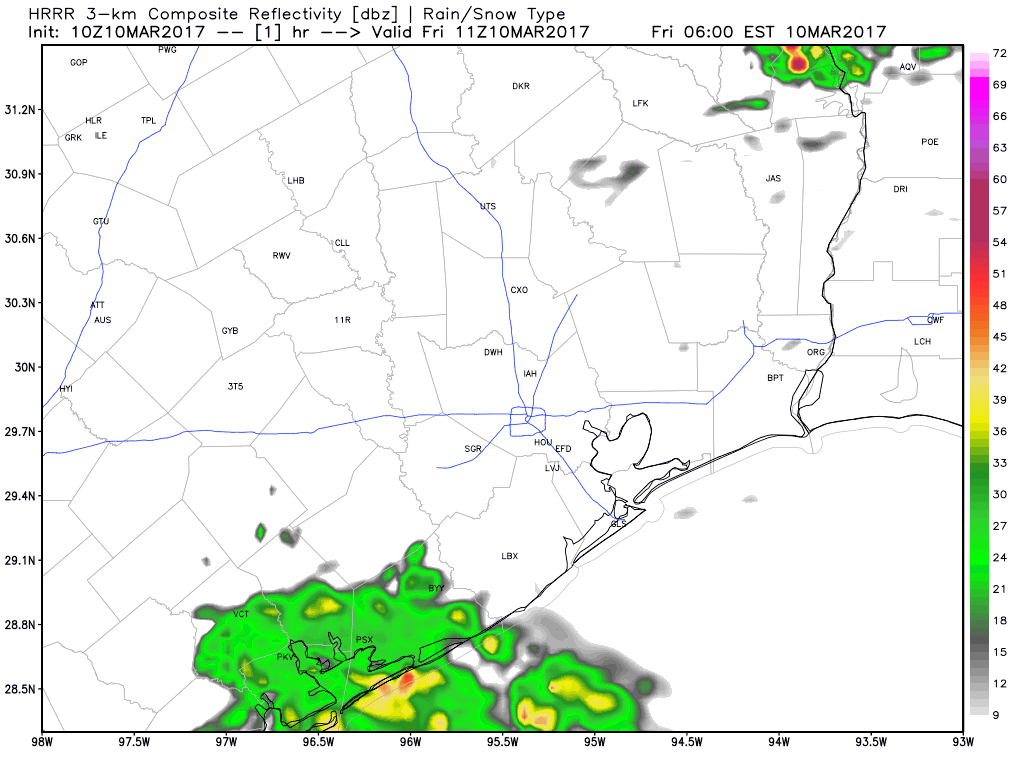 But as you can see, everyone will be at risk for a shower or storm today, so I recommend an umbrella. Severe weather on a widespread scale is unlikely, but there could be a strong storm northeast of the city this afternoon.
Temperatures will be mild, with highs in mid to upper 70s. If you have Friday night plans, the same umbrella advice applies. We should see most activity diminish, but new showers will likely develop in spots. We could also see some steadier rain develop south of Houston toward Saturday morning.
(Space City Weather is sponsored by an anonymous donor this month.)
So, let's talk about Saturday. If you recall last Sunday's forecast bust, it looked like rain would slip south and east away from Houston and offshore. The reality was that we ended up extremely damp and stormy. We have a similar forecast challenge Saturday. Yesterday afternoon's model data suggested a near-repeat of Sunday. This morning, I'm not so sure that's the case. What does that mean?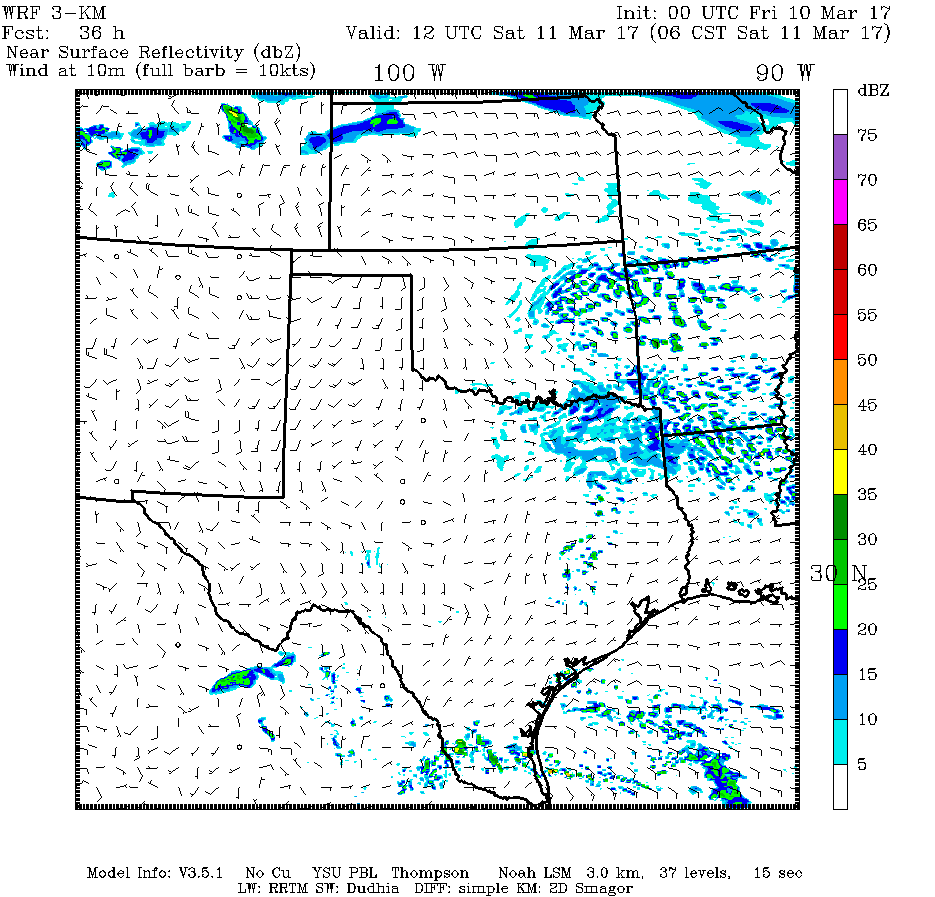 On Saturday, expect scattered showers and a chance of thunderstorms, but there is a slight chance it's more of a widespread rain, similar to what we saw last weekend. That's not helpful information. So let me give you probabilities. If I were placing odds for Saturday's weather right now, they'd look like this:
55% Lots of clouds, occasional showers in spots and maybe a thunderstorm or two
30% Widespread rain and thunderstorms much of the afternoon and evening (similar to last Sunday)
15% Not much rain at all, just mostly cloudy
Either way, the best chance of steadier rain will be south of I-10, with chances north of I-10 increasing Saturday night. If you have outdoor plans Saturday, it's best to have a backup. This is unfortunately just a case where we have to emphasize some uncertainty. We will all eventually see showers and some storms, probably late Saturday night as a cold front sweeps through here from the north.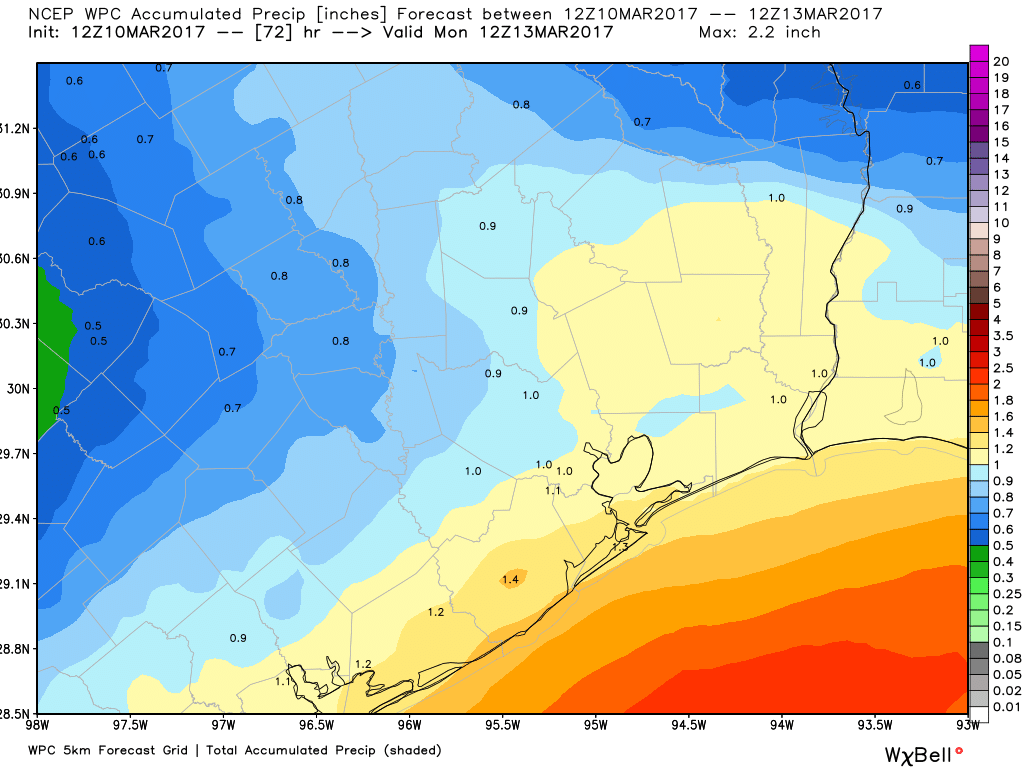 Sunday will see showers taper off and end during the morning. I think for the most part Sunday will be breezy, dry, but kind of raw day. Temperatures will likely drop into the 50s Sunday morning and they may not get above 60 during the daylight hours.
Speaking of daylight, don't forget to move your clocks forward an hour Saturday night/Sunday morning. Sunrise on Sunday will be around 7:35 and sunset will be pushed back to just about 7:30 PM now.
Next Week
I'm going to call next week Winter's last gasp. We could conceivably see two or three mornings with lows in the 40s. Daytimes should be mostly pleasant and dry, with temperatures in the 60s or lower 70s each day. It's also possible we don't see any rain next week. So for those of you enjoying Spring Break, it may work out really well. We'll talk more about all this on Monday.
Posted at 6:45 AM Friday by Matt