Good morning. This will be my final post of 2021—Matt will have an update for you on New Year's Eve of course. It has been a strange and challenging year. In terms of weather, locally, there has been good and terrible and anomalous weather. Under the "good" category I would say we've gone through another year without a disastrous drought, and we saw some of the nicest weather this fall on weekends that I can remember. The "terrible" category includes the extremely hard freeze and its effects in February, and Hurricane Nicholas in September, which packed a surprisingly strong punch although it could barely be classified as a Category 1 storm. Finally, the heat this December has definitely been "anomalous," as Houston has set or tied 6 records this month, and Galveston 14, with more to come.
My wish for the new year is better weather, of course. But I'm also hopeful for other reasons. The COVID-19 pandemic is now entering its third year, and it has fractured our communities and killed our loved ones. Now, I believe that we are probably seeing a transition to it becoming an endemic disease, with less virulence, better treatments, and ultimately less transmission due to widespread immunity. Omicron is likely a harbinger of this, and hopefully will be responsible for the last major spike in hospitalizations. So while the next few weeks may be pretty terrible, I strongly believe that a brighter future awaits us. My heroes in 2021 are all of the nurses, doctors, and medical researchers who toiled to help so many, through such a difficult time.
Looking ahead, what I can say for sure, is this: A colder near-term future awaits us. Many of us will see our first freeze of the season by Monday morning, if not sooner.
Thursday
The front made it to much of the area, knocking temperatures into the 60s this morning across the area. Its effects will be short-lived, with southeast winds resuming today and highs likely to reach about 80 degrees under mostly sunny skies. Lows tonight will only drop to around 70 degrees in Houston, with slightly cooler conditions inland.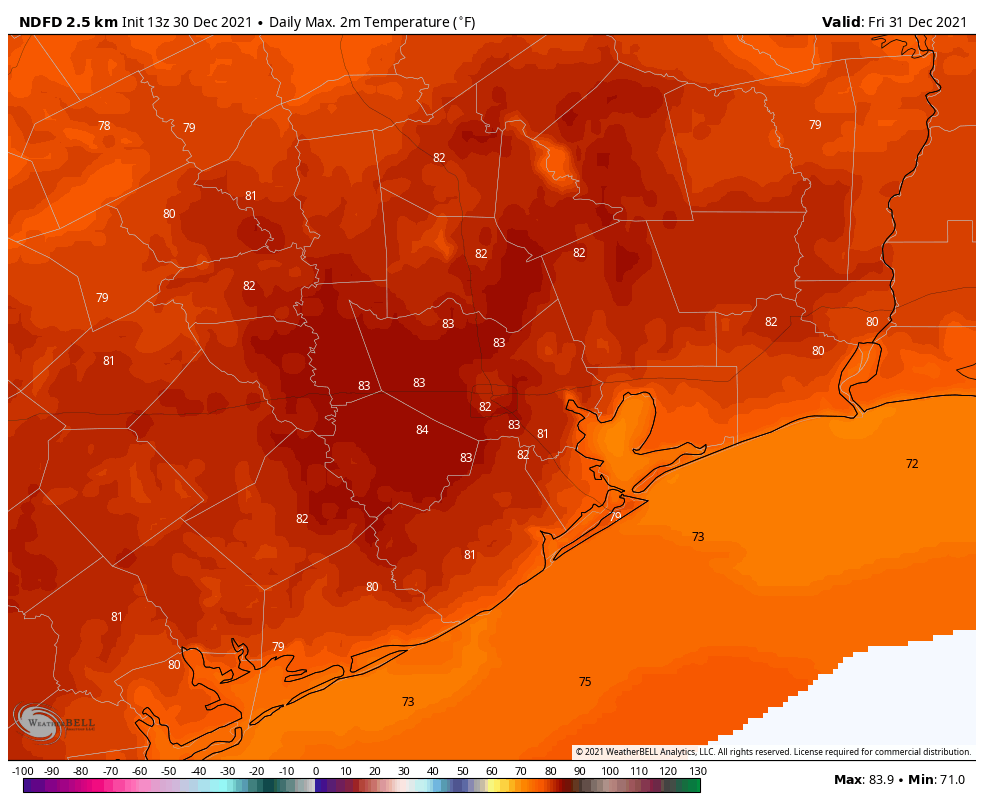 Friday
The final day of 2021 will be warm once again, with highs in the low 80s and partly to mostly sunny skies. Winds will be a bit gusty, out of the south at about 20 mph. New Year's Eve evening will be mild, with temperatures in the 70s, and partly to mostly cloudy skies. It will be plenty humid, but aside from that there is nothing to complain about as we bring in 2022.
New Year's Day
The only real question is when the cold front will arrive. The models have been bouncing around a little bit, and now it appears that an initial front will push down to around Interstate 10 on Saturday afternoon, and be followed by a much stronger surge of colder and drier air on Saturday night. For most of the area, then, Saturday will see highs of around 80 degrees, and for coastal areas those warm conditions should persist through the evening. Some scattered, light showers will be possible during the day and overnight. Temperature wise, it will be a whole new world outside on Sunday morning, with sunrise temperatures likely in the 30s for nearly all of the area.
Sunday and beyond
COLD. It now looks as though highs probably won't get out of the 40s for most of the area on Sunday, and with gusty northerly winds this will be a cold, sunny day if you need to be outside. Clear skies and lighter winds will lead to a very cold night on Sunday, with most of the Houston region away from the coast likely to see a freeze on Monday morning.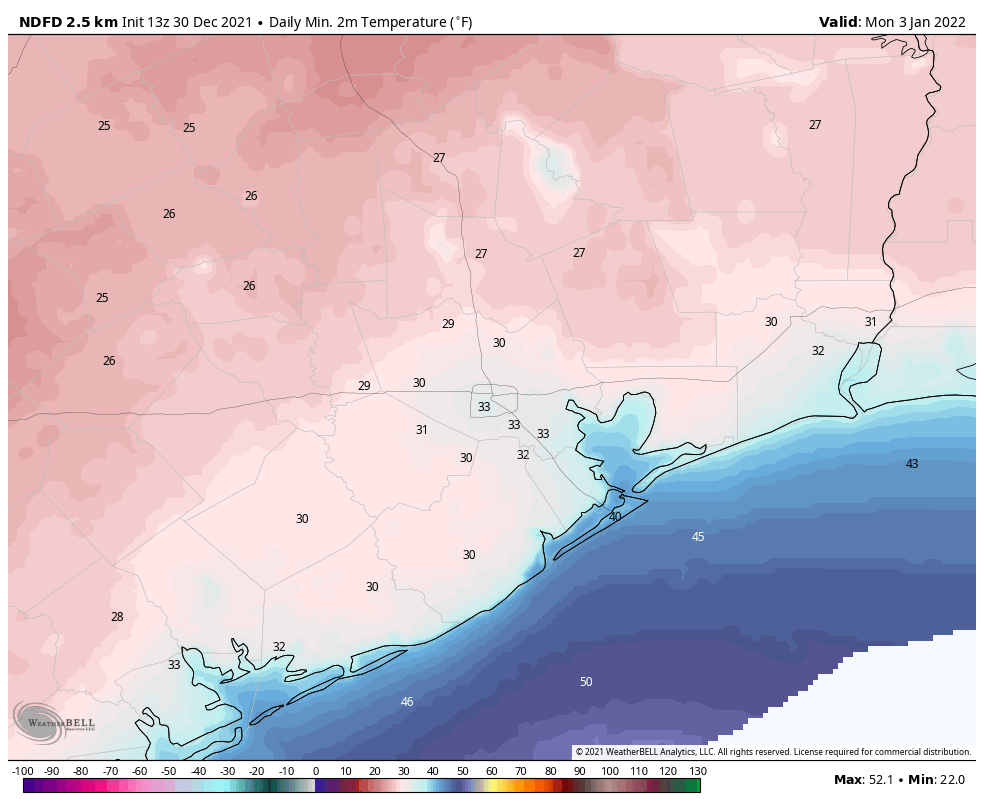 We'll gradually warm up next week, probably reaching the 70s on Wednesday, with another cooldown Thursday. Details to come. Happy New Year, everyone!