Through yesterday, the average temperature in Houston (Bush) is 67.5° for the month of December. Adding an expected 83 and, call it 68 today gets us to 67.8° for the month, shattering the record from 1933 by 3.4 degrees. This will also be the widest gap between warmest and second warmest of any month in Houston. Only August comes close, where the difference between the horrific August of 2011 and 2010 was 2.7 degrees. Basically, this December was Houston's most anomalous warm month on record. There are a number of other stats and nuggets we could share, but we may save that for a separate post. Our spring fling is almost over though, and it's time to break out the winter clothes.
Today
More of the same. 80s, sun, clouds, some fog this morning. Today's record high in Houston is 82°, set back in 1974, and that seems likely to be tied or exceeded. The main difference between yesterday and today will probably be that coastal sea fog. Winds may kick up just enough today to dissipate most of it by afternoon. Look for haze and/or mist at times, however.
Saturday morning & early afternoon
Tomorrow will begin like most other days this month: Warm and humid. Look for temperatures at or above 70 degrees to start the day. It will be quite warm through the afternoon with highs pushing back into the 80s again. The 2006 New Year's Day record of 81° seems destined to be broken.
Saturday late afternoon into Sunday
Our change in seasons will arrive in two pieces. The first will be a cold front on Saturday afternoon. This front will come through and shift winds from onshore to offshore. Onshore winds may actually be a bit stronger ahead of the front, so look for calmer conditions once the front is through. Temperatures may drop off just a few degrees. Additionally, there could be a shower or two but nothing serious.
The second piece will arrive Saturday night. Look for that to hit the northwest suburbs before Midnight and the city and southeast suburbs and coast around Midnight. There won't be any mistaking this one.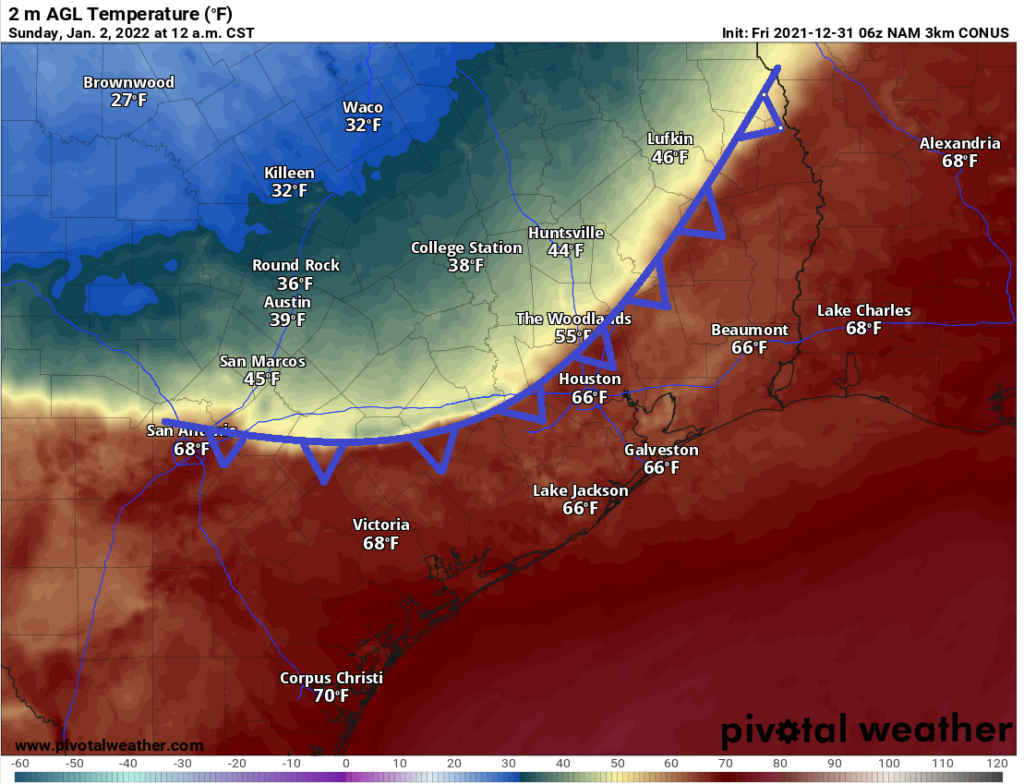 Temperatures will quickly drop from the 60s into the 40s and winds will kick up out of the north, gusting 25 to 30 mph or even a bit stronger at times. By Sunday morning, temperatures will have fallen into the 30s in most spots, with freezing temperatures north and west of Houston and even some upper-20s possible near Huntsville.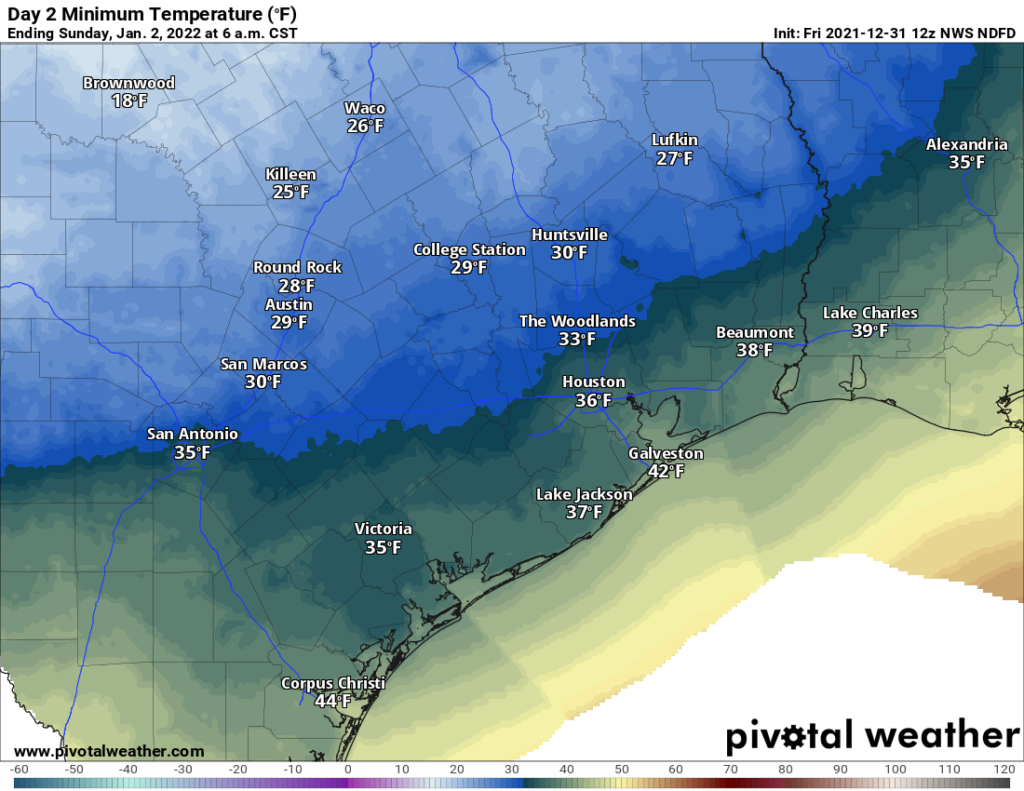 For those of you heading off to services or for a walk on Sunday morning, temperatures will be 30 to 40 degrees colder than they were on Saturday morning, and with wind chill values in the 20s, it will feel 50 degrees colder. Bundle up! The day itself should be fine, just windy and cold with highs in the mid-40s.
Monday
Temperatures will drop steadily on Sunday night, and we should see much of the area, save for maybe the city and immediate coast reach the freezing mark by Monday morning.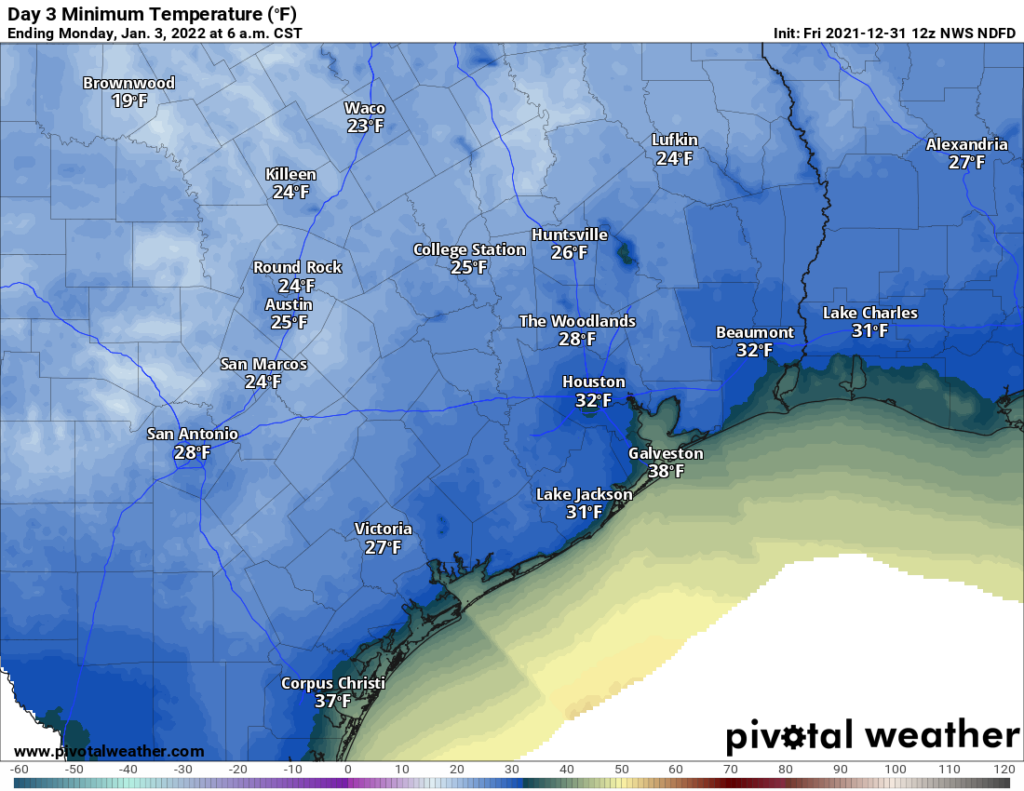 This will be a pretty standard freeze for the Houston area, the type we usually see several times a winter. Sensitive plants should be protected, particularly outside the city. If you have a sprinkler system, it's probably also a good idea to have it shut off and drained. Typical winter preps. But as far as significant problems, we shouldn't see any.
The rest of Monday will offer a transition back to onshore winds and temperatures bouncing back into the 50s. A freeze is unlikely Monday night anywhere in our area. This will be a quick shot of cold.
Rest of next week
Warmer weather will really be noticeable by Tuesday with temperatures warming well into the 60s. On Wednesday we warm into the 70s again. By Thursday or Friday, another, potentially much weaker front is likely to push into the area to cool us back a few degrees. Model guidance suggests another significant warm-up into next weekend before perhaps more sustained seasonably cool weather for the second week of 2022.
Final word
I just want to echo Eric's sentiment from yesterday. It's been a great year for us, between, among other things, launching an app, launching a Spanish language site and bringing Maria on board, being honored by the city of Houston, and arguing with each other about whether September or August is worse.
But we recognize that it's been another rough year for a lot of folks. I am grateful for the doctors and nurses and medical research community that makes Houston a true global hub for medical research and care. Essential workers, restaurant employees, and so many others who have toiled through sickness, closures, and just mean people, thank you as well. My hope is that 2022 will offer a return to stability, both in life and weather. I'm more hopeful for the former than the latter, but either way, we'll be here for you. Thanks for relying on us as a source of weather information to keep you and your family prepared and informed. It's a duty and responsibility we take seriously, and we look forward to continuing doing so in 2022, which hopefully marks a return to somewhat more precedented times. Happy New Year!