Houston, and much of the southern United States, now face a prolonged warm spell that will likely last for nearly all of the rest of February. We are going to see highs of around 80 degrees for the next week, with fairly sticky dewpoints in the 60s. The other notable thing is that, after a fairly wet winter so far, rain chances will be near zero for the same period.
This pattern may finally start to break by early next week. I'm not ready to say winter is over, but I would say it's more likely than not that we're done with nights in the 30s for this winter. We'll still have a few cold nights in the next couple of months, certainly, but this week will bring us into springtime in Houston.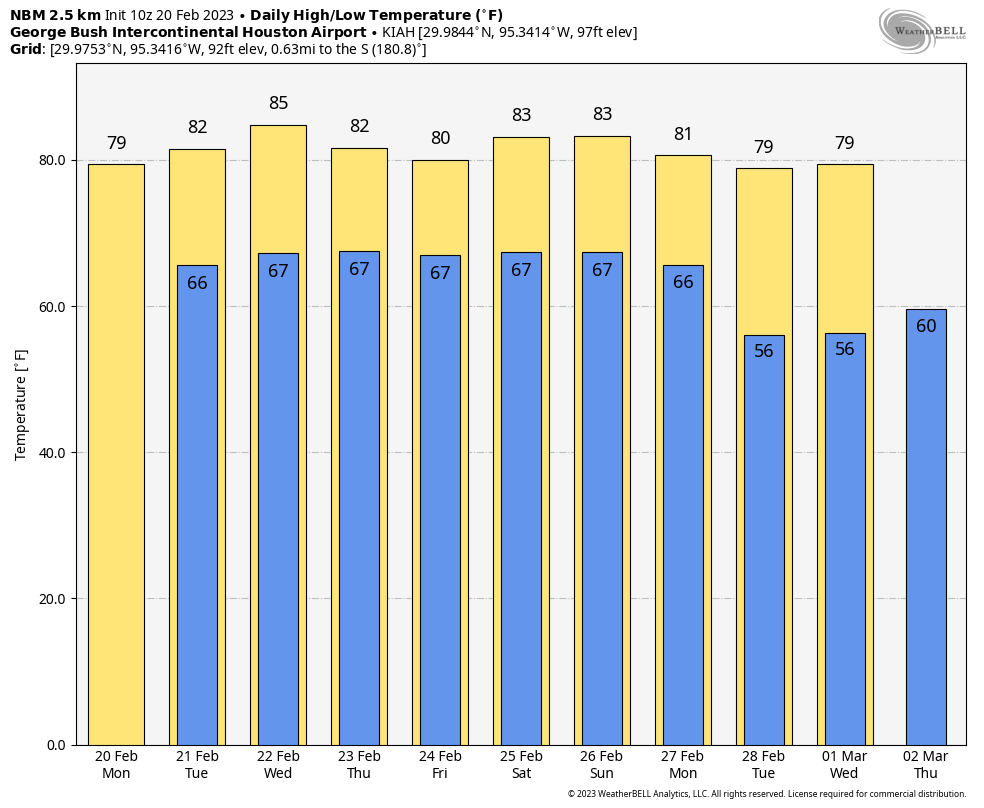 Presidents Day
As much warmer air moves over cooler waters, we're seeing the formation of sea fog this morning for areas closer to the coast. After the fog dissipates today we'll be left with partly to mostly cloudy skies and high temperatures of around 80 degrees. A very few, scattered showers will be possible south of Interstate 10 this afternoon, where atmospheric moisture levels are highest. But any precipitation that makes it to the ground will be light. Lows tonight will only drop into the mid-60s in Houston, with the development of sea fog likely once again.
Tuesday
Expect another day like Monday, with highs in the low 80s. The only real difference will come in the form of stronger winds from the southwest, perhaps gusting to around 20 mph, and a bit higher overnight. Lows will only drop to around 70 degrees. Needless to say this is rather warm for late February.
Wednesday
In response to an upper-level system, winds on Wednesday will be stronger still out of the south, perhaps gusting to 35 or even 40 mph. These warm winds, southerly flow, and partially clearing skies will amp up temperatures, pushing highs into the mid- to possibly upper-80s in the metro area. I would not entirely rule out a few inland areas pushing 90 degrees, but I don't think most of the metro area will reach that mark.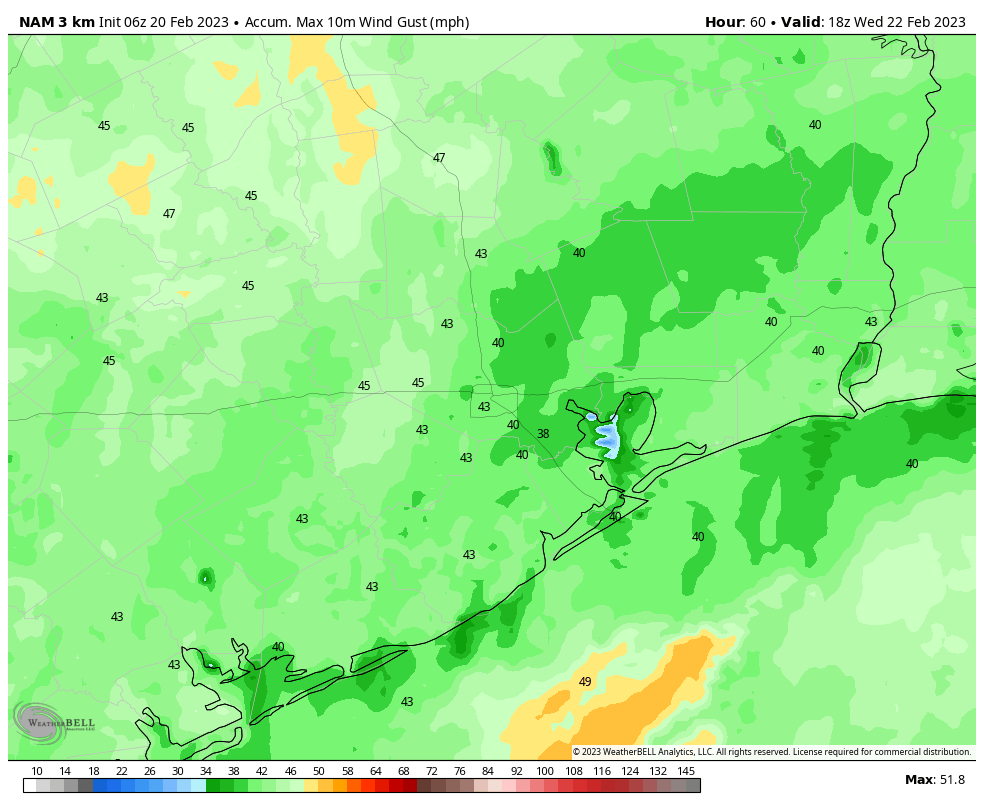 Thursday and Friday
A weak front will move into the Houston area and stall toward the end of the week, but at this point I don't think it will have too much effect on our sensible weather. Put another way, we can probably expect mostly cloudy skies, highs in the low 80s, and warm nights. Rain chances remain low, about 10 percent.
Saturday and Sunday
Expect more of the same this weekend, with warm and humid air, highs of around 80 degrees, and cloudy skies. The potential for fog will continue to be present in the forecast. Rain chances will be on the order of 10 percent each day.
Next week
As always the details start to get hazy as we approach the early part of next week, but it does look as though some sort of front will trundle into Houston by around next Monday. I'm not seeing much of a signal for rainfall with this front, but it's certainly possible. This should bring us a few days of sunnier weather, with highs in the 70s and lows, perhaps, in the 50s. By then most of us should be ready for some drier air.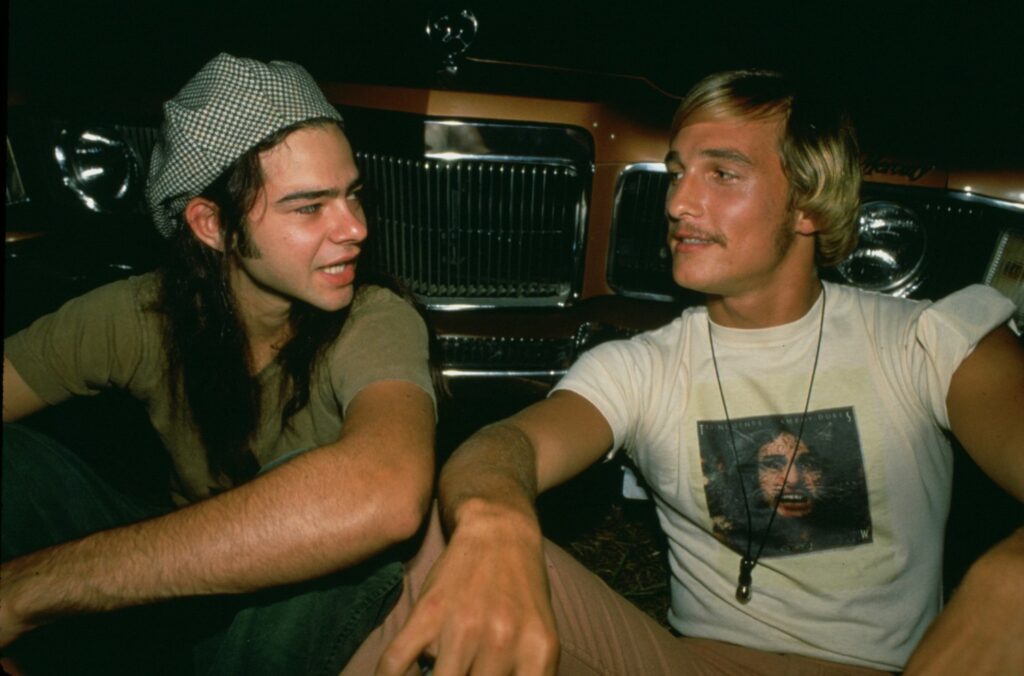 Dazed and Confused
If you're looking for something fun to do on Saturday evening, come join me at the Museum of Fine Arts to watch Dazed and Confused. I'll speak for a few minutes before the film, and then we'll sit down to watch the glorious movie in its original 35mm film format, and take in that spectacular 70s soundtrack in a theater. I can't wait!