Good afternoon! There has not been much change in weather modeling since this morning, which is a good thing for Houston, as that means we expect, with fairly high confidence that Tropical Storm Ida will stay well east of the Houston area, causing only some fringe impacts along the coast. Good news for Houston means bad news for someone else unfortunately, and Louisiana looks to see the core of impacts from Ida. The Gulf has been exceptionally unforgiving in recent years.
Right off the bat I just want to show you how far we have come in terms of track forecast confidence in the last 24 hours. Here is an animation showing yesterday's ensemble "spread" from the GFS ensemble. Just to quickly recap: The ensemble consists of over 30 individual model runs, each one tweaked just a little at initialization (hour 0) and then run like any other model out over two weeks. The advantage of using an ensemble is that you get a wider range of possible outcomes, which can guide your forecasting, and it can also perhaps highlight areas of higher confidence. In this case, over a 24 hour period, the ensemble went from a wide, unruly range of outcomes to a fairly tightly packed group of outcomes.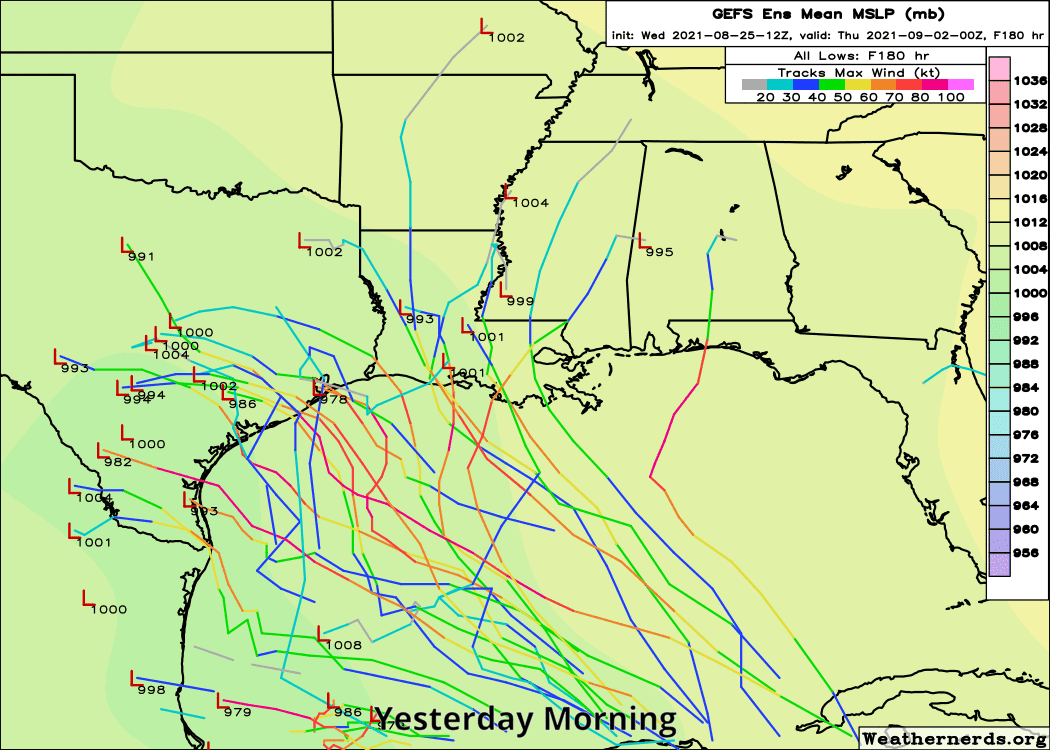 That helps boost our confidence. As you can see there, is still a bit of a range of possible outcomes, but instead of ranging from Mexico to Florida, they now primarily range from the Texas/Louisiana border to the Mississippi/Alabama border. And virtually all of these outcomes spare Houston any impacts.
Hurricane models are also in good agreement on this, so we've seen our confidence in a miss for Houston grow exponentially in the last 12 to 18 hours or so.
Here is the official National Hurricane Center forecast track for (now) Tropical Storm Ida.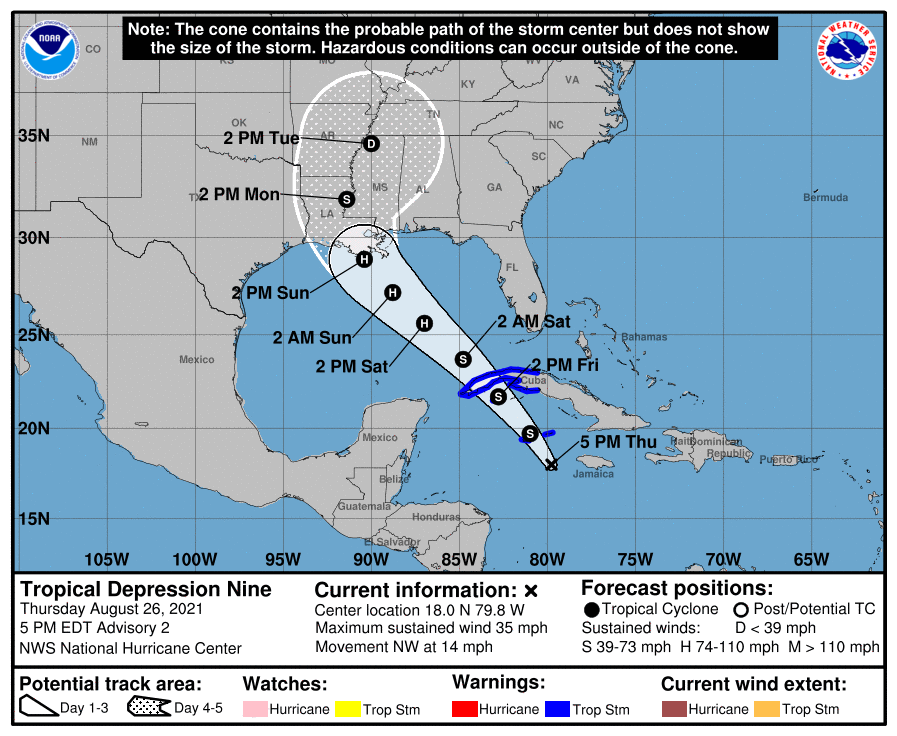 They are explicitly bringing it close to major hurricane status (110 mph is the maximum forecast at this time) as it makes landfall on the Louisiana coast Sunday. There is still some uncertainty around timing and exact intensity, but the takeaway message from the NHC discussion and forecast is that a strengthening hurricane is likely to make landfall in central or eastern Louisiana on Sunday night.
I know some folks are concerned about the Lake Charles area after last year. While they are not out of the woods yet, most model data and this forecast implies that impacts to Lake Charles would be fringe and mostly limited to just some outer bands with a few gusty thunderstorms. The Beaumont and Port Arthur areas should expect similar conditions.
Locally, we will want to keep an eye on tides, rip currents, and rough surf this weekend in the Gulf. If you're planning a beach weekend, keep the rip current risk in mind, as swells from the storm approach Sunday into Monday. I will have some more on that in the morning.
As far as rainfall, we should not see any direct rainfall from the storm here in Houston. The heaviest rain appears as though it will fall in central and eastern Louisiana and Mississippi.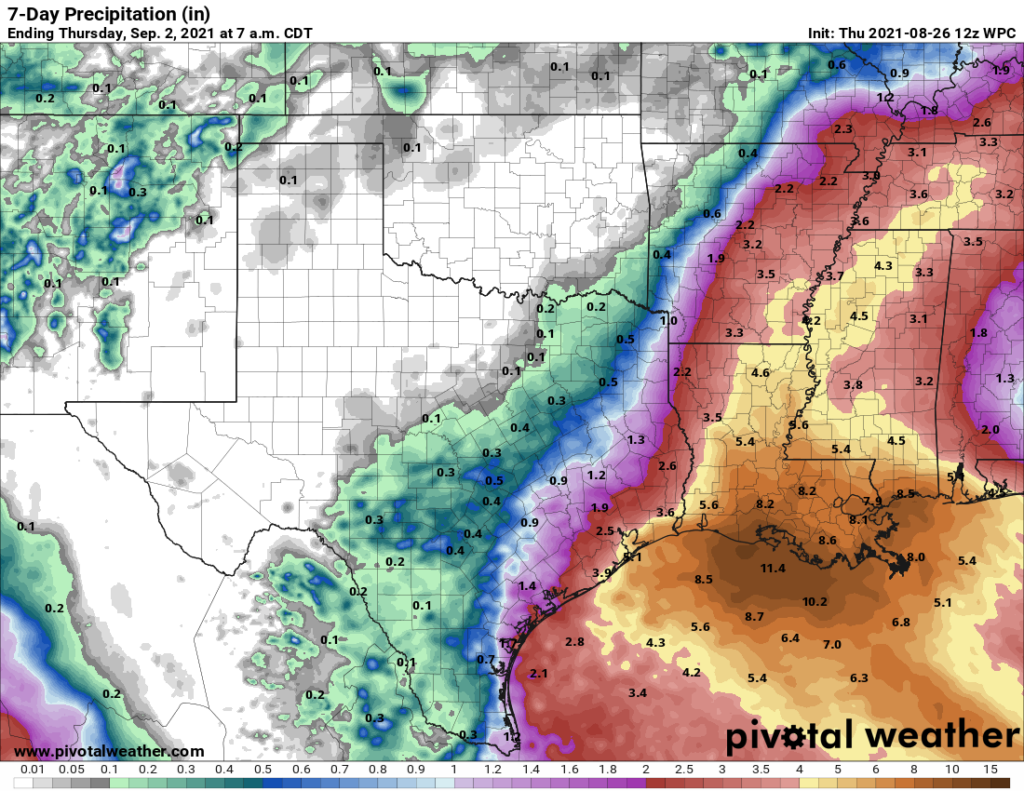 Some of the storms we get the next few days in Houston, unrelated to Ida, could be a bit heavy, including some tonight. Storms will be moving east to west across the area, which isn't terribly common, but again, this is not related to the tropical system. Eric's morning post still looks good for tonight and tomorrow if you need some more details.
Beyond that, we can exhale in Houston for now it seems. There will be other tropical systems to watch over the next 2 to 3 weeks, but none of them looks like a specific threat to our area at this time. Surely that could change, but that is all we can say right now. In the meantime, our thoughts are with our neighbors to the east who will likely be forced to endure yet another considerable tropical system.