Good morning. This post will address our increasing rain chances toward the end of this week, and then discuss the tropical storm likely to form in the Gulf of Mexico this weekend. The short summary is: The system will bring a lot of moisture with it, and while it may directly impact Texas, it may also make landfall east of the state. Please bear with us, we should have better confidence in a day or two.
Wednesday
The high pressure system that has been responsible for several hot and sunny days will start to retreat slowly to the northeast, and this will allow for more clouds to form today. This will lead to a few scattered showers this afternoon and evening, with perhaps a 30 percent chance of rain at your location. High temperatures should still get into the mid- to upper-90s so this will be something of a transition day to a wetter pattern.
Thursday and Friday
These days will see a mix of sunshine and clouds as upper-level disturbances rotate around the southern edge of the high pressure system. About two-in-three areas will rain each day, and for the most part two-day accumulations should be on the order of 0.5 to 1.0 inch of rain. This should help to moderate temperatures some, and we should look for highs in the low 90s both days.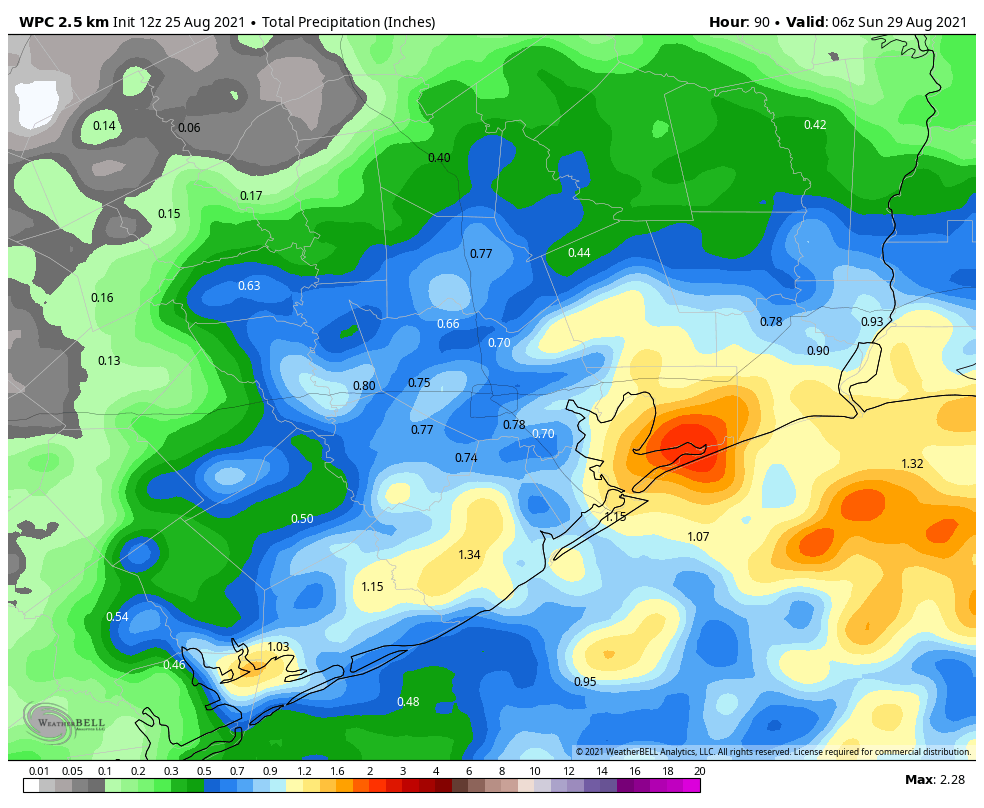 Saturday and Sunday
If you've got outdoor plans for the weekend you're going to be rolling the dice. Saturday looks like it should have slightly less rain coverage than Sunday, but both days are probably above 50 percent in terms of your odds of seeing at least a passing shower. Sunday's weather will be determined, in part, by the evolution of a tropical system now in the Caribbean Sea that should move into the Gulf of Mexico this weekend. And because there is so much uncertainty about that, it's really hard to have much confidence in the weather forecast for Sunday and beyond.
Tropics
The National Hurricane Center now gives the Caribbean system, known as Invest 99L because it has been designated an "area of investigation," an 80 percent chance of developing into at least a tropical depression or storm within five days. We think it's highly likely that a tropical storm will form in the southern Gulf of Mexico by Sunday. So what happens after that?
Yesterday the bulk of the model guidance suggested 99L would move toward the Mexico mainland or Texas, but we cautioned there was a high amount of uncertainty. Accordingly, overnight, the models have shifted dramatically. Now the models bring 99L toward Texas and Louisiana. Why the big shift? The upper-air pattern is complicated, and the models are struggling to identify where there will be a weakness in a ridge of high pressure over the southeastern United States, which would allow 99L to turn north. Another challenge is that, right now, the tropical system has no defined center of circulation. The models (shown below) should therefore be treated with skepticism.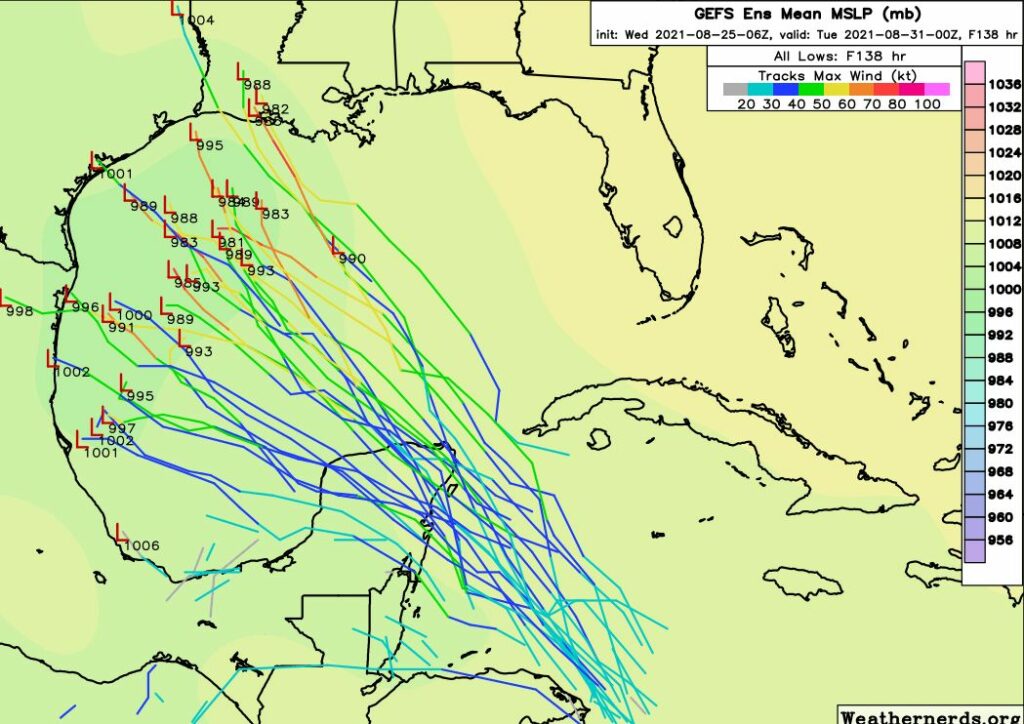 So what does this all mean? We probably will see additional shifts in projections of 99L's track for the next couple of days, and you absolutely should not focus on any single model run. When our confidence increases, believe me, we'll let you know.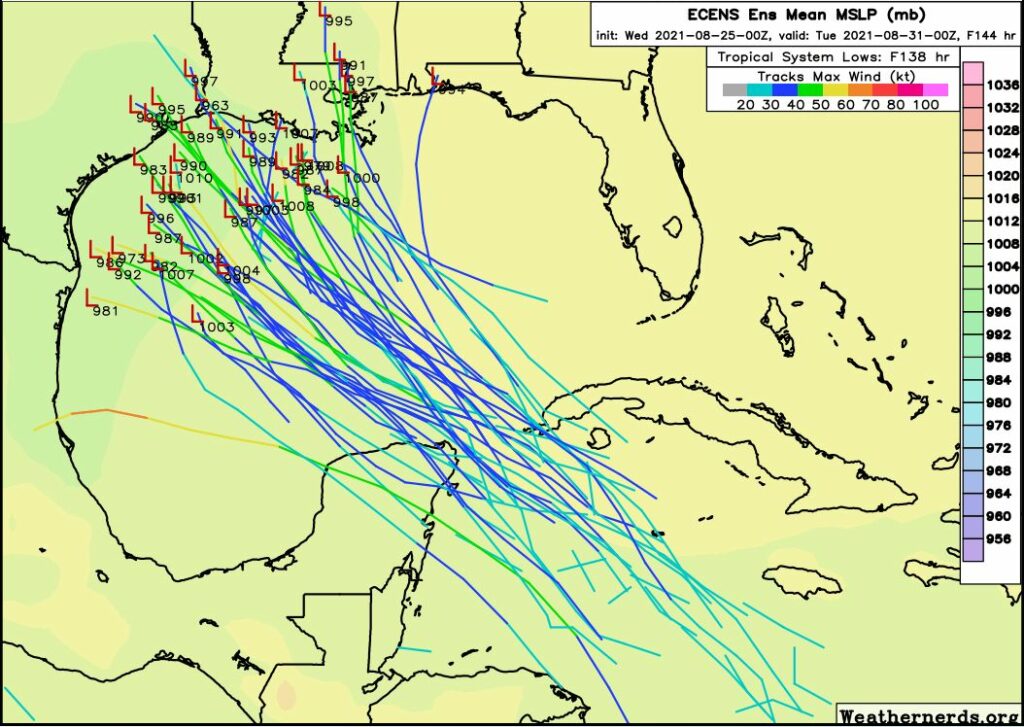 As for impacts, the primary threat from this system is probably heavy rainfall, particularly along the storm's track and to its east. However the Gulf of Mexico is plenty warm, and if the storm were to track toward Texas or Louisiana (instead of Mexico) it would have time to strengthen into a hurricane. These impacts are possible from later on Sunday through Tuesday.
If we get any clarity on the tropics forecast, we'll update later today. If not we'll see you on Thursday morning.