Good morning. Houston will have two more hot and sunny days before our weather transitions to a wetter—and perhaps a much wetter pattern—toward the end of this week and into next week. We're going to need to watch the tropics closely, as we expect the Gulf of Mexico to see one and perhaps two storms between now and September 10.
Tuesday
High pressure remains firmly in place for now, and this means Houston will see a hot and sunny day with high temperatures generally in the upper 90s. Skies will be mostly sunny, with light southerly winds. This will be a classic, late August day with a warm night.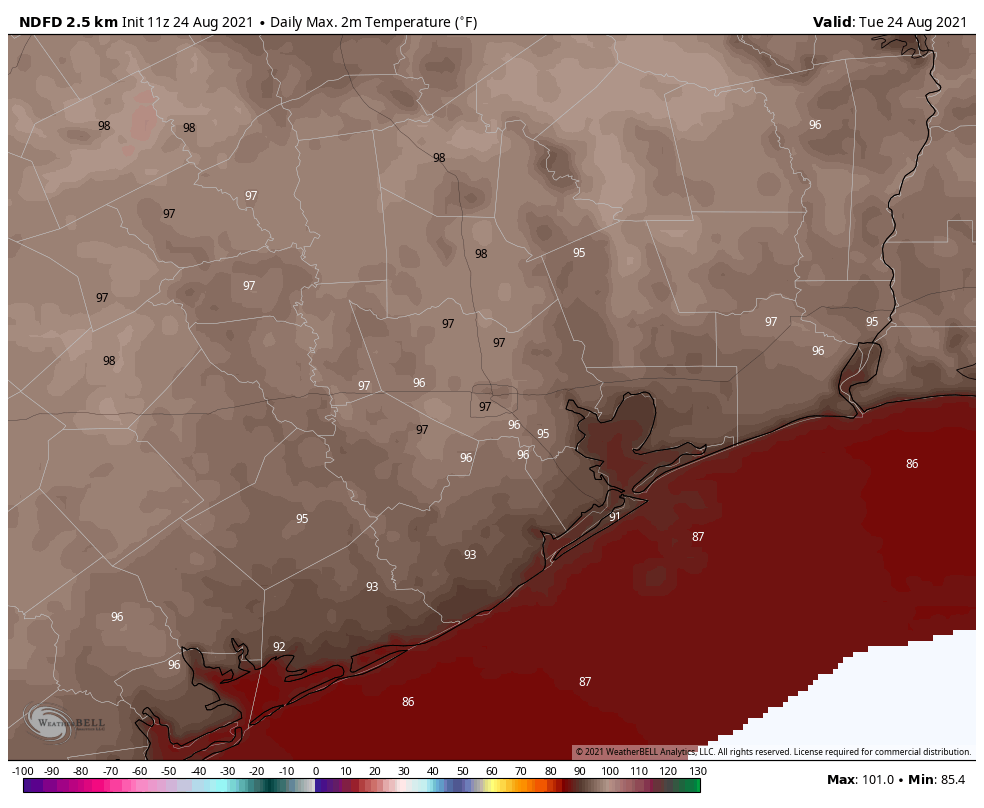 Wednesday
Beginning Wednesday the aforementioned high pressure system should begin to slowly recede northward, and this may open the region to some slight rain chances. Areas south of Interstate 10 may see about a one-in-three chance of rain, with lesser chances inland. Skies should be mostly sunny, with highs in the mid- to upper 90s.
Thursday and Friday
With the high pulling away, we should start to see some atmospheric disturbances rotating around its southern periphery. This should bring increased cloud cover and approximately 50-50 rain chances for the end of the work week. This will help to moderate high temperatures, likely holding them in the low 90s.
Saturday, Sunday, and beyond
Saturday should see about 50 percent rain chances, and Sunday higher still as tropical moisture levels push into the area. Rain chances will be higher the closer one lives to the coast, with residents in Brazoria, Galveston, and Chambers counties probably having about a 70 percent chance of rain by Sunday. Skies this weekend will be partly sunny, with highs in the low 90s.
The wet pattern will likely continue into the first half of next week. How wet we get will depend on the ultimate track of a tropical system we anticipate will move in the Southern Gulf of Mexico at that time. If this tropical system moves into Texas, some part of the state could see 10 inches or more of rainfall during the Monday through Wednesday time frame of next week, but it is way too early to have any specificity of whether this will be Brownsville, Corpus Christi, the Houston area, or elsewhere.
Tropics
The National Hurricane Center has highlighted three areas of interest on its forecast map this morning, but for our purposes the only one that matters is the orange "X" in the Caribbean Sea. The National Hurricane Center gives this system a 60 percent chance of developing into a tropical depression or storm during the next five days, and nearly all of our reliable model guidance suggests it will become a tropical storm in the southern Gulf of Mexico on Sunday or Monday. Whether it becomes a hurricane depends upon several factors, including its interaction with the Yucatan peninsula. This is impossible to predict for now.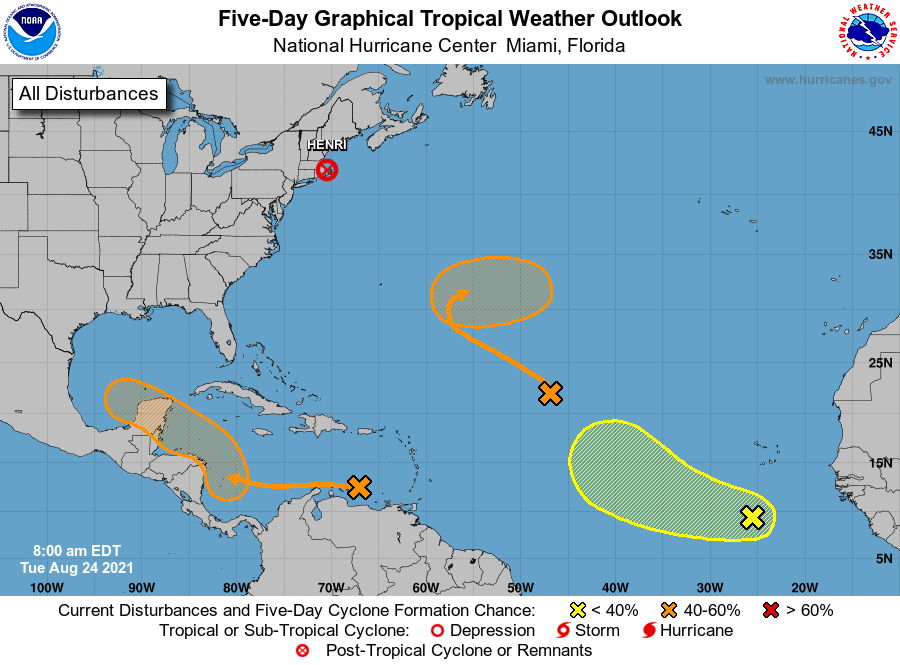 I am going to show you two forecast maps for the eventual track of this tropical system. They are ensembles from the GFS model and the European model, and the purpose of this is to demonstrate the considerable uncertainty in track. It is also clear that some kind of storm will very likely be coming to the Mexico mainland or Texas coast early next week, and that areas along and to the north of its track will be on the receiving end of significant tropical moisture. This is why we say that Texas is at risk for heavy rainfall early next week, but we cannot say precisely where.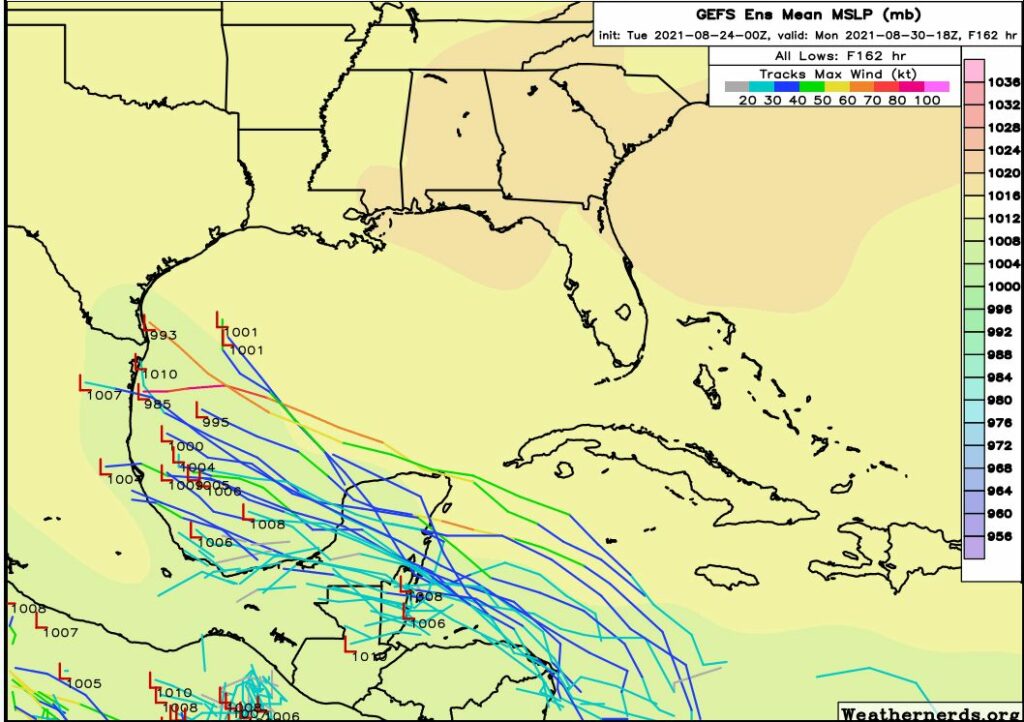 The GFS model, shown above, is more south than the European model. This would likely keep the heaviest rains south of the Houston region next week. Matt and I, for now, are leaning slightly in favor of this solution as the more realistic solution. But again, our overall confidence is quite low.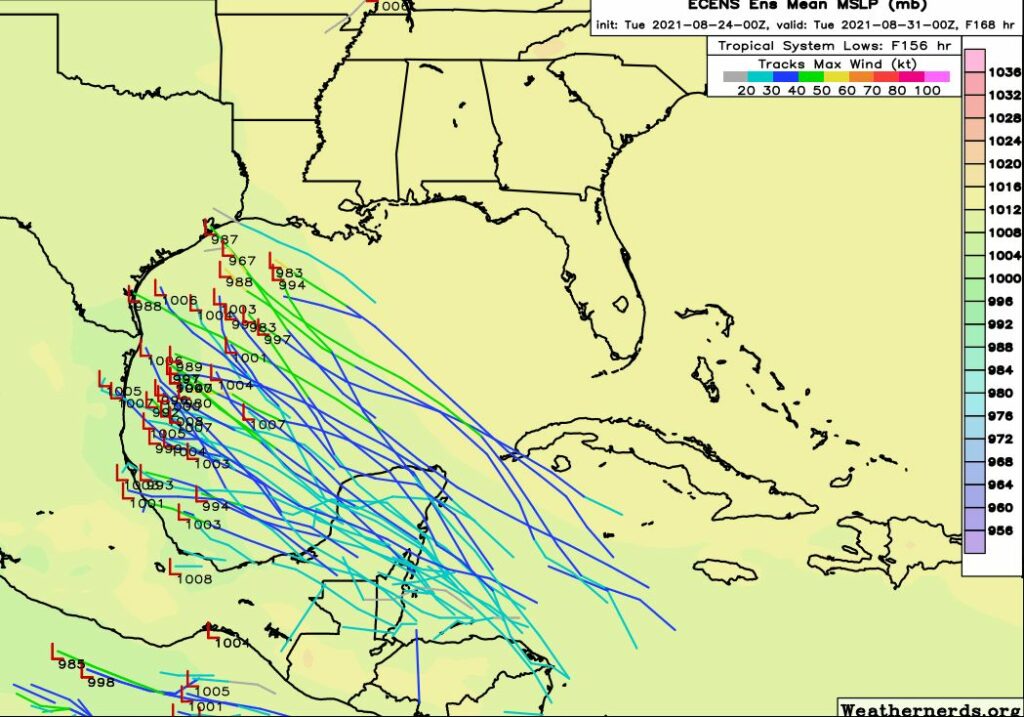 The European model brings a storm along a more northerly track about six days from now. This would bring heavier rains to Texas, including potentially the Houston area, next week.
The bottom line is that we need to watch the Gulf of Mexico closely. There are signs that yet another tropical storm may move from the Caribbean Sea into the Gulf of Mexico about a week after this one. We are approaching the peak of hurricane season and the tropics are acting accordingly. We'll be on top of it for you.