After Matt's thorough tropical update on Saturday, and notably the area of interest known as Invest 97L, I thought I'd provide a shorter update today.
The system has now crossed over the Leeward Islands into the Caribbean Sea, and it continues to move westward, likely bringing winds and rains to Puerto Rico today. The National Hurricane Center continues to predict a 70 percent chance that this system develops into a tropical depression or storm within five days.
And after that? In the post Matt pointed toward two scenarios for what happens to 97L if it makes it into the Gulf of Mexico by around next Friday, or so. The first is that a fairly strong ridge over the southern United States keeps the tropical system to the south of Texas, confined to the Bay of Campeche. This solution was favored by the European model. The other possibility was that this ridge would shift east in about a week, allowing 97L to follow a more northwesterly track toward Texas. However the GFS model which had shown this weakness, appears to be trending toward a stronger ridge.
Models begin to align?
The image below shows the ensemble forecast from the GFS model this morning (06z run) which essentially means the model is run a number of different times, with slight different initial conditions. You can see that the majority of solutions now keep the storm well to the south of Texas.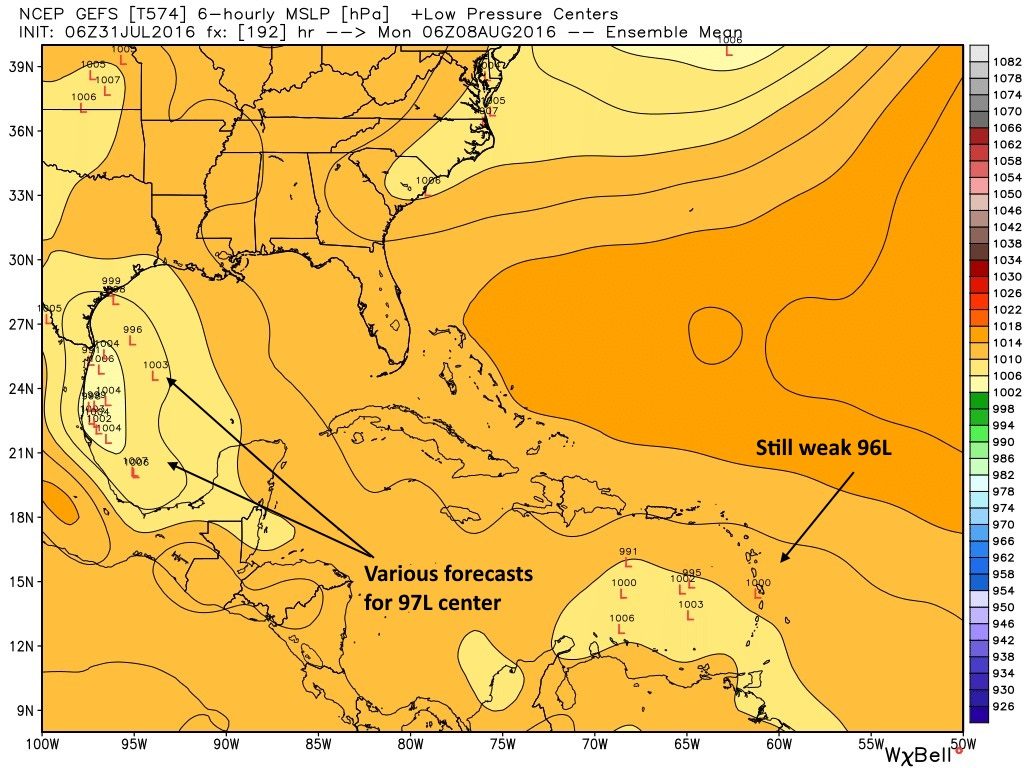 Of course the usual caveats apply here: It's not a great idea to put too much stock in model forecasts five to seven days out for storms that are not yet well defined. However with the global models now indicating a fairly strong ridge over Texas we can have some limited confidence in this solution.
What this means is that we should keep an eye on 97L, but Texas probably shouldn't worry too much about it. Certainly if that changes we'll let you know. But I think the bigger story for the week ahead will be midweek heat in the upper 90s, before some slight relief next weekend. So don't sweat 97L—because you'll be too busy sweating from that August heat.
Posted by Eric at 7:20am CT Sunday