It's still a bit early in the game, but we wanted to bring you up to speed on a couple tropical disturbances in the Atlantic that are driving "chatter" in social media and elsewhere about how they may or may not impact Texas and elsewhere. Let's dig in.
"Invest 96L"
Before a tropical disturbance becomes a depression or named storm, for the purposes of running models and collecting data, the National Hurricane Center uses the designation "Invest" (90-99) to describe a system. Basically, it just means an area they're investigating for possible future development. Invests are common and have a sequential numbering scheme that repeats through the season.
With that in mind, we have two "invests" out there. The first one is 96L, a system about 400-500 miles southwest of the Cape Verde Islands. It's not terribly well organized, but it has a slight chance to develop over the next couple days.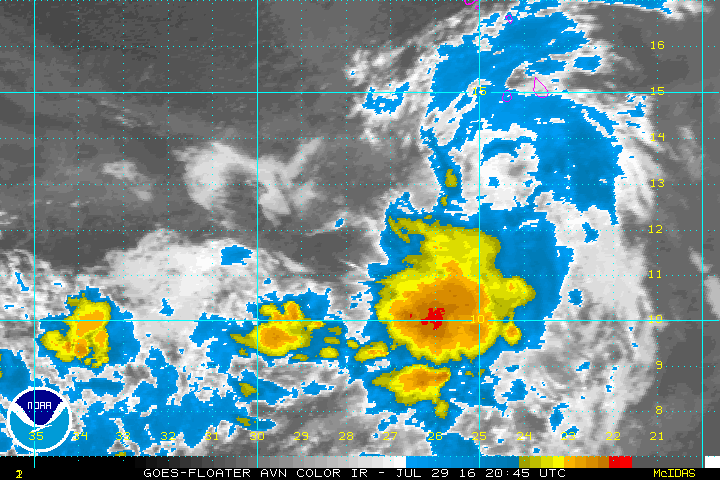 Reliable weather models are mostly unenthused with the future prospects of Invest 96L. I haven't seen any reason to think this will develop into much of anything, and its long term prospects likely do not include the Gulf, so no worries here for us.
"Invest 97L"
Invest 97L is another matter. This system is also modestly organized as it is racing across the Atlantic, about 500 miles east of the Lesser Antilles.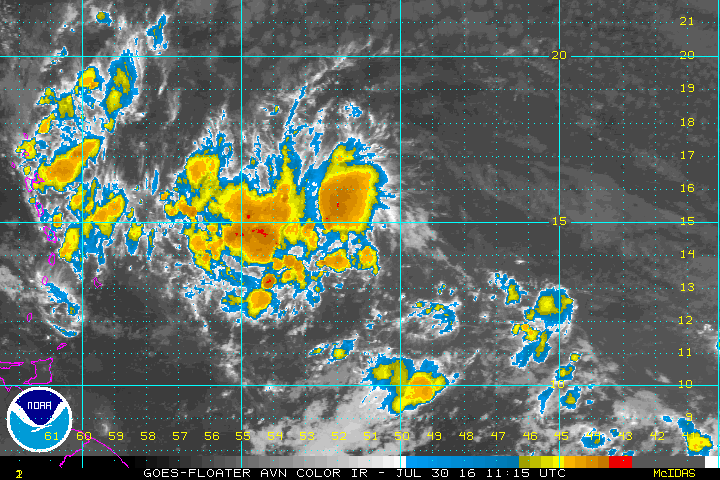 The future of Invest 97L is a bit cloudier than that of its counterpart discussed above. First off, 97L has been projected by the models, at times, to eventually emerge into the Gulf of Mexico, particularly the southwestern Gulf (though some models have indicated at least some chance it lifts further north too). So let's get this out of the way first:
It's much too early for anyone to predict where this system will go, as a.) the system is moving quickly, b.) it has not developed a low-level center of circulation, and c.) until it does so, weather models will suggest a lot of possible solutions. Therefore, if I lived in Southeast Texas, I wouldn't worry right now, but I would periodically be checking in on the forecast.
The Eastern Caribbean is often hostile to tropical systems. (some of us in meteorology refer to it as the Eastern Caribbean Graveyard). So one thing I do have high confidence in is that this system is unlikely to develop quickly. This is supported by history, weather modeling, and the observation of some fairly strong wind shear in the immediate path.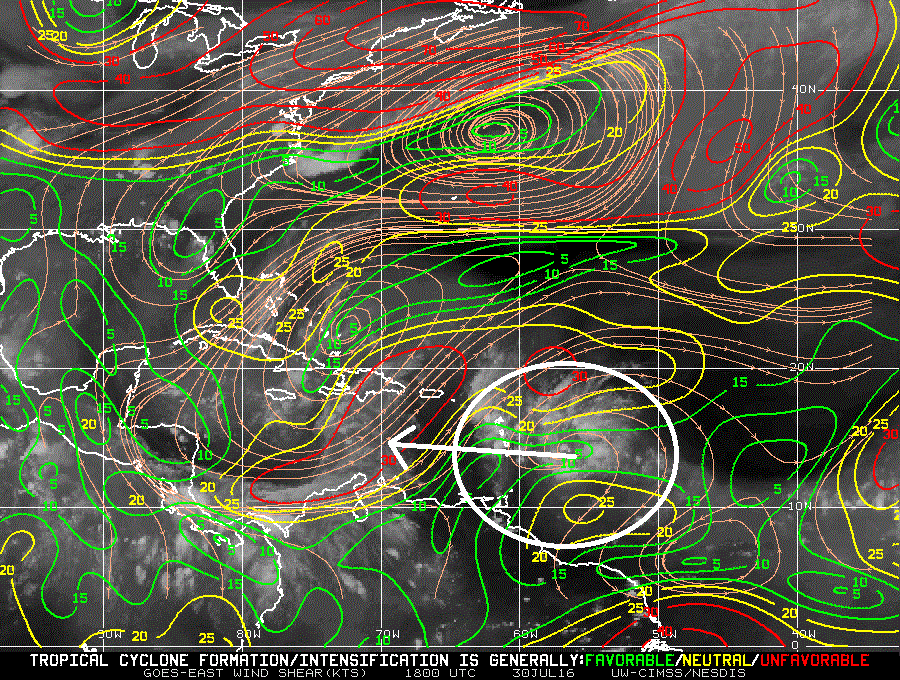 Beyond the next few days, the final track will be determined, in part, by a ridge of high pressure over Texas. Below are two maps. On the left is the forecast for next Saturday on the GFS ensemble from this morning and on the right is the Euro ensemble for the same day from early this morning.

On the maps above, the red line I superimposed is an indication of the "axis" of the 500mb ridge of high pressure (about 20,000′ feet up). The GFS Ensemble (left) shows that the ridge has exited Texas and is oriented more from the Southeast into the Central Plains. On the Euro ensemble (right), the ridge stays pretty firm over Texas. This is critical in determining the outcome of 97L's track. If the Euro solution is correct, Texas will be effectively "shielded" from anything coming out of the Caribbean and it would most likely be steered into Mexico or Central America. However, if the GFS solution is correct, the storm will have an opportunity to explore a path of least resistance further north, perhaps into southern Texas. Which one is right? I'm really not sure at this point, but trends in this pattern will be worth watching.
So over the next few days, weather models are going to struggle with placement and orientation of this system, meaning the final outcome shown by models will be all over the place; probably showing it in Mexico or Central America on some runs, possibly into Texas on others. Some models may blow it up into a hurricane. Some may not develop it at all. That's simply the nature of what we're dealing with here. We'll need to monitor the system itself, as well as the upper air pattern over Texas. So if someone starts shouting that "THE LATEST MODEL RUNS SHOW A HIT," you should promptly tune those folks out. Models aren't useless right now, but they aren't terribly helpful yet.
7AM Tropical outlook from @NHC_Atlantic tracking 2 tropical waves. Here what it means for SE TX. #houwx #txwx pic.twitter.com/EVCWASeGDH

— NWS Houston (@NWSHouston) July 30, 2016
What should you do in the meantime? Well, you needn't worry about a thing right now. But let this system serve as a reminder to refresh your hurricane plans, freshen up your hurricane kit, or build one if you haven't yet! Greater Houston has added about 1 million new residents since Hurricane Ike hit in 2008. If you're a new resident, you should be informed. You really can't ever over-prepare for these things, but you need to know what you're doing. So here are some links:
Here are some hurricane preparedness tips.
Here's a bevy of resources from the Houston-Galveston Area Council.
Here's an evacuation route map for the region.
At worst, nothing happens and you're prepared for the next one. There's nothing wrong with that. Meanwhile, Space City Weather will be here to keep you posted, storm or no storm!
Posted by Matt at 2:40 PM Saturday