(Note: I deeply apologize for Monday evening's server issues. We are addressing the problem, and should have a permanent fix within place in 24 to 48 hours).
Houston will have one more sunny, hot day on Tuesday—with highs likely in the mid-90s again, and boy did Monday sure feel like summer out there—before our weather becomes affected by a tropical system in the Gulf of Mexico. That will therefore be the focus of today's post. Please also note that this is a dynamic forecast, and Houston could still see some fairly significant effects from this system based on some of the latest available model data.
Organization
The tropical disturbance appears to slowly be organizing this morning and nearing tropical storm status, but for the purposes of rainmaking, that doesn't really mean a whole lot. What we often see with storms in the Gulf of Mexico during this time of year, when wind shear is fairly high, is a struggle to get organized and then a strengthening just before landfall. If that happens with this system, I think we can expect a moderate tropical storm coming ashore on Thursday some time. The primary threat remains heavy rainfall.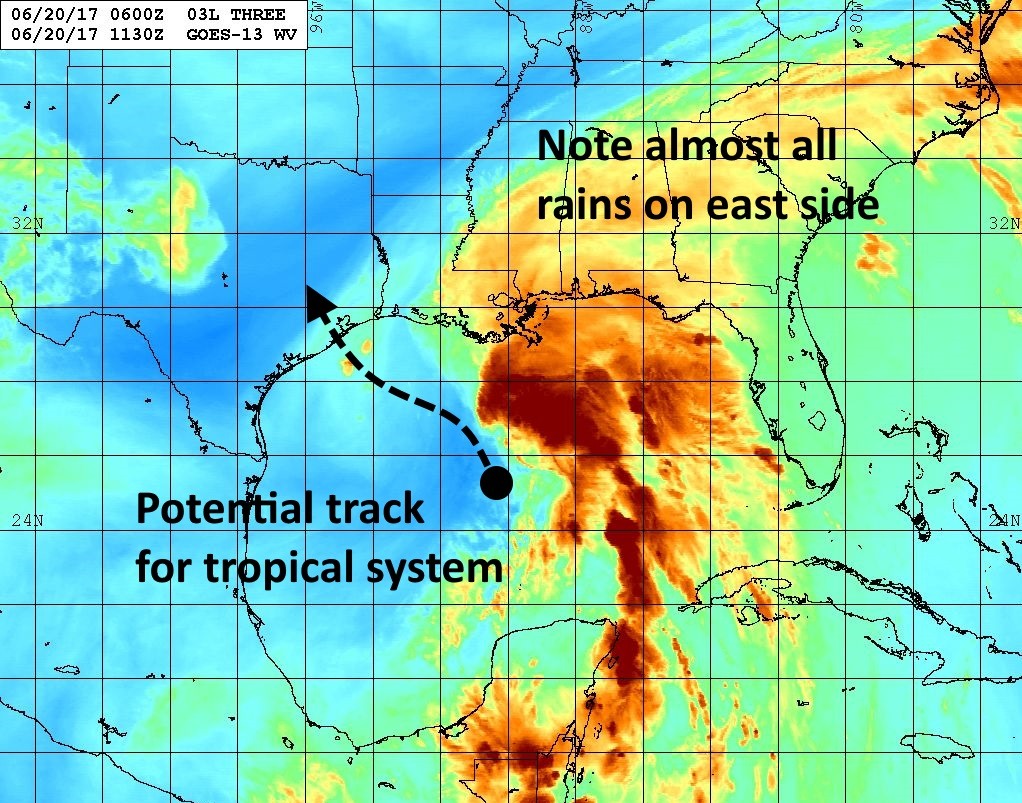 Track
So where is it going? A lot of the track models have shifted closer to the European model, which brings the storm to the upper Texas coast—between Corpus Christi and the Texas-Louisiana border—by Thursday morning or so. As we discussed Monday, the bulk of the rains with this system are well east of the center, so the significant rainfall totals are going to be east of wherever the system comes ashore.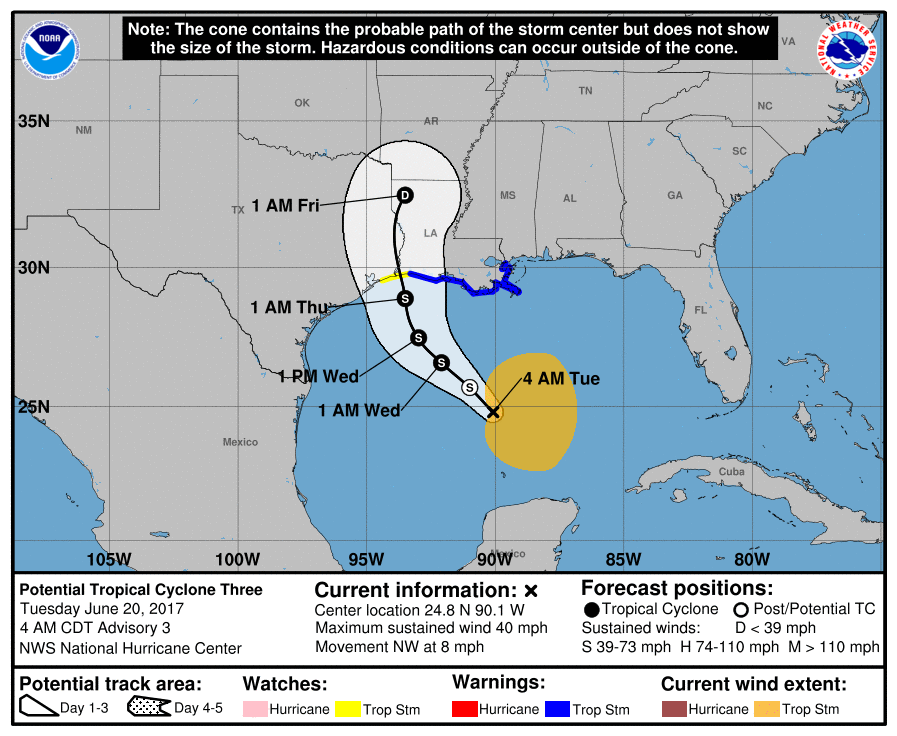 Rainfall
As a best guess, this likely means parts of southeastern Louisiana and Mississippi could see 10 to 12 inches of rain on Wednesday and Thursday. Closer to home, rain totals are really going to depend on landfall location. If the European model is correct, a landfalling storm just south of the Houston area could bring 4 to 6 inches of rainfall to the Houston region beginning some time on Wednesday and running through Thursday (these would be mostly manageable totals, but still very wet days). If the final track is closer to Beaumont—currently favored by the National Hurricane Center—then the Houston area may only see 1 to 2 inches of rainfall, if any at all. Bottom line: This tropical system remains a close call for Houston.
Winds
These will, again, be highly dependent upon the final track. But if the storm comes ashore along the upper Texas coast as I expect, we can expect some blustery days on Wednesday and Thursday, with gusts in the 20s and perhaps 30s along the coast. If the storm strengthens, those values could rise a little bit higher, but I'm not overly concerned about the prospect of wind damage at this time. Should the storm make landfall in Louisiana we'll still see some winds blowing out of the north, but nothing too significant.
We will update as warranted today.
Posted at 7am CT on Tuesday by Eric